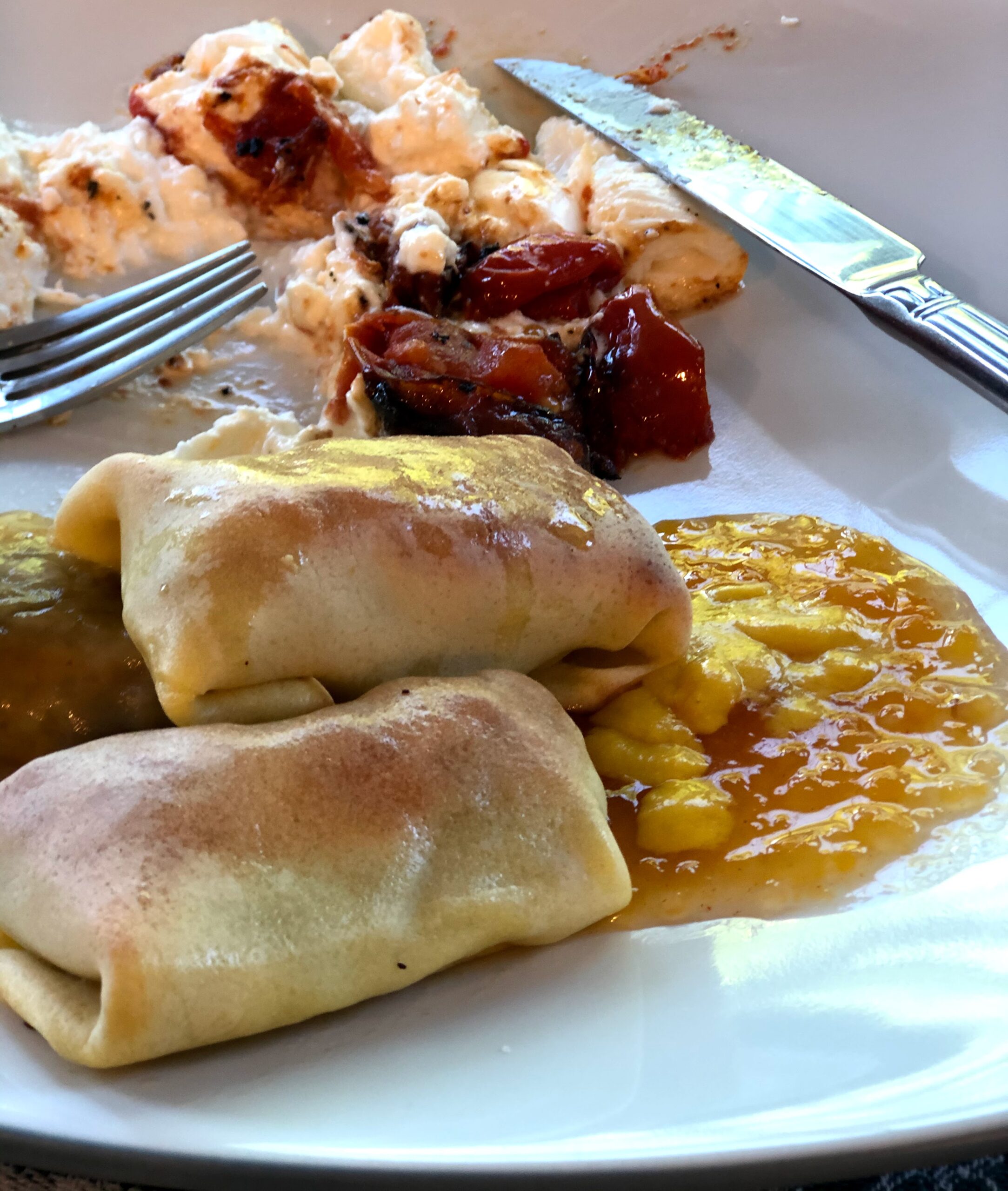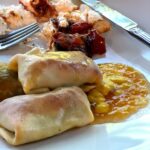 Egg Rolls
An Appetizer or Dinner entree, with Shrimp, Sausage, Mushrooms, Water Chestnuts, Savoy Cabbage and Onion
Ingredients
Egg Roll Filling
1

pound

Turkey Sausage or Pork Sausage

Brown and broken up into small pieces

1 1/2

pound

baby shrimp or very small shrimp

Chopped Fine

1

medium

Onion

or 6 scallions minced

1

can

Water Chestnuts

Chopped fine

1/2

head

Savoy/or Napa Cabbage

Chopped fine

12

oz

mushrooms

Chopped Fine

Olive Oil
Crepe Batter
3

Cups

White Flour

3

Cups

Water
Instructions
Filling
Chop Cabbage, Shrimp, Mushrooms, Water Chestnuts and Onion to a fine consistency

Remove casing from the sausage and place meat in a large frying pan. While browning meat continue to break large pieces into small pieces until you have the consistency of crumbs.

Remove the sausage from pan and place in large mixing bowl

Add small amount of olive oil to pan and add mushrooms, cook mushrooms for 3-5 minutes and then add chopped onions. Cook until liquid is reduced, (you want it to be on the drier side but not over cooked)

Place mushroom/onion mixture into the bowl with Sausage

In the same large frying pan add the chopped cabbage and cook this takes about 5-10 minutes, you want it to be tender but not over cooked, the finer it is chopped the quicker it cooks.

Add chopped shrimp, and chopped water chestnuts to bowl

Mix all ingredients and set aside
Crepes
Break all 12 eggs into a large mixing bowl, using either a standing mixer or hand mixer blend eggs until they are well mixed, do this on a medium speed, you don't want to many air bubbles

Add Water to egg mixture and blend

The last step is to take the flour and slowly add to the egg/water mixture and blend till smooth.

If there seems to be lumps, take the batter and strain it through a sieve pushing the lumps through the sieve to incorporate as much of the flour as possible.

Take your 8" frying pan grease with a paper towel, (you need the pan greased but you don't want any standing oil. heat the pan over medium high heat, please give the pan time to heat up, the crepes cook better on a well heated pan. Place 2 tablespoons of batter in the heated pan and swirl to coat bottom of pan. let cook 1 minute, the top of the crepe will begin to look dry, you will be able see this happen don't over cook they shouldn't brown. (there is a video in the blog to show you how.

Remove the crepe and place on a pan, these can be layered on each other they won't stick, after you have approximately 12 crepes move them and start over. It is easier to handle them if the stacks are not to long
Filling the Egg Rolls
Break 1 egg and add 1 tbsp of water in bowl and mix, this will be your egg wash to seal egg rolls

Place 1 crepe on counter, add 1 Tablespoon of filling in the middle of crepe (don't over fill the crepe will break when folding)

Take the egg wash and moisten the edges of the crepe

Fold up the bottom of crepe over the filling, moisten left and right edge with egg wash,

Fold the left and right sides towards the middle and then fold the egg roll over to seal.

Place the egg roll on a well greased cookie sheet if cooking that day, or place on wax paper or parchment paper on a cookie sheet in 1 flat row and freeze, for later use. Once they are completely frozen remove from tray and place in a plastic freezer bag. Will last up to 2 months, if they aren't eaten first.