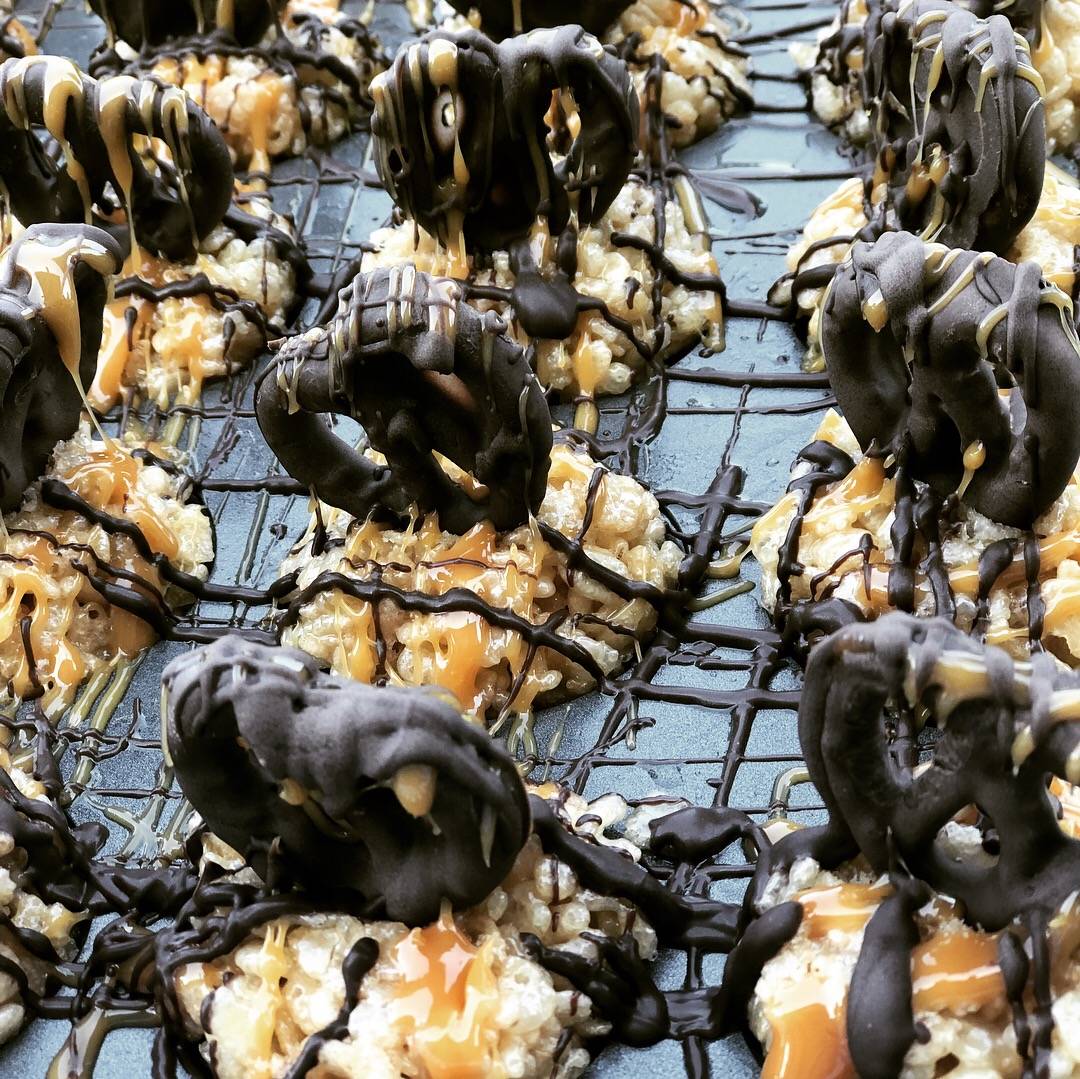 Can't even tell you how addictive these little treats are. You can't just eat one…
I had a very good friend ask me for the recipe so I decided to put it on my Website.  I first found the original recipe on Pinterest and then it was no where to be found, but I remembered that it had a You Tube video with it so I did a little research and I was able to find it again.  Salted Crack Rice Krispie Treats  I have modified the recipe, it was to salty for my liking but I have given you the link, I like to give credit where credit is due.
It really isn't very difficult to make, you will need to watch the caramel when you are making it, but not much stirring.  You want to let the caramel get that golden brown color.  Place the butter in the pan and add the cream,  once it is fully melted  add the sugar and salt.  Make one quick stir lower the heat to medium and let it cook, you will see it start to turn brown around the edges and you know its ready.  (in the video he states that by not stirring it keeps the caramel softer, just remember if you cook to long it will get to hard.  'While the caramel is cooking you will melt the marshmallows and remaining butter in a large sauce pot, when the caramel begins to brown on the edges and slightly on the top it is ready, turn off the heat.  When the marshmallows and butter are completely melted add the caramel to the  mix.  Again I have modified the recipe I add all of the caramel into the Marshmallow mixture, I like the rice krispies to have that great caramel flavor.
Now it is time to add the rice Krispies to the marshmallow mixture.  Mix it well and at this point you can either make it in a 9 x 13″ pan or do what I did and made mini cupcake sized treats.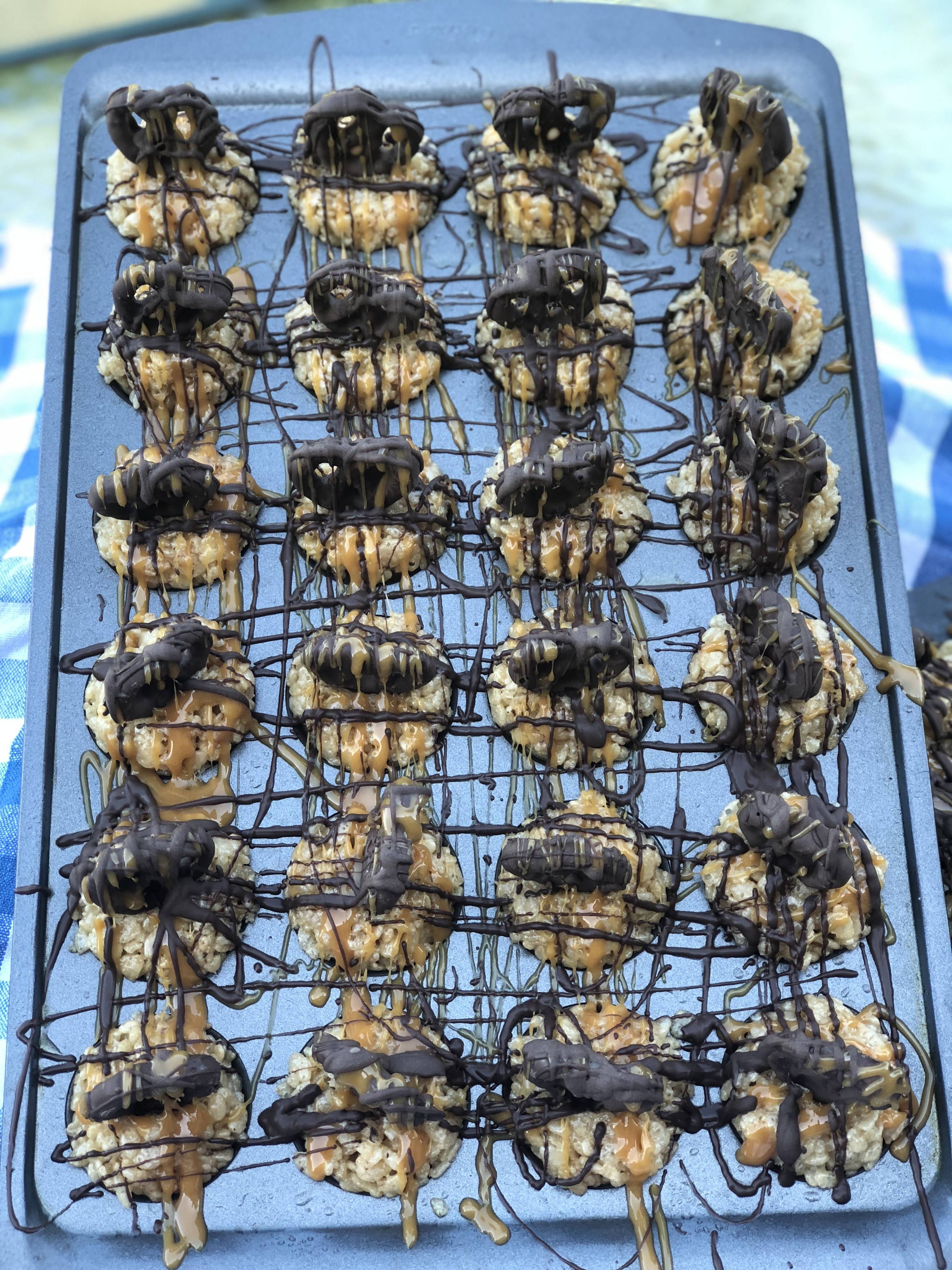 I have the recipe below with all the instructions.  You can also watch the video it is helpful with the steps…
Salted Caramel Rice Krispie Treats
addictive is all I can say
Ingredients
Rice Krispie Treat
18

oz

Rice Krispies

1

cup

Butter

1

tsp

salt

3

TBLSP

Heavy Cream

1

cup

sugar

3

TBLSP

Water

10.5

oz

bag marshmellow
Topping
1

bag

chocolate covered pretzels

1

bag

Caramels

1

bag

chocolate chips

1

tsp

butter or oil
Instructions
Rice Krispie Treat
In a small sauce pan combine 1/4 pound of butter with cream and salt. Bring to boil on medium high heat wile constantly stirring with a rubber spatula

Once boiling, add sugar and water and cook on medium-high heat until sugar caramelizes and turns golden brown. Constantly stir and cut the heat. let rest at room temperature

In stock pot melt 3.4 pound of butter along with marshmallows. Once a thick liquid texture, add cereal and all of the salted caramel. Stir all ingredients together and mix well

At this point you have several options on what to do with the mixture. you can make it traditionally and put it in a greased 9'x12' glass baking dish, or like pictured you can take a small scoop and a mini muffin pan and create mini cupcake sided treats.
Topping
While the Rice Krispies are still warm, make a slight indentation in the middle and place a pretzel in the indentation. next you will have to melt the caramels, place 10 unwrapped caramels in a microwave safe bowl and add 1 to 2 tsp of water. Microwave at 30 second intervals until completely melted.Once all the pretzels are in place, take the melted caramel and drizzle with a fork over all of the mini Rice krispie treats.

Next place 1/2 cup of Chocolate chips in a microwave safe bowl and melt in 30 second intervals, if it is to thick add a small amount of oil or butter. (not to much it won't harden if you do) Once it is melted drizzle the chocolate over the caramel drizzle.
Recipe Notes
This recipe can be varied in a number of Ways.  I have given you the recipe, that matches the pictures shown.  You can use chocolate wafers if you don't want to tackle the chocolate chips and butter.  I also dipped my own pretzels but I have given you the option to buy the chocolate covered pretzels for speed and ease.  if you decide to dip your own you will just need to melt more than 1/2 cup of chips.  It is easier to start with a little and add to the chocolate, it melts easily and you can remelt if it is getting to hard.  I used a fork to drizzle the caramel and the chocolate.