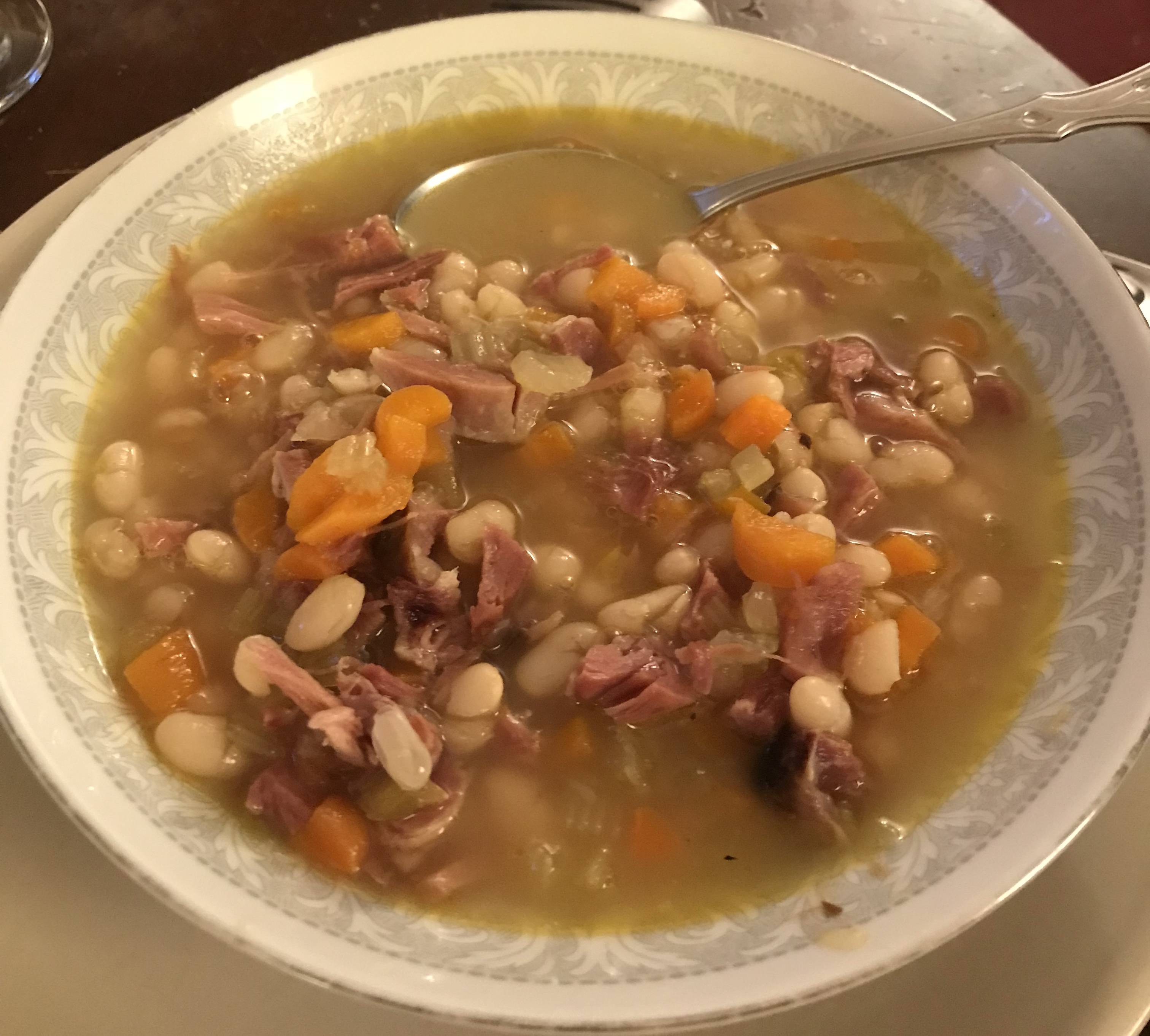 Galletta's Galley and Homemade soup went hand in hand.  Every day there was a new soup on the menu.  All of them homemade and from Rachel's personal cookbook.  One of her first soups was Navy Bean Soup, and it became a staple right from the start.  So I thought that for my first Recipe post I would give you my version of a Galletta' Galley staple.
The first step in making Navy bean soup is to get the dry Navy Beans ready for cooking.  there are 2 methods for doing this, If you are organized enough, (which most times I am not) then the night before place a 16 oz  bag of Dry Navy Beans in a pot and cover with water, put a lid on it to sit over night. This will soften the beans and make the cooking time shorter.  If you are like me and do things last minute, then you take the beans and put them in the pot, cover with water, bring to boil for 2 or 3 minutes, remove from the heat and let them sit for about 1 hour to soften the beans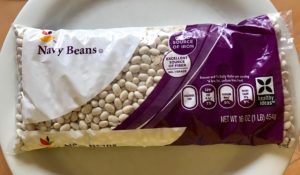 Most times at the restaurant we didn't have a ham bone to start the broth for the soup, so we used Ham Bullion, much like Superior Touch Better that Bouillon Ham Base as shown below.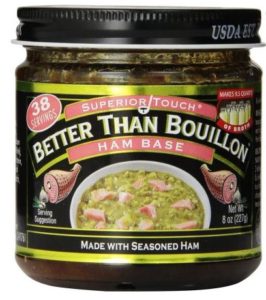 But for my soup, I was lucky enough to have a spiral ham bone that we had from Easter that we had frozen.  So I put it in a pot of water and simmered for at least 1 1/2 to 2 hours, a good test is when the meat falls off the bone it is ready to use.  I then strained the broth and set aside.  Once the bone is cool enough to work with remove any of the meat and chop for use in the soup at a later time.  Next up you need to chop the onion, Celery, and Carrots.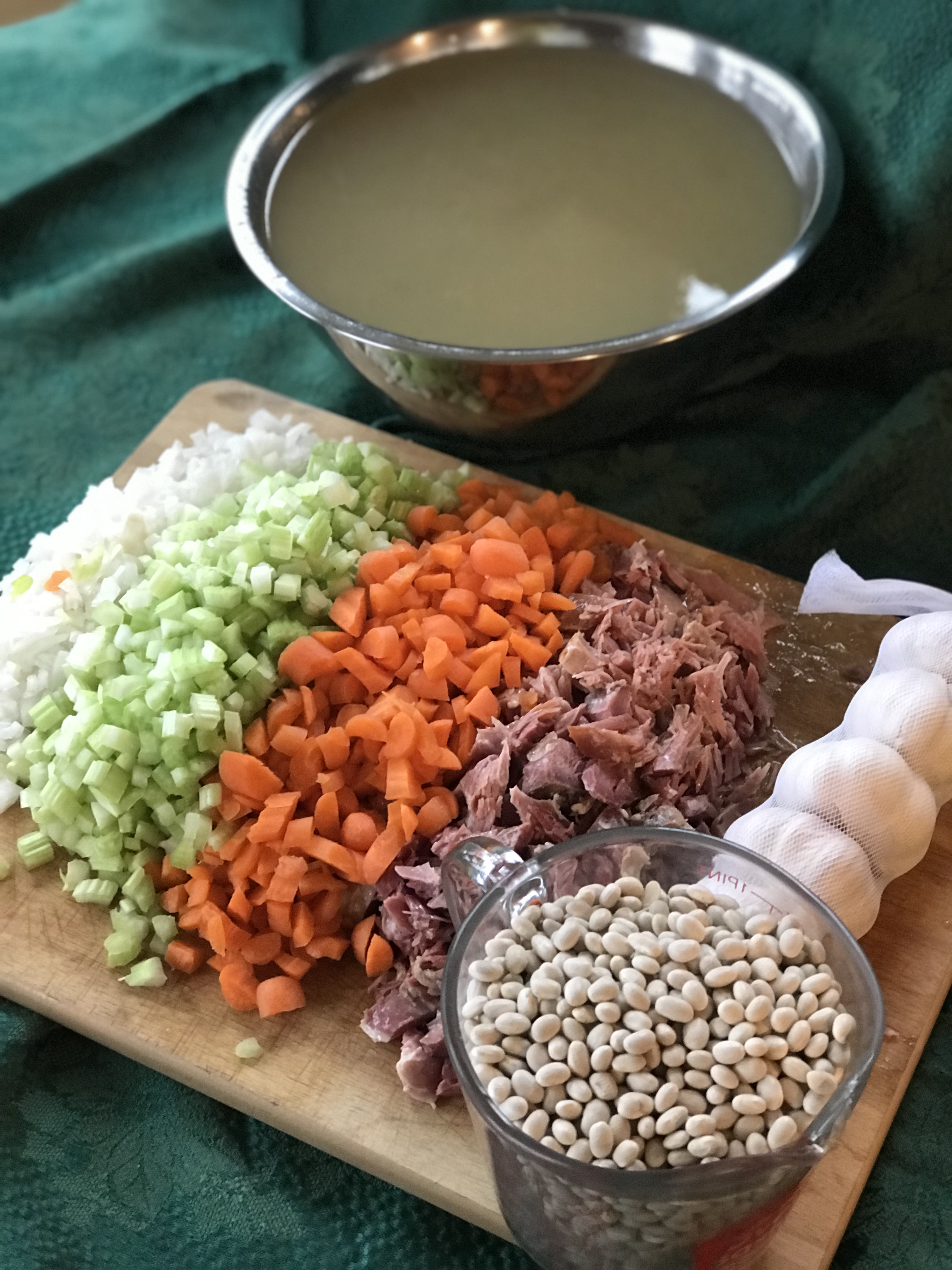 Now you can put the soup together.  Add butter or Smart Balance to the pot and add the onions.  Saute the onions for about 5 minutes on medium heat, you want them to be translucent, (don't brown them).  Once the onions are cooked add celery and carrots and cook for 2 or 3 more minutes just to mix the onions in.  then add the ham, and your broth. Next step,
here you need to add the beans you can use the water that the beans had been soaking in as well you want about 4 quarts of liquid.  Add salt, pepper and Bay leaf, stir well and cook over medium heat, until the Vegetables and beans are soft.about 1 hour if you soaked the beans overnight, or 1 1/2 hours to 2 hours if no soaking occurred. The longer you cook the thicker the soup becomes, so if you like a soup that has lots of broth watch how long you cook it for.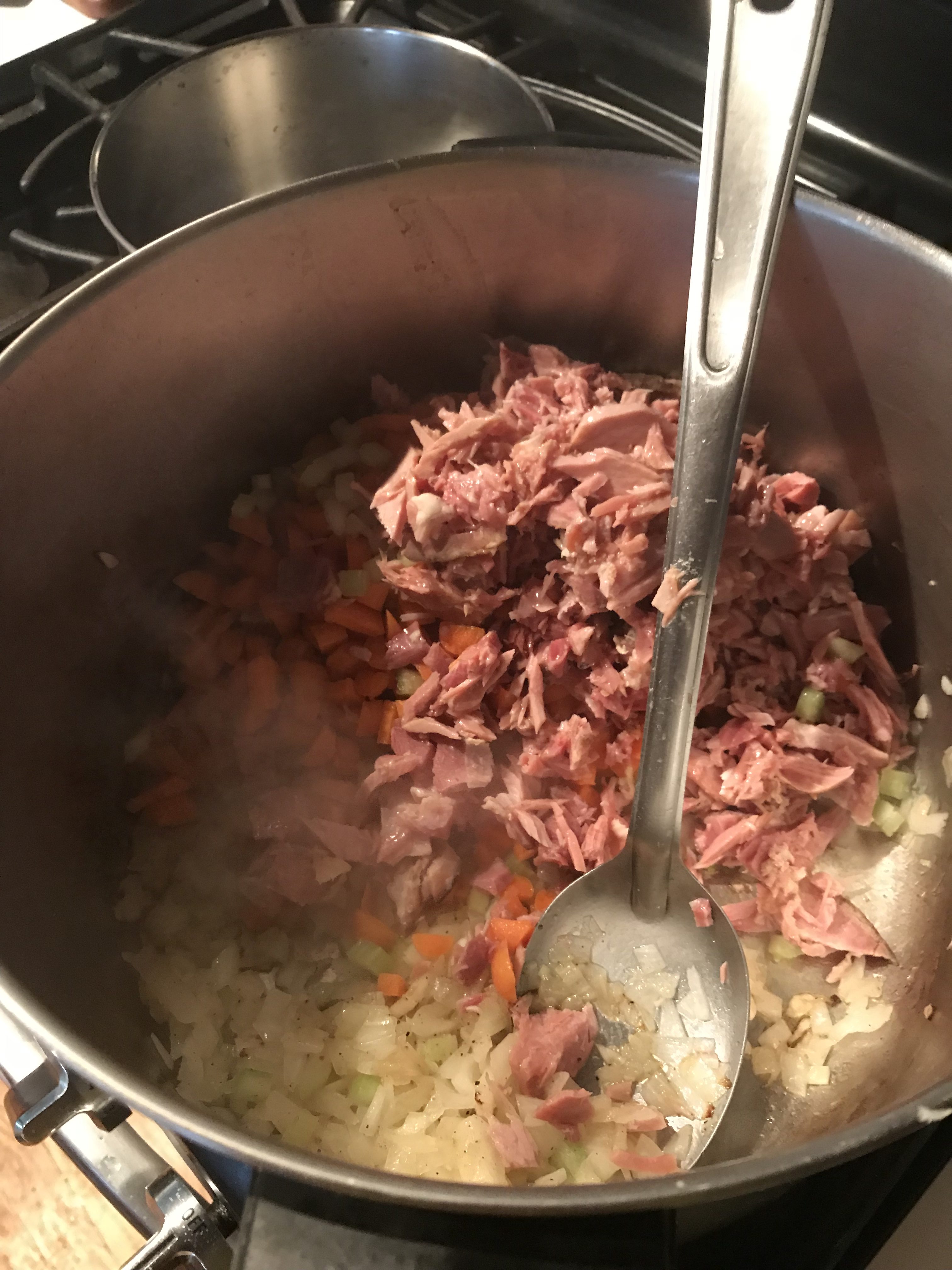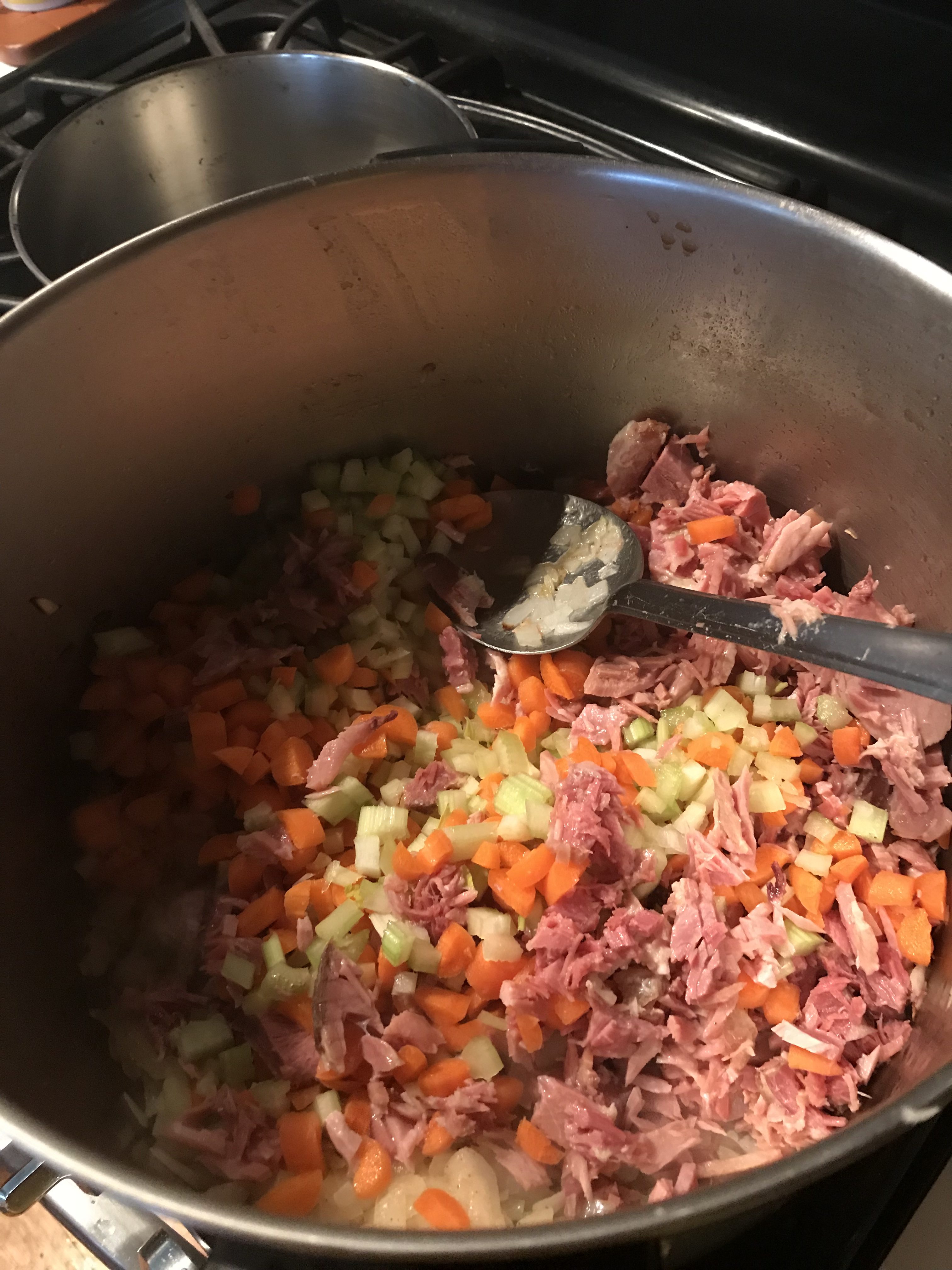 For the full recipe got to Galletta's Galley home page and press the reci
pe button.  That will take you directly to the full recipe.  It is a PDF file for ease of printing.
Navy Bean Soup
Galletta's Galley Phyllis Castaldo
Cook Time
1
hour
30
minutes
Ingredients
16

oz.

Dried Navy Beans

1

Medium Onion Chopped

1

Cup

Carrots Chopped

1

Cup

Celery Chopped

Ham Bone/or Ham Bullion

4

quarts

of liquid

this needs to either the broth or water or combination of the 2

Ham Bullion

if not using Ham Bone

2

cups

of Ham Chopped

1

Tablespoon

Butter/Margarine/Oil

Salt

to taste

Pepper

to taste

2

Bay leaf
Instructions
In a stock pot place dried Bean's in the pot and cover with water. Let sit for 24 hours. If you don't have the time to do this step, bring the beans to a boil and let them cook 2 to 3 minutes. Remove from heat and cover, let them sit for about an hour. This will soften the beans and speed the cooking time up.

While you are waiting for the beans, if you have a ham bone, you will need to place in a pot and cover with water. Cook on Medium high heat for at least 1 ½ hours, a good test is if the meat is falling off the bone then it is good to go. Remove the ham from the broth, strain the broth and save. Once the bone has cooled remove the ham and chop. We will use both the broth and the ham later in this recipe.

In a stock pot add your choice of Butter and add onions, sauté the onions until translucent, about 3 or 4 minutes on medium heat (don't brown the onions). Then add the celery and carrots and cook for 3 to 5 minutes longer. You will then add the ham, beans, broth and season. This will have to cook for 1 to 2 hours depending on the beans, it will be finished when the beans are soft not disintegrated. Cook on medium high heat, and then reduce heat when soup begins to thicken, about 1 hour. Just make sure you stir every so often.
Recipe Notes
This soup freezes great. Put in 1 or 2 serving container and you have an instant meal. Enjoy!!
[Best_Wordpress_Gallery id="12″ gal_title="Navy Bean Soup"]