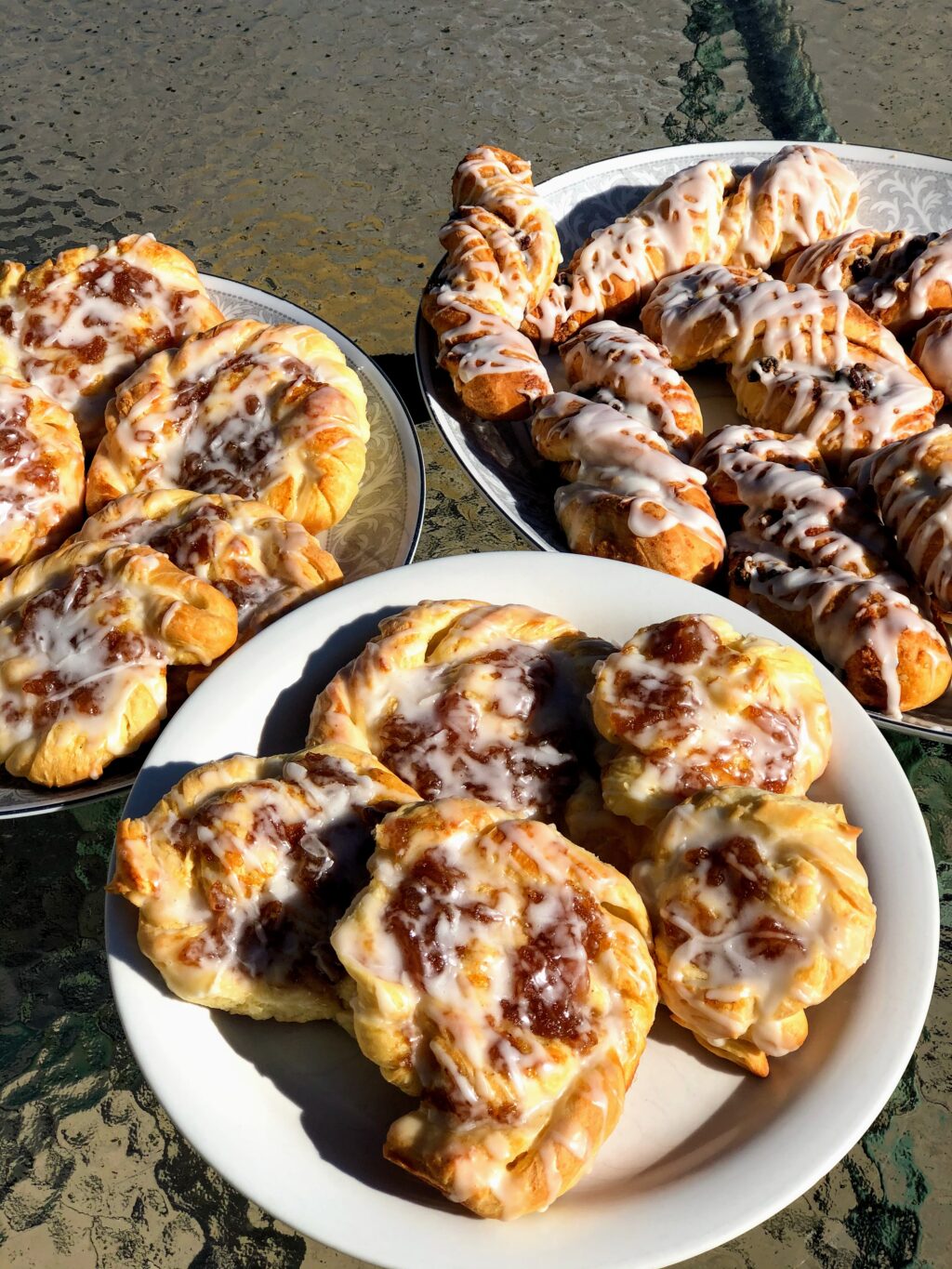 This recipe is an adaptation of an original recipe in "Women's Home Companion Cook Book Circa 1942". A wonderful cookbook that brought home cooking to a new level. Creating recipes that were either originated or thoroughly tested in the Companion' Home Service kitchens before it earned a place in their book. They followed the art of writing recipes from on of the first and best writers of American Cook books Miss Eliza Leslie of Philadelphia
All the recipes are printed in a form voted "most helpful" by readers of the Woman's Home Companion. Many of the recipes follow the master or basic recipe plan in which ingredients and a standard method of preparation is given, accompanied by simple variations.
I took the American Brioche Recipe using a variation of their Baby Babas, using Raisins, nuts and brown sugar, with 1/2 the dough and created a Danish with the other 1/2 of the dough.
I used an apple pie filling that I cooked down on top of the stove to have the right consistency to top the dough. The dough is a basic Brioche dough that can be used for any number of recipes. American Brioche Video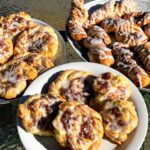 American Brioch
This is a light flaky bread has a butter base to give it it's flaky texture
Ingredients
Dough Ingredients
1

cup

Milk

scalded

1/2

cup

Butter

1/2

cup

Sugar

1/4

cup

Water

Warm

6

Tbsp

dry yeast

5

cups

flour

sifted

3

Eggs

Beaten

2

Egg yolks

Beaten

1/4

tsp

salt

1

tsp

Lemon Extract
Confectioners frosting
2

cups

confectioners sugar

sifted

2

Tbsp

hot water or milk

1

tsp

Vanilla
Instructions
Dough
Combine scalded milk, butter and sugar, cool to lukewarm

Dissolve dry yeast in 1/4 cup warm water, stir and combine with cooled milk mixture

Add 3 cups of flour, beat until smooth

In a separate bowl beat eggs, egg yoks, salt and lemon extract, add to the yeast mixture.

Beat 4 to 5 minutes with an electric beater or stand mixer, using medium speed.

add enough of the remaining flour to make a soft dough.

Place dough in a greased bowl, brush with melted butter, cover and let rise in a warm spot for about 2 hours or doubled in size.

At this point you can either stir down the dough, place back into the greased bowl cover and refrigerate over night, or add nuts and raisins, stirring them into the dough you might need to Knead it to incorporate the raisins and nuts. then put back in the greased bowl cover and place in the refrigerator.

Next day: Turn out onto board. Roll 1.4 inch thick into an oblong, about 18 by 24 inches. or if you want them to be smaller I split the dough and made 2 batches. Brush with melted butter, fold lengthwise to make 3 layers, cut into 1/2 inch to 1 inch slices. Cover and let double in size.

Grease a pan. Twist ends of each piece. Place on greased baking sheet and shape each into a coil, circle. Brush with melted butter, if adding fruit topping place on top of butter (try to make indentation for fruit) cover and let rise again until doubled in size.

Bake in a 375° for 15 to 20 minutes

While still warm drizzle with confectioners frosting. You can sprinkle with nut topping if desired.
Confectioners Frosting
To Confectioners Sugar add hot water or milk gradually until the frosting has a good consistency to drizzle or brush on. Add Vanilla.