Local Fare..What a special surprise
UPDATE AS OF SEPTEMBER 10, 2020.  Unfortunately early this year Freddie's Tavern was closed.. 
Last weekend we decided to take the weekend off from house and family responsibilities and have some fun.  Saturday we went to Laurita Winery which I wrote about in my post last week, and then on Sunday we stayed local and decided to take a ride to West Trenton.  You would be surprised at all the treasures that you can find right in your own back yard. After running a few errands, we were on the hunt for someplace new to go for lunch, we happened to see a catering truck on the road we were traveling with  the name of an old restaurant we went to many years ago. So off we went!  ROAD TRIP! into West Trenton for lunch known to locals as Trenton Jct.  Quite a few years ago we took this same trip and the food was delicious.  After getting lost with GPS (what doe s that say about us) we finally arrived at our destination, Freddie's Tavern Freddie's Tavern at Railroad Avenue and Sullivan Way.  We decided to see if it was still as good as it was back then.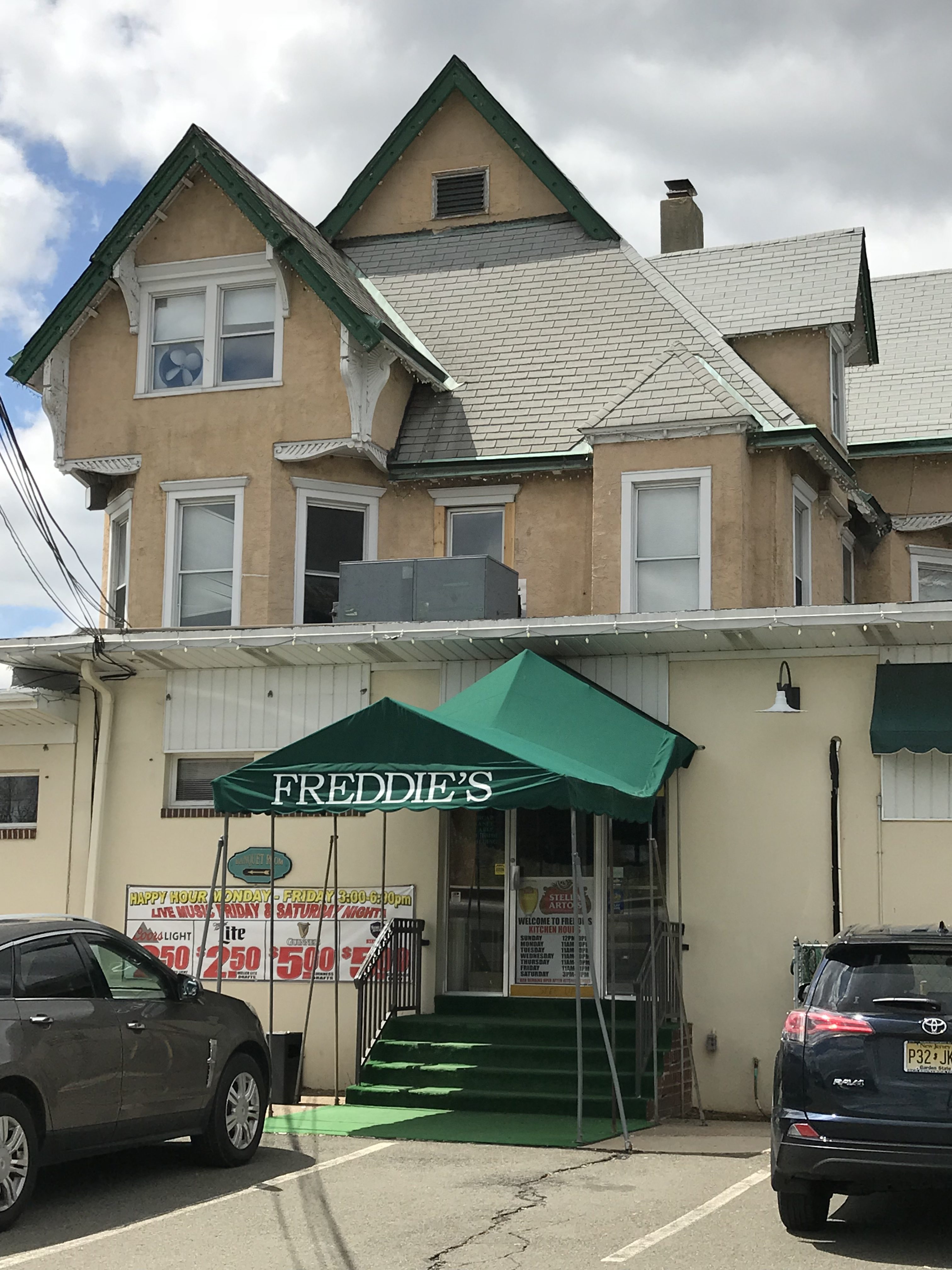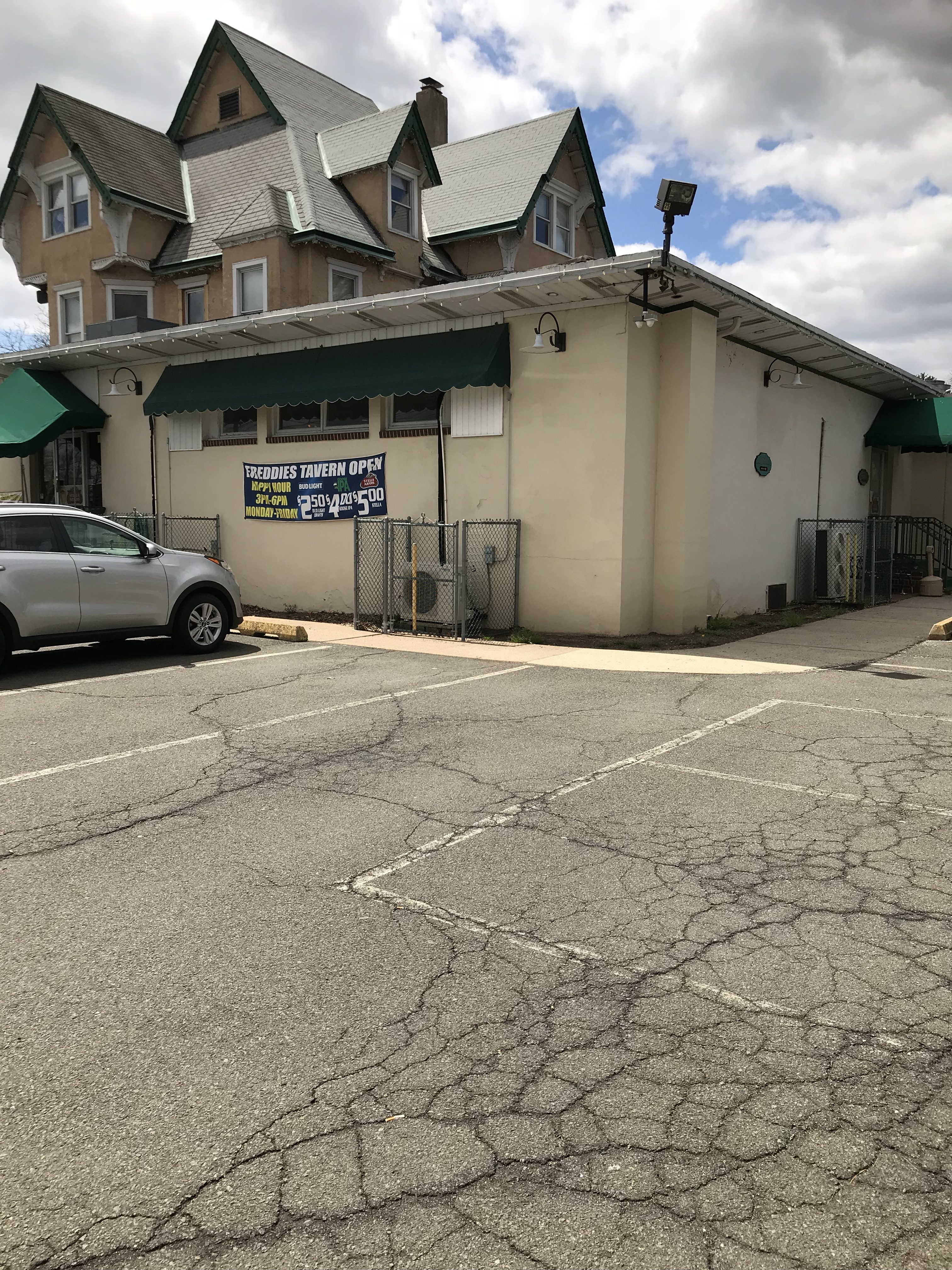 It's location is right next to the West Trenton Train Station which was built in 1920 by the Reading Railroad.  It was purchased by Conrail and Septa in 1976 and used for diesel service to Newark until 1981.  New Jersey Transit took over passenger service from Trenton to Newark unit 1982, and the station was transformed into a Terminus.  It is listed on the National Register of Historic Places June 1984.  They list the official address on the North side of the station, which is now used for private offices.  The station is a Georgian Revival style. Forgive the history lesson Wayne is a Railroad retiree and we love all things railroad. West Trenton Wikipedia info
There is so much more to West Trenton, many years ago this one square mile was called Trenton Junction, and there is an amazing amount of history in this town.  there was a gentleman by the name of Mark Falzini and he wrote a book on his home town of West Trenton called  One Square Mile
"Mark Falzini isn't from Ewing. He's from West Trenton. It may seem like a small distinction to outsiders, but to Falzini — and most West Trenton natives who have a deep sense of pride in their hometown — it's an important clarification. Falzini, who was born and raised in West Trenton, said his one-square-mile neighborhood is more than just a section of Ewing. West Trenton has a unique culture and history that makes residents proud to call it their home."
His book is still available on line if you are interested in the deep and rich history of West Trenton. The link I provided above One Square Mile is an article from Communitynews.org, please take a moment to read all about the amazing little piece of Trenton.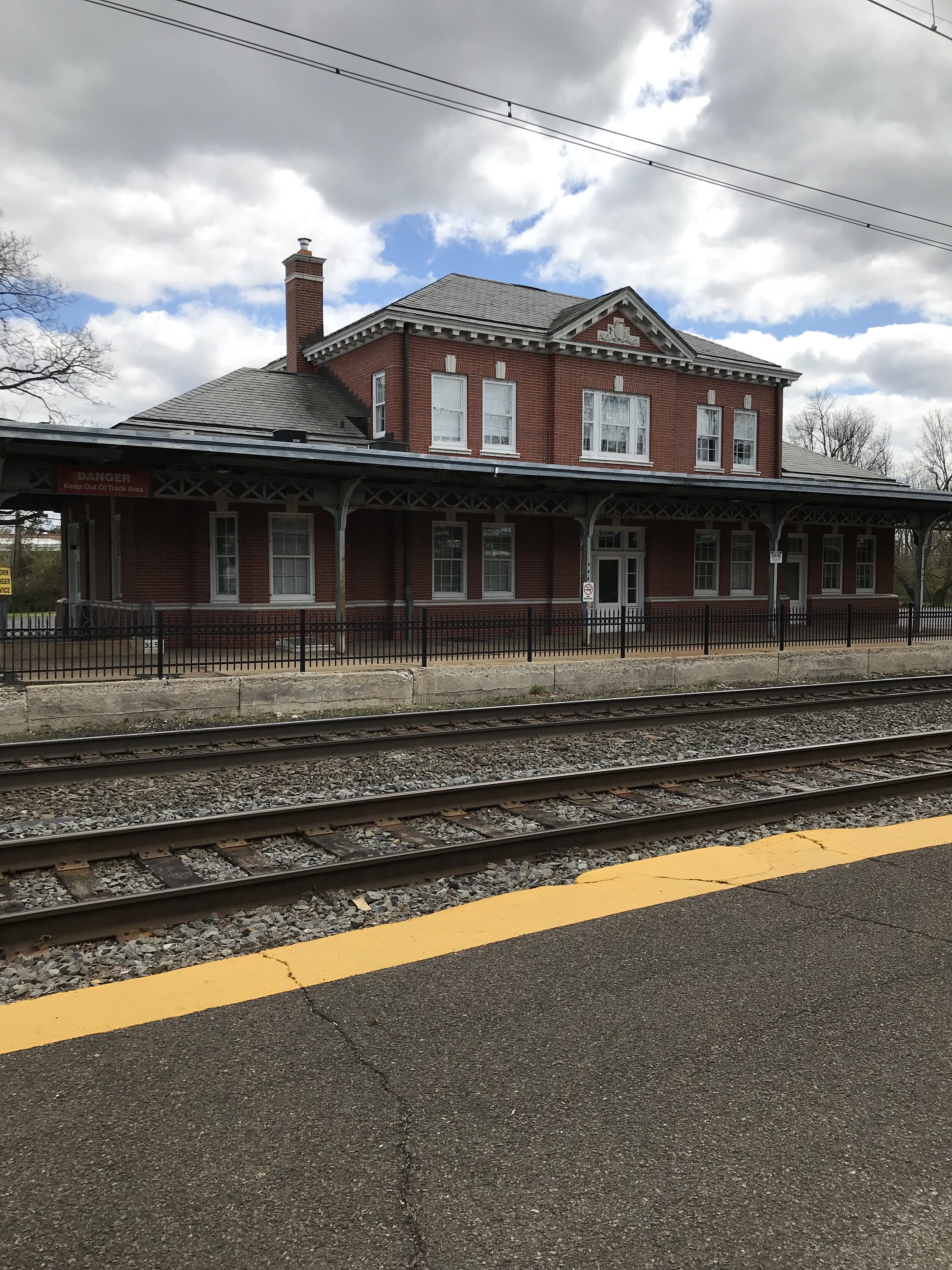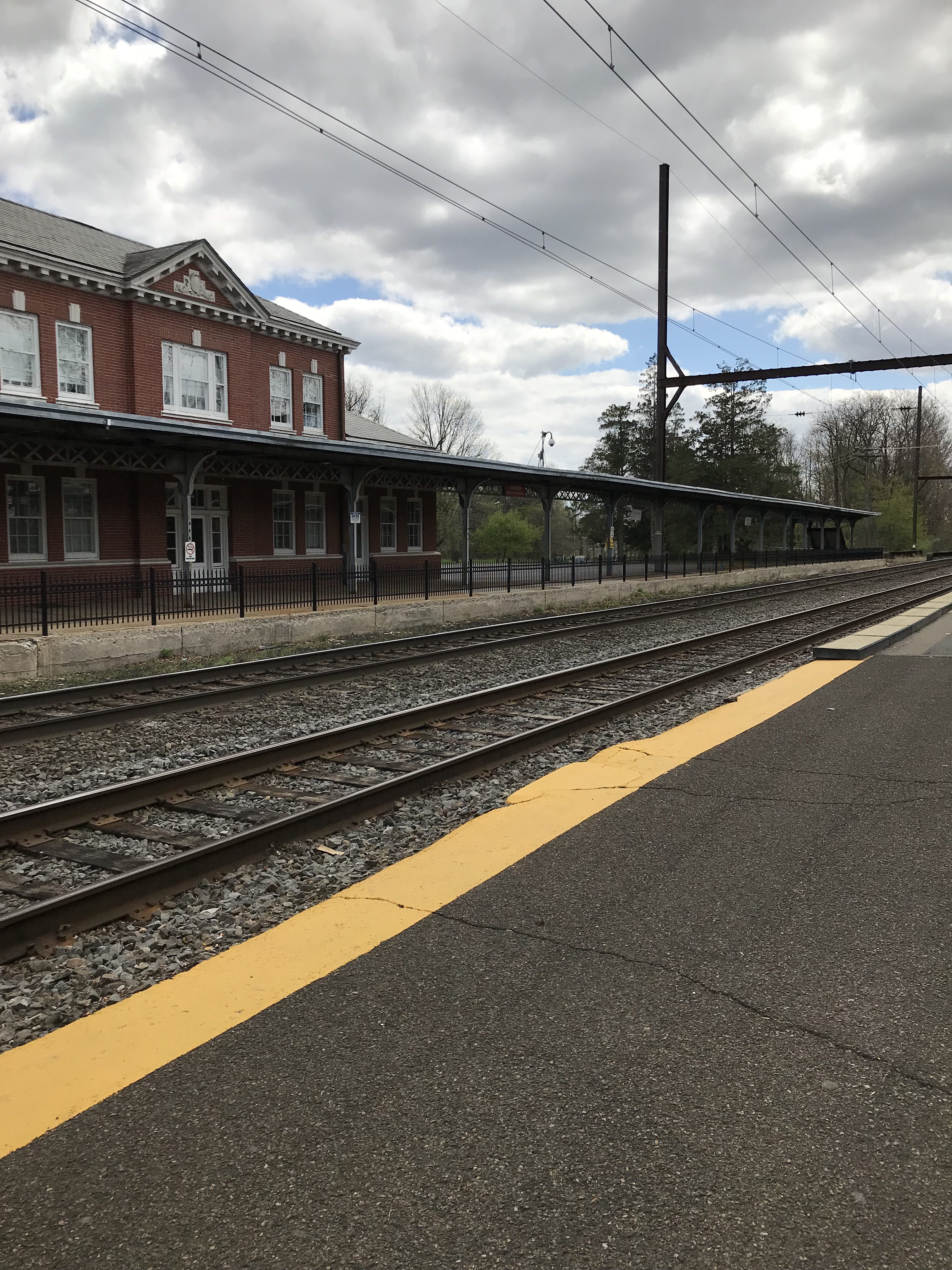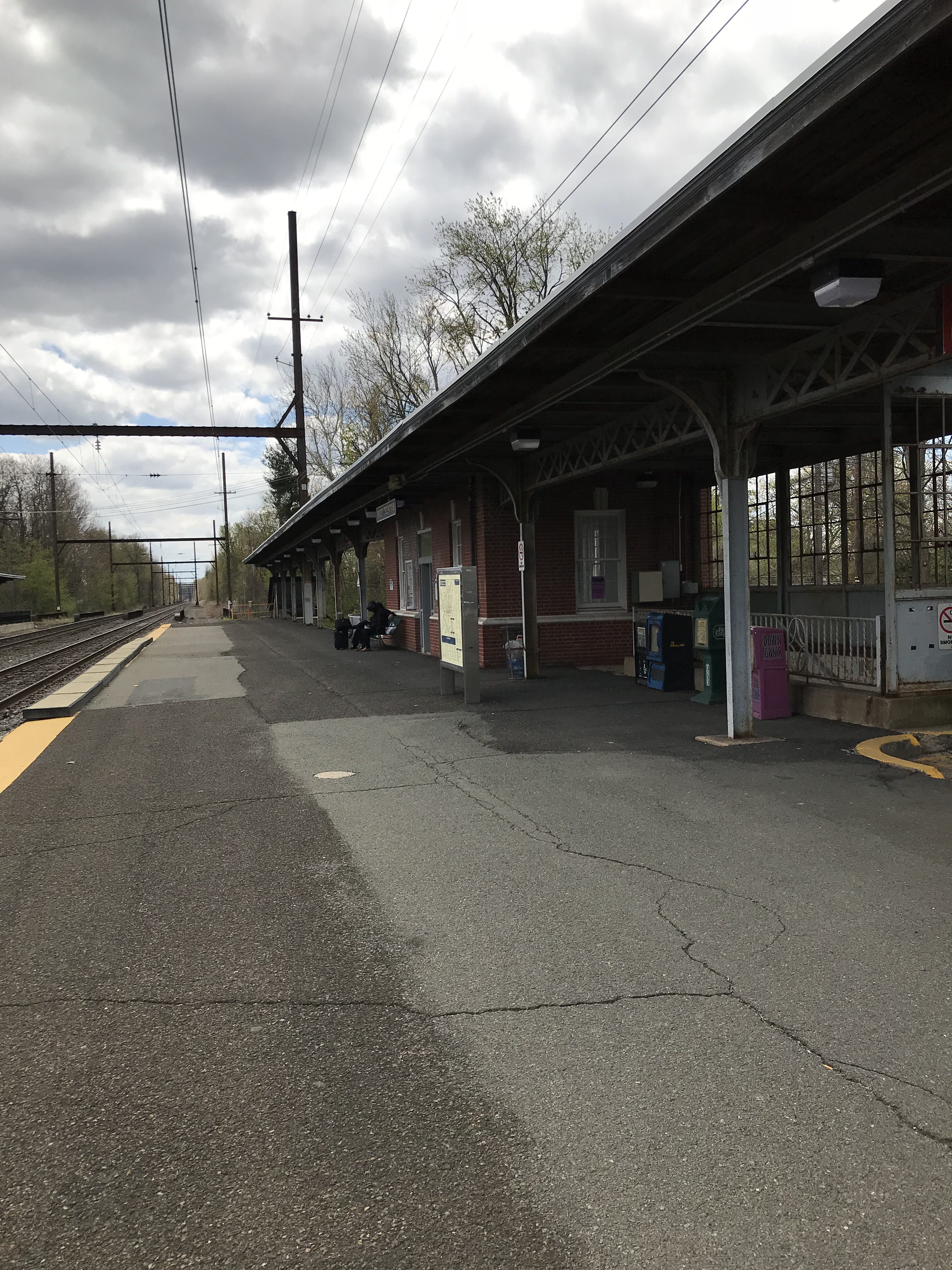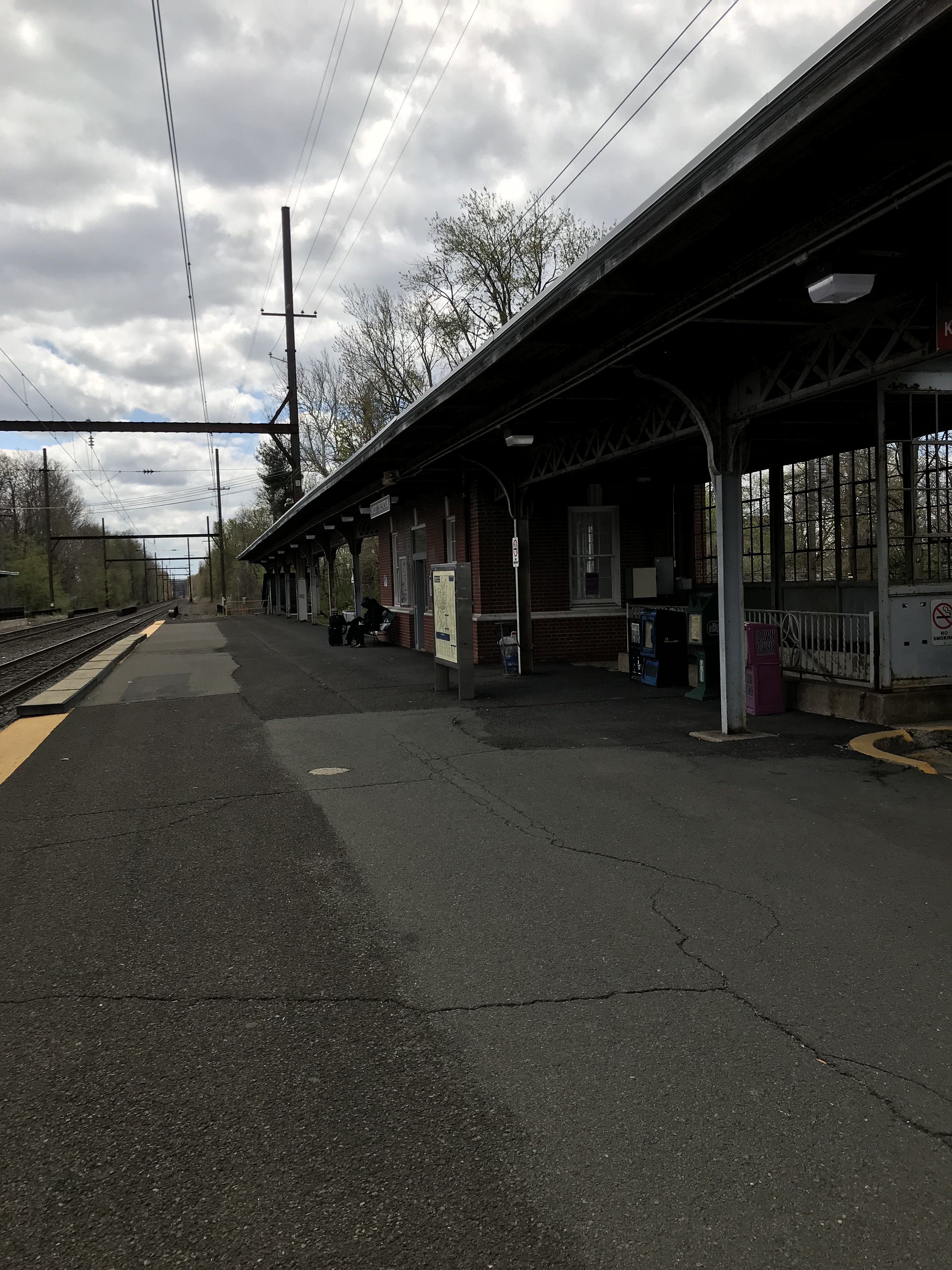 So back to Freddie's Tavern.  It hasn't changed since we were hear 6 or 7 years ago, but we weren't disappointed.  Sunday afternoon around 1 pm, it wasn't very busy about 3 tables and 2 or 3 groups sitting at the bar, 1 bartender and 1 person working the kitchen.  We had to wait for the bartender to help us but it wasn't an unreasonable amount of time.  The bartender explained that the rest of the crew was coming in later that day. There were plenty of tables but we decided to sit at the bar.  We ordered our drinks and took a look at the menu.  We weren't disappointed.  the menu seemed to have much of the same fare as 7 years ago, it was chock full of choices and the prices were very reasonable.  Wayne decided on the Turkey Bacon Sandwich with regular fries.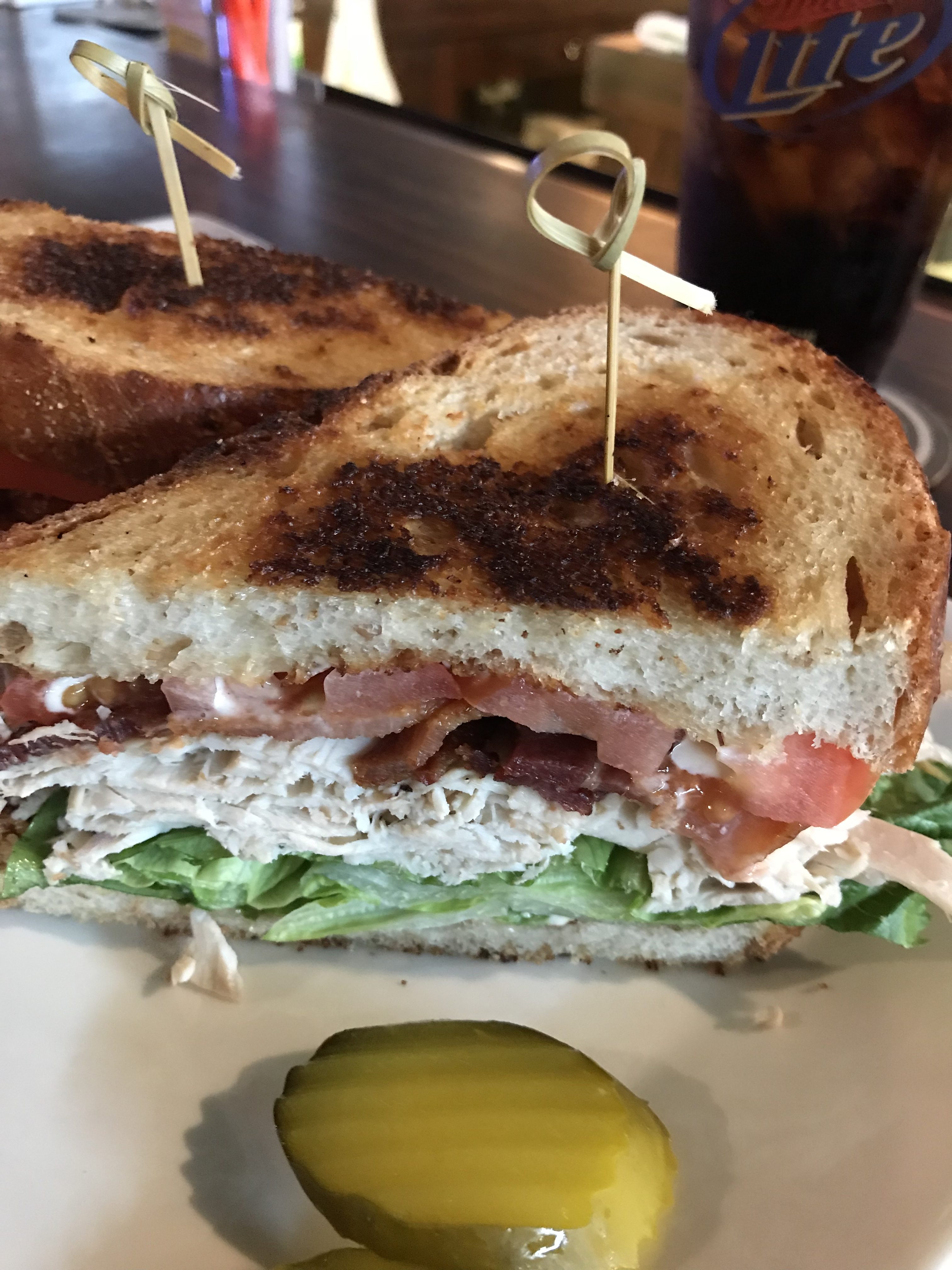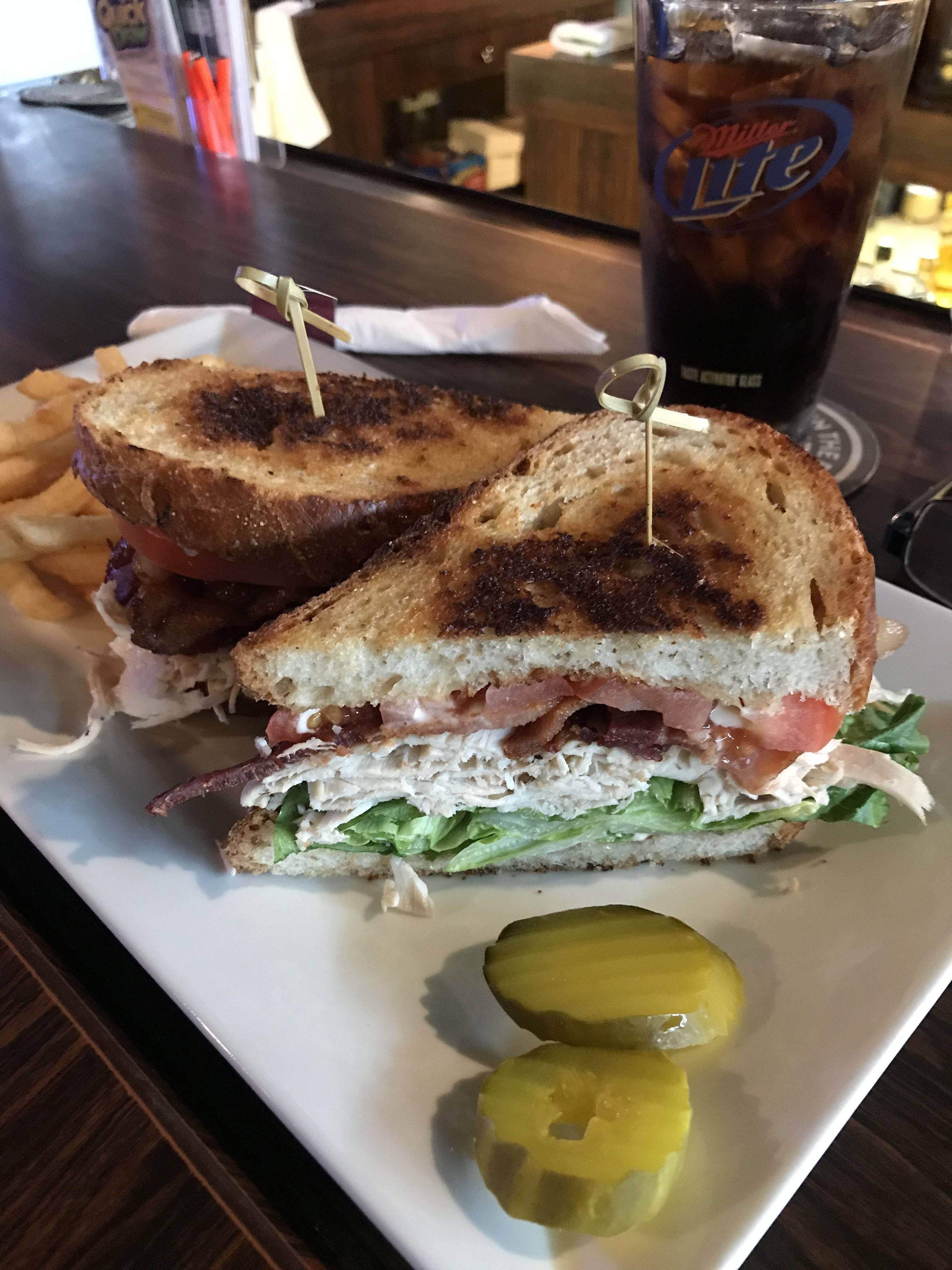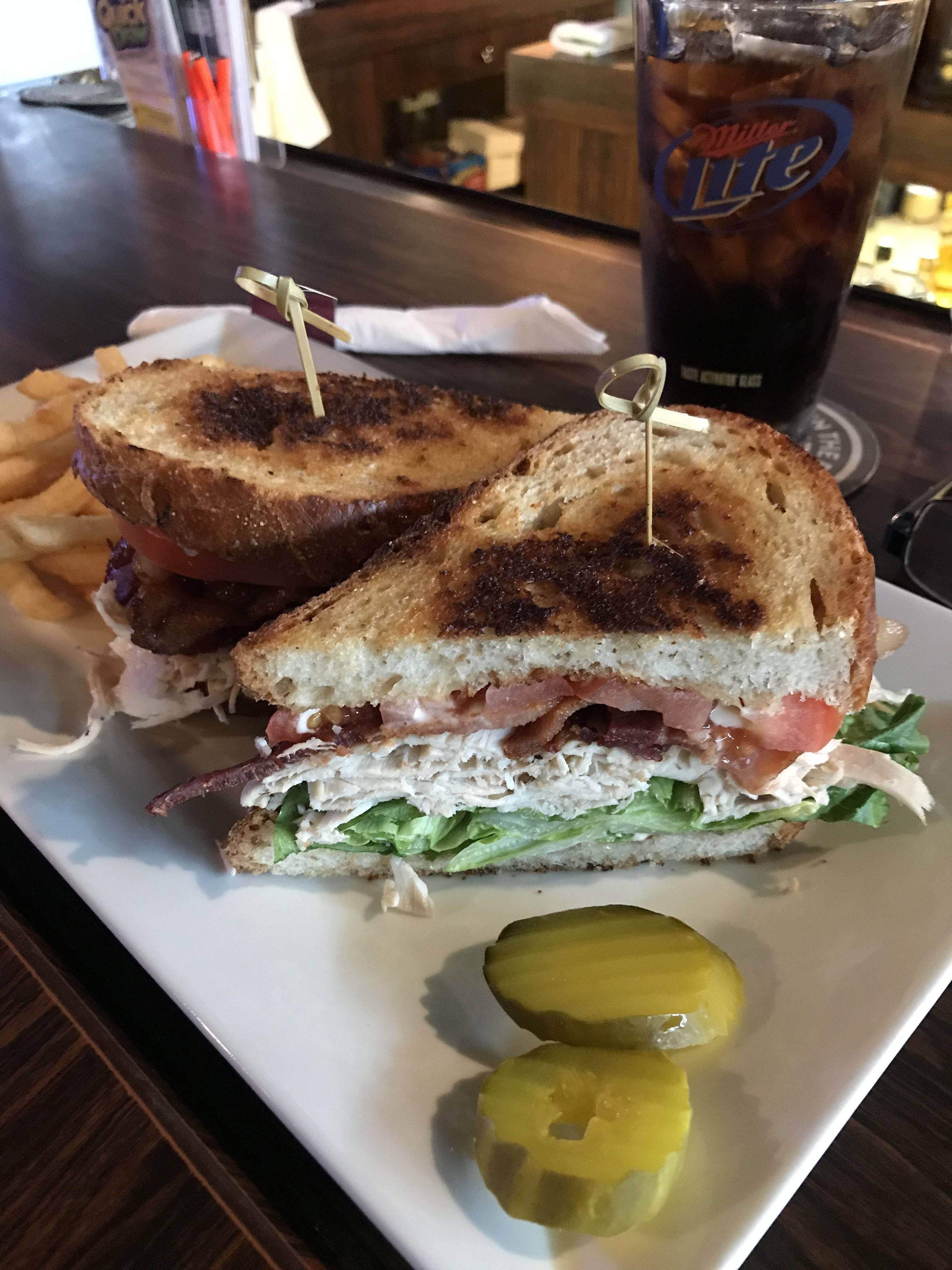 The sandwich was well made and  was chock full of fresh Turkey (freshly cooked) and loaded with flavor. I on the other hand went for the full flavor and lots of calorie laden sandwich the  Ruben, I have been on a pastrami kick and asked if they would be able to create their Ruben sandwich with pastrami instead of corned beef, and while I was being a needy customer (I am waitress from long ago, so I am always a nice needy customer)  I asked if they had sweet potato fries, (I didn't see them on the menu) The bartender went to the kitchen with my requests and came back with a happy smile and told me the kitchen would gladly accommodate  my requests.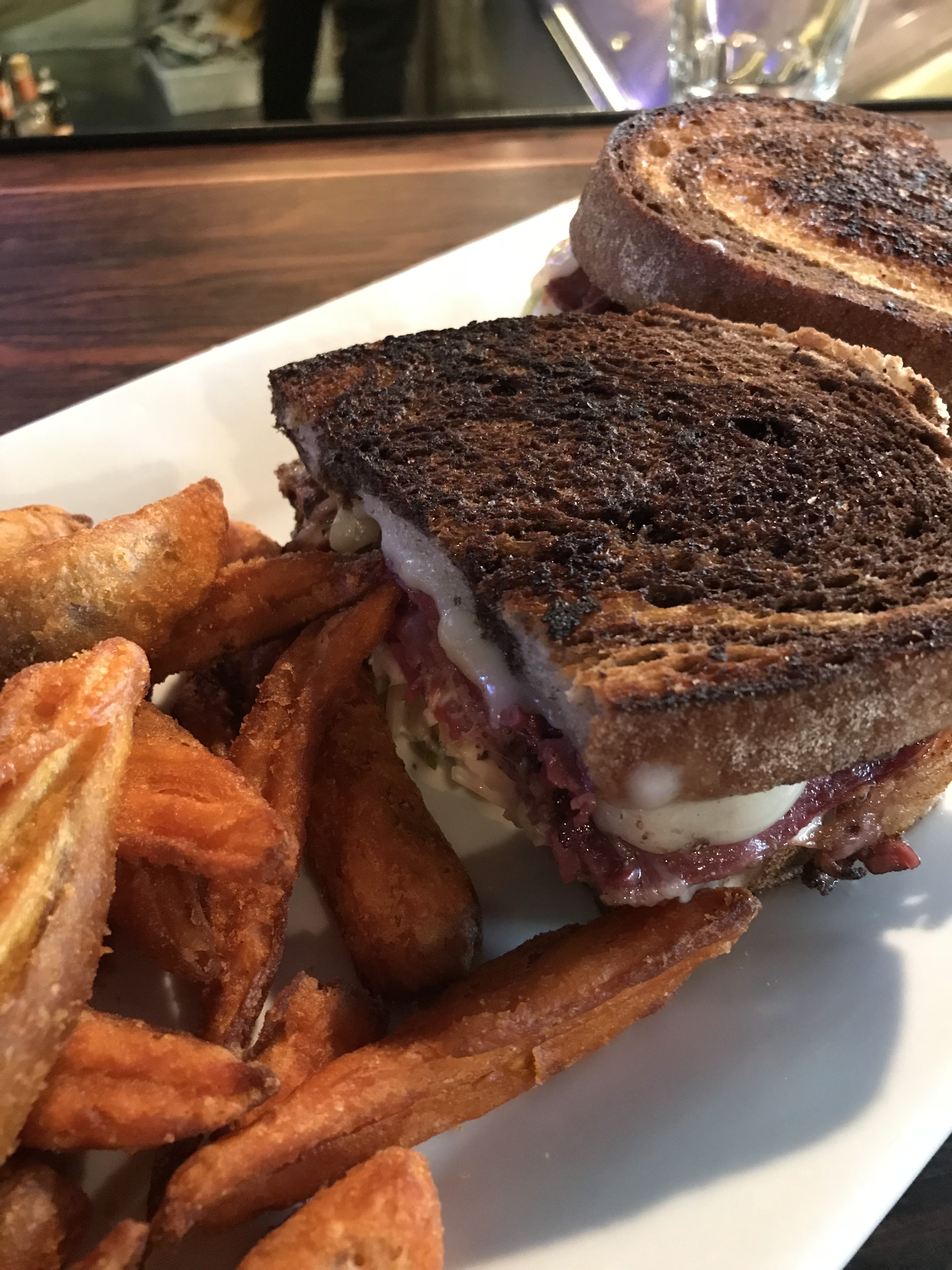 Well let me say that  we were not disappointed.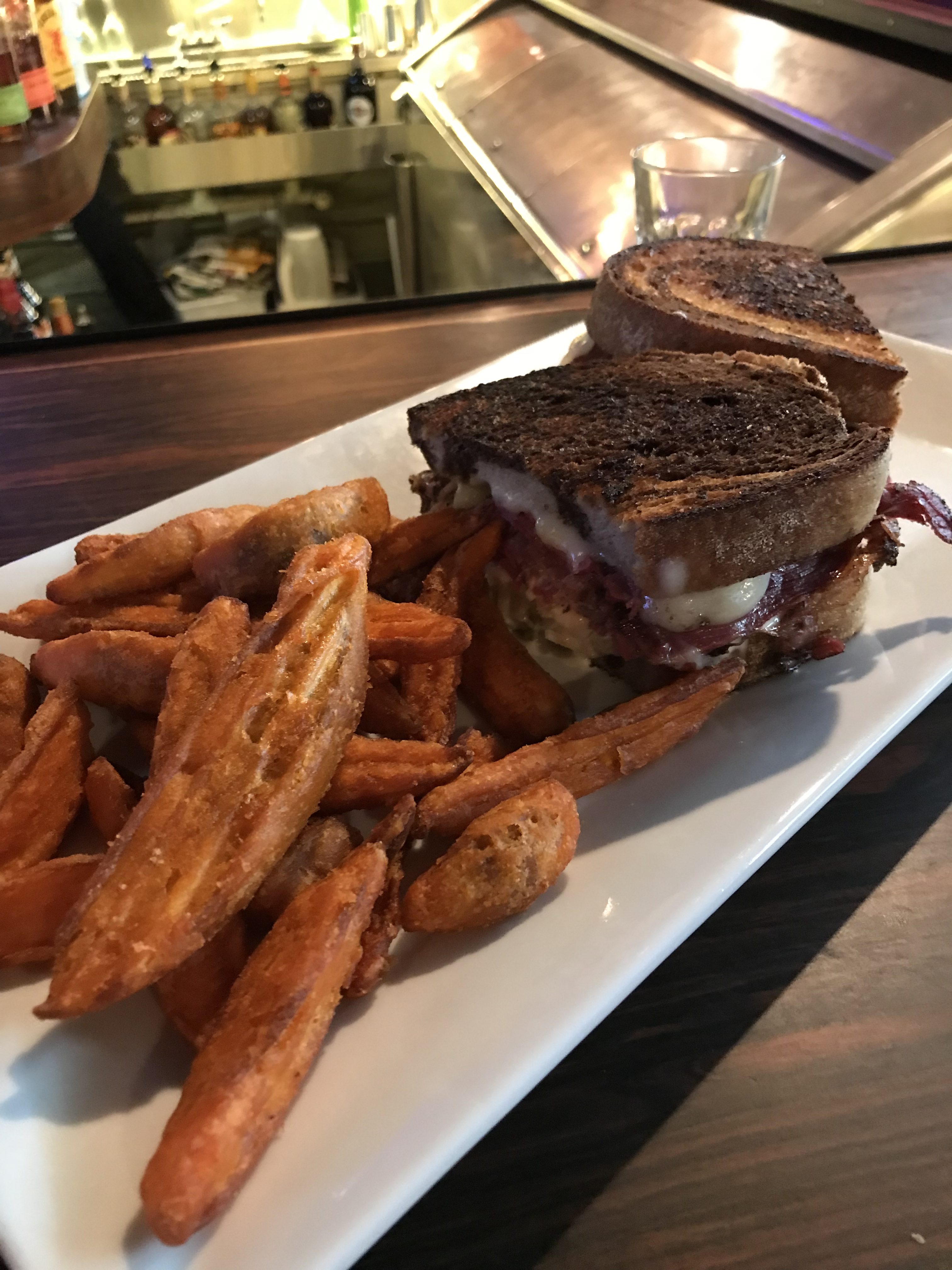 The Sweet potato fries were made to order and they were probably the best I have had in a very long time. We thoroughly enjoyed our road trip and lunch and will definitely be back again. I have given you the Website for Freddie's Tavern  
so that you can see all that they offer for both lunch and dinner , I am also giving you the link to their Facebook page Freddie's Tavern Facebook page
They have a great line up of local bands and entertainment.  It is so nice to have such hidden treasures right in our own back yard.  please visit and  thenlet us know how you enjoyed your meal. Enjoy!!!
[Best_Wordpress_Gallery id="15″ gal_title="Freddies Tavern"]