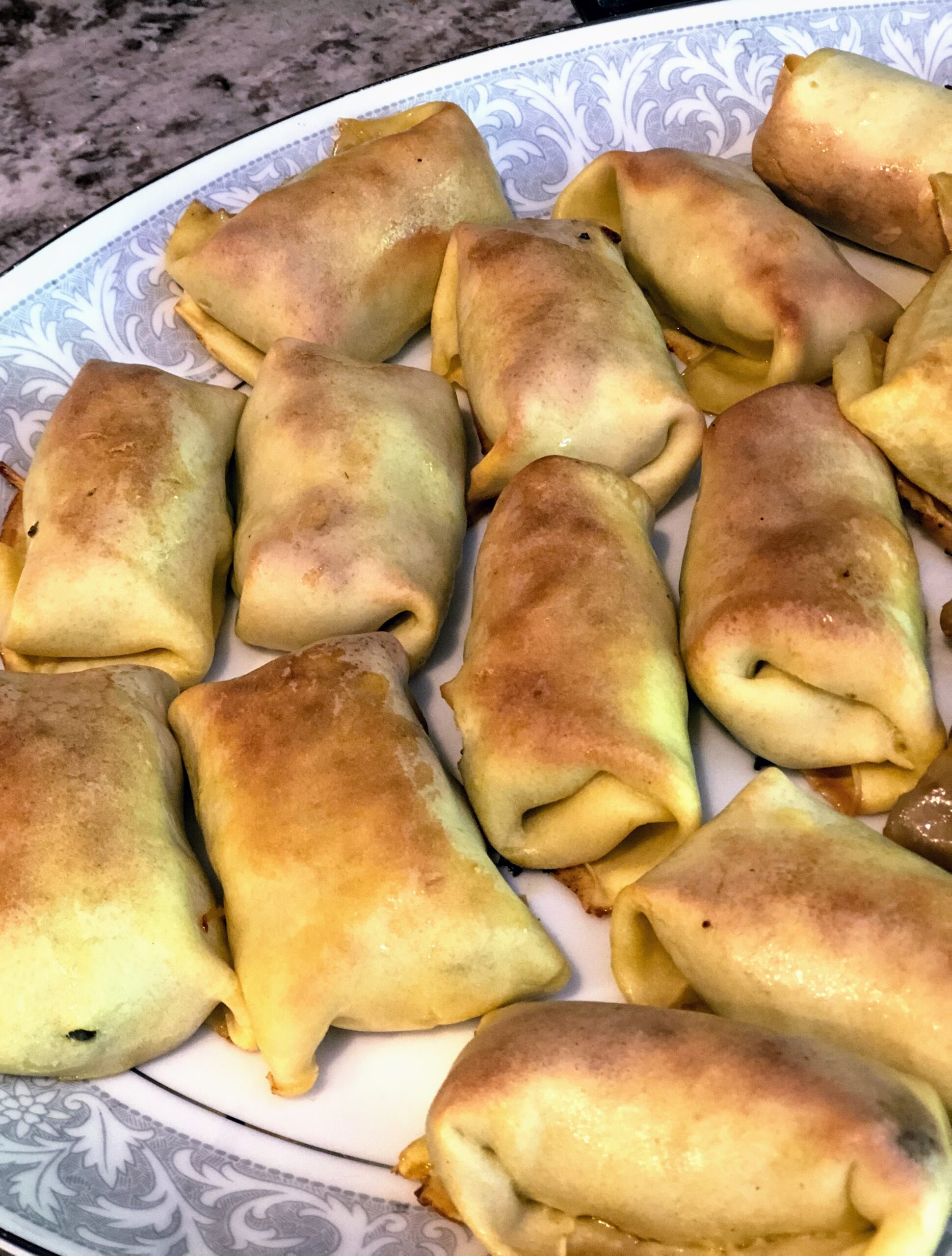 Rachel Galletta's Famous Egg Rolls
As I grow older, and life passes by, I realize that I think more and more about why we do the things we do. From the mundane day to day chores to the simple pleasures in life and everything in between.
Now you ask your self what does this have to do with Egg Rolls? My life has had a series of twists and turns, most good, some bad, most normal. But what I have realized, through it all, is that there was always one thing that remains the same, our traditions. As a child our family moved quite a bit. From Pennsylvania where my Brother and Sister were born, to St. Louis where I was born, onward to Morristown, NJ then to Parsippany, NJ., moving next to Haverford, PA., then off to Springfield, PA., onto Hightstown, NJ., and then to Princeton Jct., NJ. My parents continuing after we were out of the house moving to Connecticut and then their final move to Yardley, PA.
In the early days most of these moves were for 1 year. So you can imagine what going to school was like, the need to make new friends, learning how to navigate in your new surroundings, and basically finding a way to fit into the community. Most of this fell to our parents, but as a child it definitely changed how we looked at and lived our lives. But always there were our traditions, how we celebrated the holidays, that Christmas tree looked the same no matter what house we were in. The physical house might have changed but the furniture made it look like the same home no matter what state we were in. When we went on vacations the how and what we did might have been different but we always did it as a family. Finally, our meals, no matter where we were, my mom had her kitchen traditions!
My mom loved her Magazines, Women's Day, Family Circle. They always had great recipes and my mom found a few that lasted throughout our childhood. So I have decided to do a series of posts about our most prized family tradition foods.
So the first in this series is the Egg Roll!!! My mother tells me that she found this recipe in either Family Circle or Women's Day in the 1950's. The magazine used to put an actual yellow insert with a group of recipes, this particular month was an Asian inspired insert. Now please keep in mind that this was during the mid 1950's to early 1960's.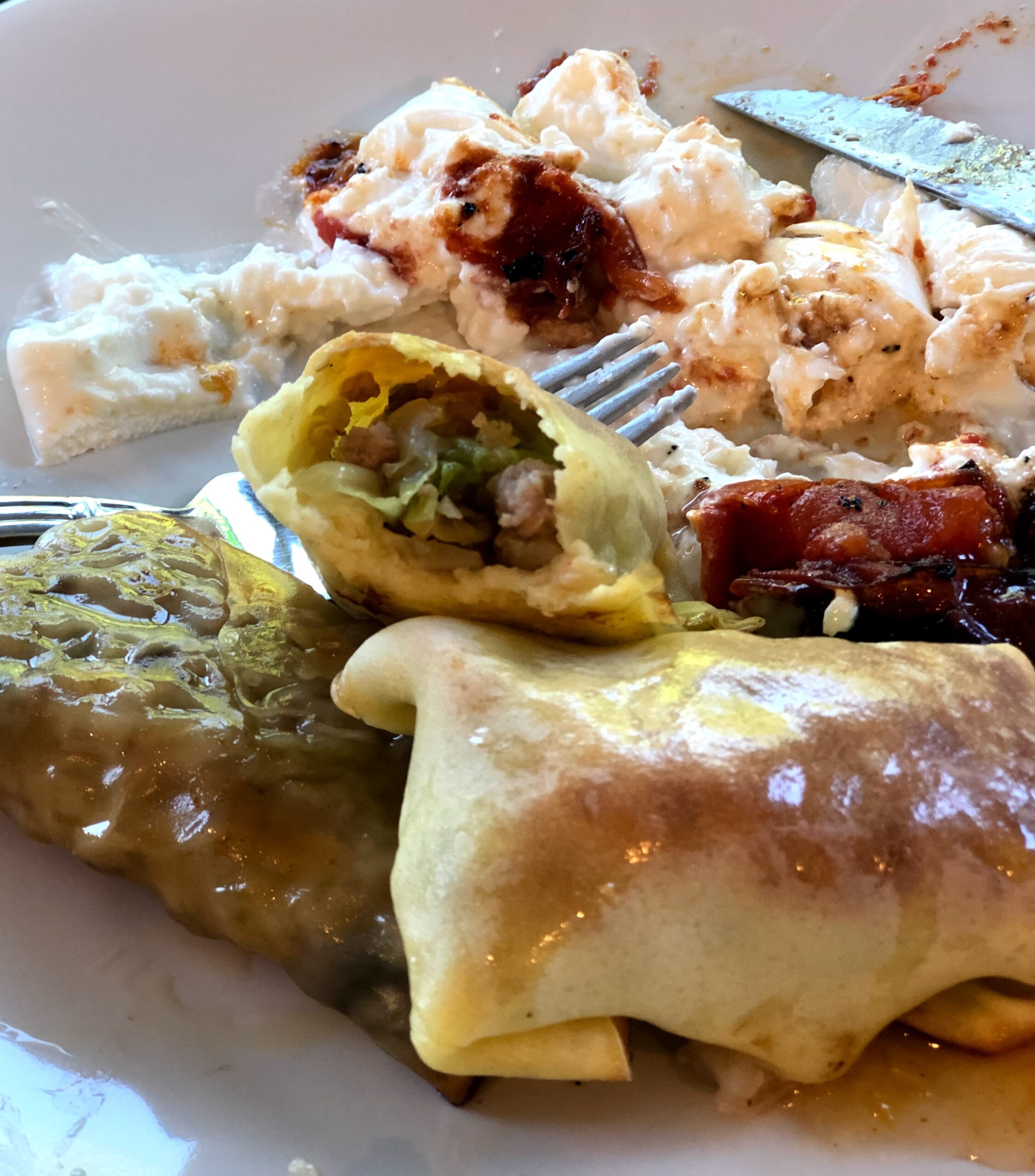 These egg rolls became one of her staple appetizers. For her many dinner parties with friends or when the family came over for dinner or a holiday gathering. Now these egg rolls were always a hit, back then and even now. My Children as well as my Brother's and Sister's children will all tell you that Mom Mom's egg rolls are the best, and now a new generation will continue the tradition of creating and serving these egg rolls. My daughter has now taken the proverbial reins and has started to make the egg rolls in true Mom Mom fashion, so I decided that this should be our first post on our family food traditions.
This is a very simple recipe that takes some time but the results are amazing.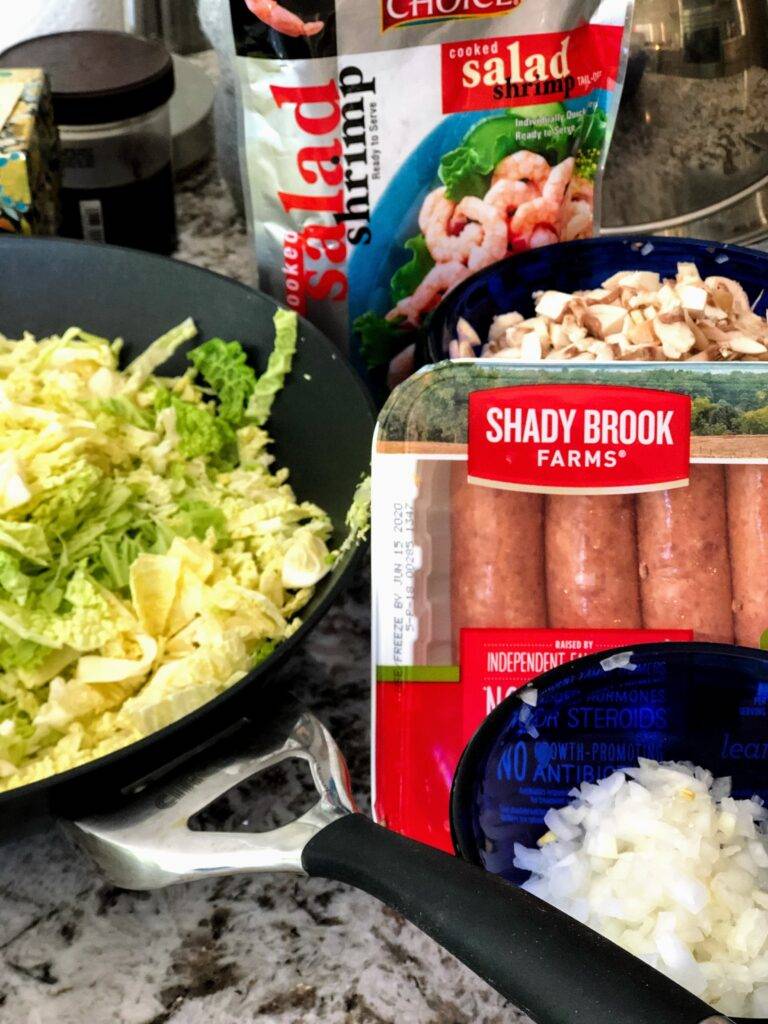 First you will have to make the filling. For this you will need, pork or turkey sausage (out of the casing and cooked in small peices), savoy or Napa cabbage (chopped into small or thin consistency), small cooked shrimp (chopped), mushrooms (chopped small), water chestnuts (chopped small), and green onions or sweet onion again chopped into small pieces.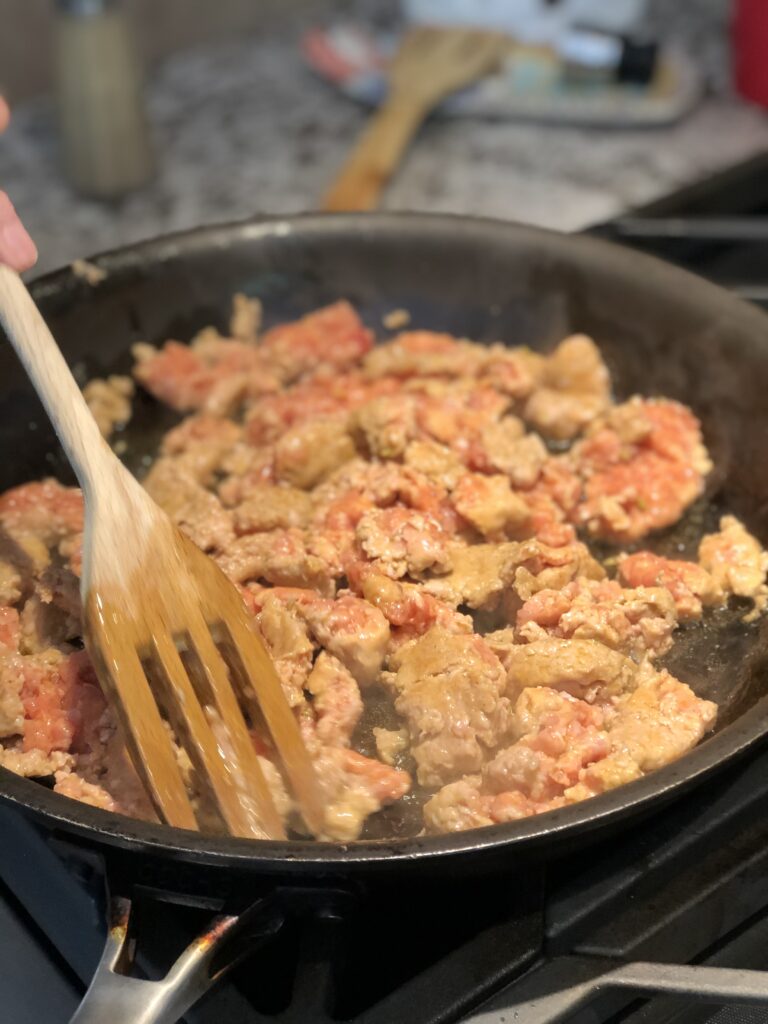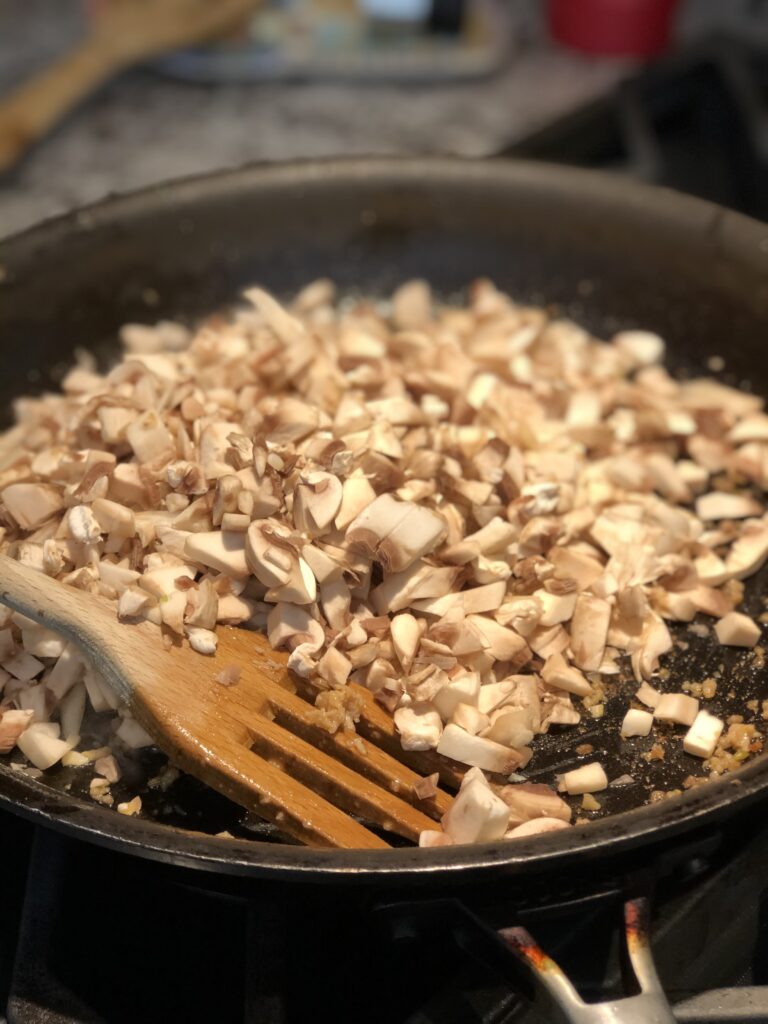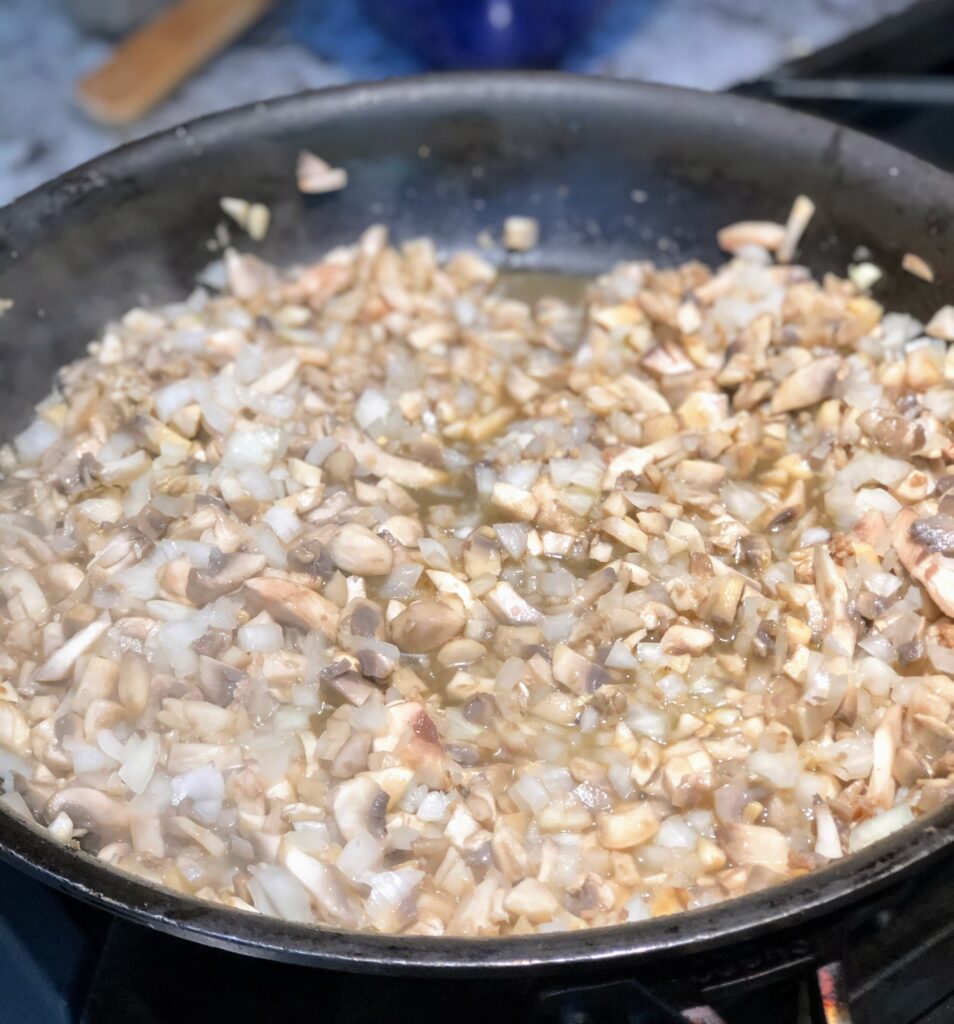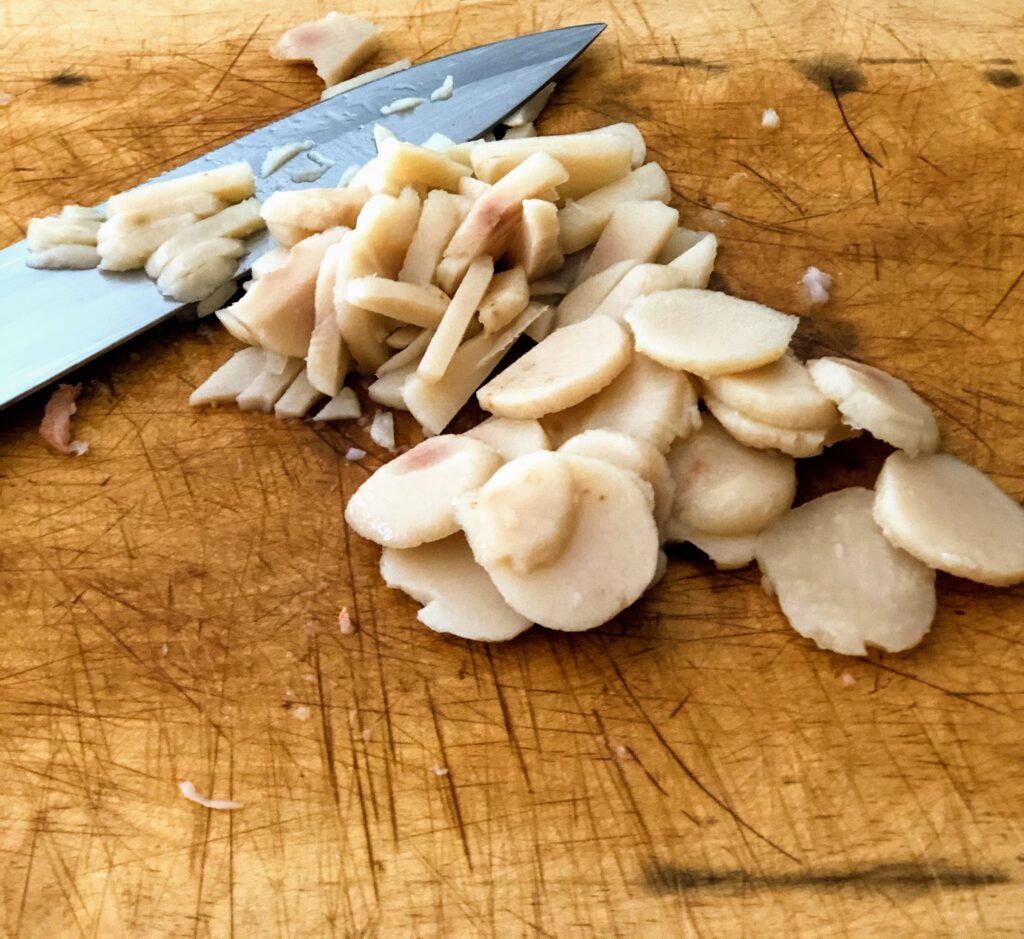 . Once the filling is done set aside to cool. The Crepes come next. You will need a 7″ or 8′ frying pan to make the crepes. Take a little time when mixing the batter, you want it to be smooth the consistency should be a very thin batter. Once the batter is made run it through a sieve to remove any lumps. At this point the recipe tells you to refrigerate for 1 hour. I have used it both immediately as well as waiting, I don't see a real difference. Once the batter is ready you will need to set yourself up to make the crepes, the nice thing about crepes is that they don't stick to each other or the counter or pan you place them on.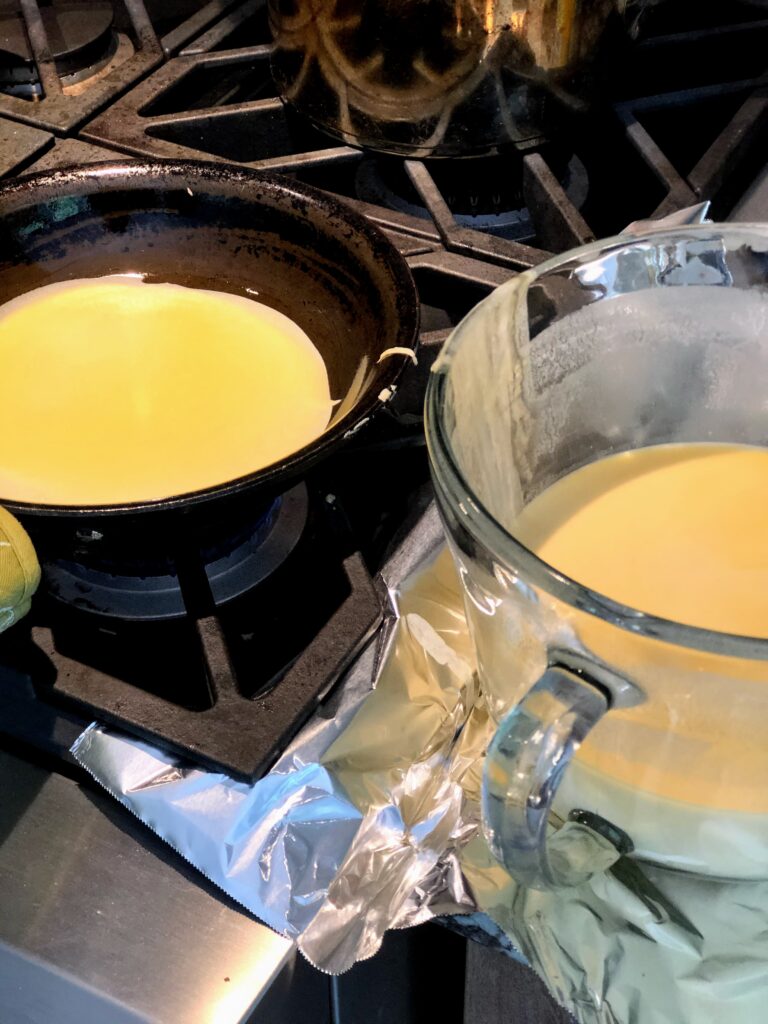 Make sure you heat the pan up completely this does make a difference. Grease the pan and wipe it down so it is just coated. Place about 2 tablespoons of batter into the pan a swirl around to coat the bottom of the pan, it takes about 1 minute for the crepe to setup and the top to dry, you will then remove it from the pan with a fork and place on a pan, you can continue to do this until you have about 12 then remove that stack and start again. Below is the master at work, Mom Mom making the crepes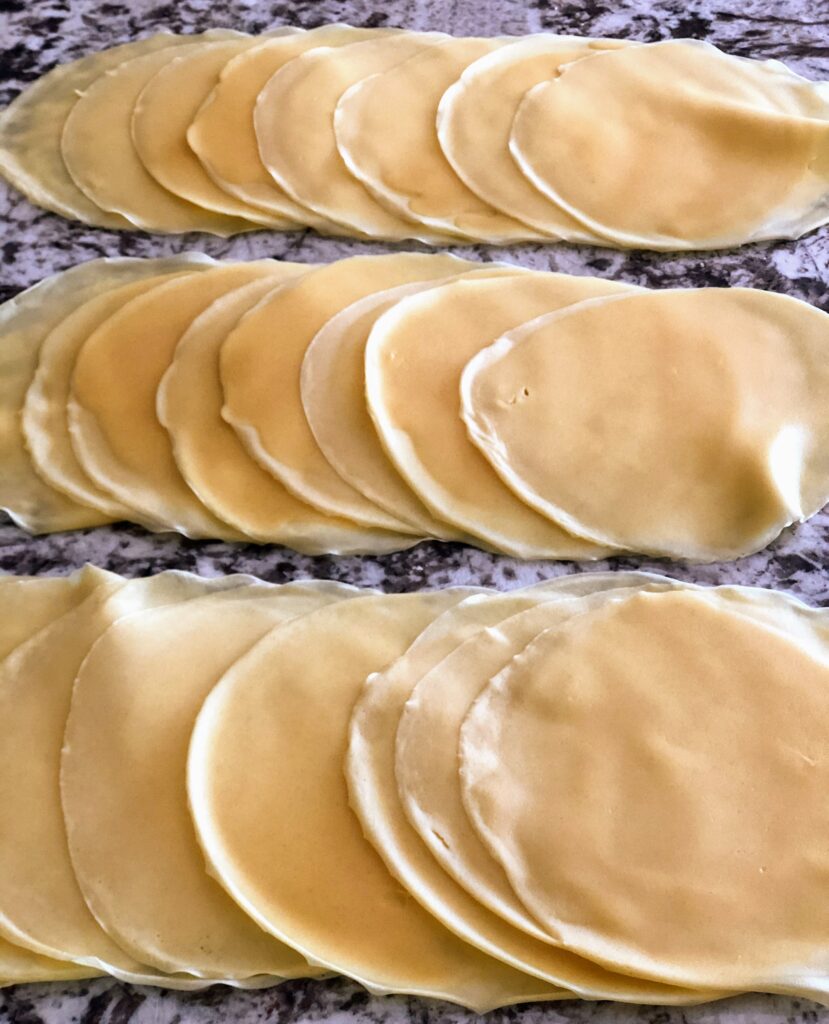 Once the crepes are made, it's now time to put together your egg rolls. It helps if you have an egg and water mixture to help seal the egg rolls. You will put a tablespoon of filling ( to much filling and it is very hard to fold the egg roll without it breaking the crepe) in the middle of a crepe. Moisten the edges of the crepe and fold the egg roll up like an envelope. Bring the bottom edge up over the filling wet the edges with egg mixture, fold the left and then the right sides up, and finally roll the egg roll over to seal the bottom.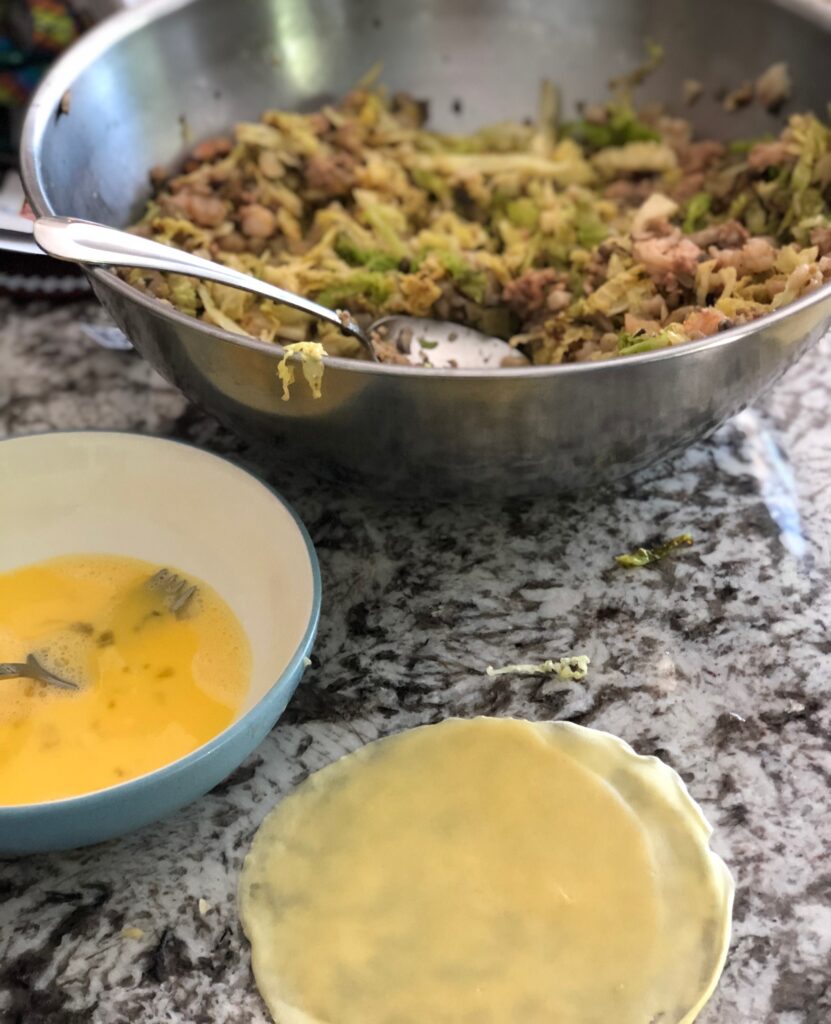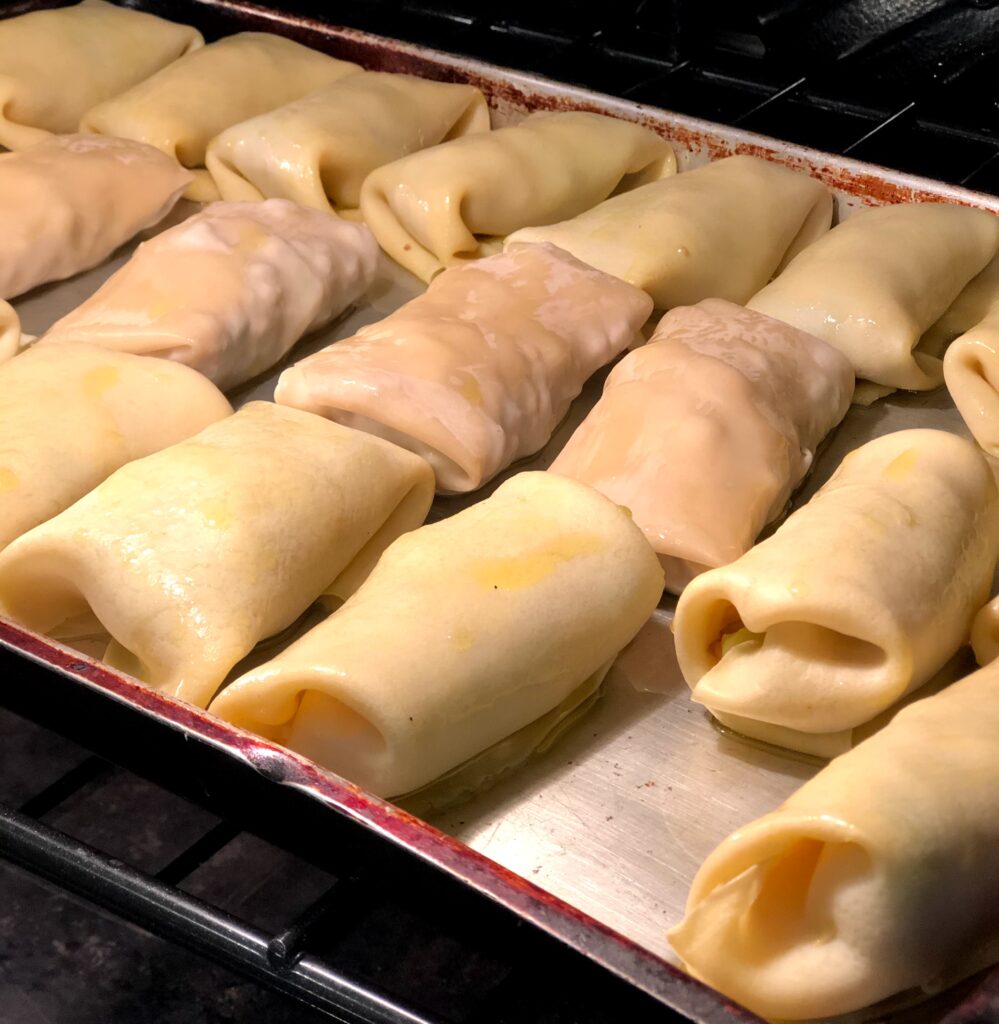 Now that you have made all the egg rolls, you can either place them on a well greased pan, and bake or these freeze amazingly well. Place them on a cookie sheet lined with wax paper or parchment in one layer, place in the freezer and let them freeze completely. Once they are frozen you can place them in a freezer bag and keep in the freezer up to 1 to 2 months, but they usually don't last that long before they are eaten.
So now you can also join in one of our traditions… Served with Duck Sauce and Hot Mustard is a must…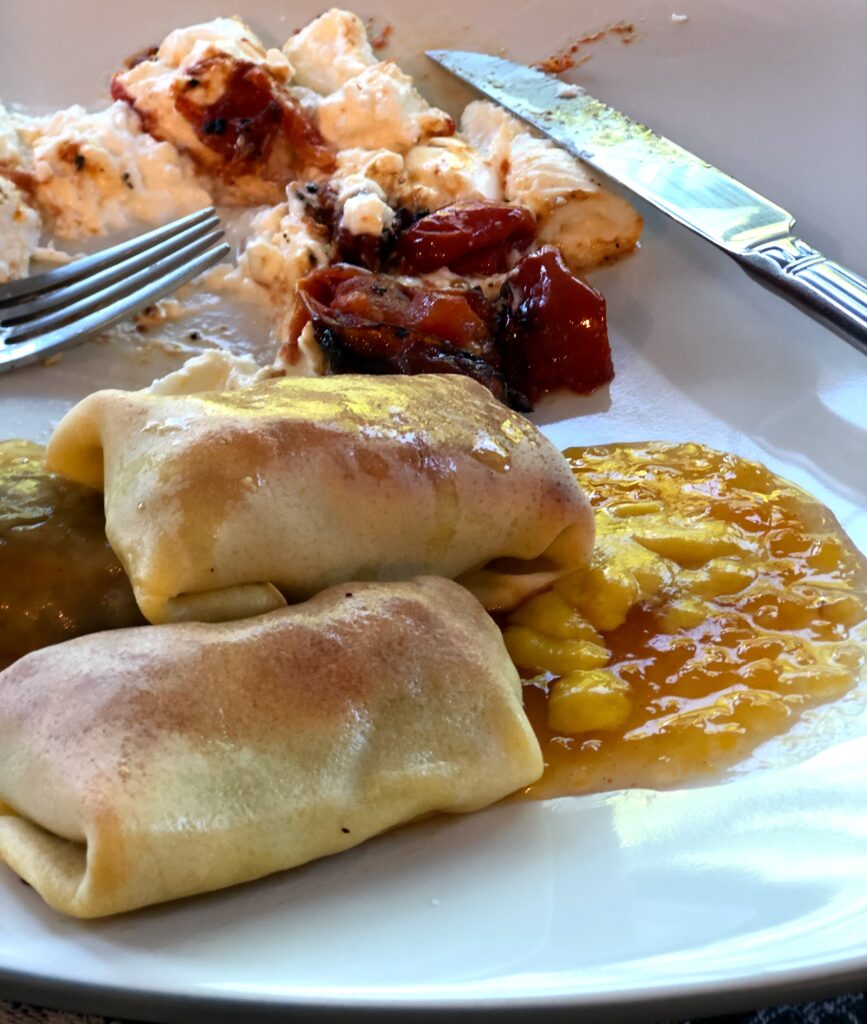 And like I always say its all about enjoying the journey…..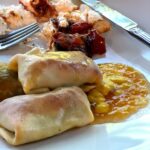 Egg Rolls
An Appetizer or Dinner entree, with Shrimp, Sausage, Mushrooms, Water Chestnuts, Savoy Cabbage and Onion
Ingredients
Egg Roll Filling
1

pound

Turkey Sausage or Pork Sausage

Brown and broken up into small pieces

1 1/2

pound

baby shrimp or very small shrimp

Chopped Fine

1

medium

Onion

or 6 scallions minced

1

can

Water Chestnuts

Chopped fine

1/2

head

Savoy/or Napa Cabbage

Chopped fine

12

oz

mushrooms

Chopped Fine

Olive Oil
Crepe Batter
3

Cups

White Flour

3

Cups

Water

12

Eggs
Instructions
Filling
Chop Cabbage, Shrimp, Mushrooms, Water Chestnuts and Onion to a fine consistency

Remove casing from the sausage and place meat in a large frying pan. While browning meat continue to break large pieces into small pieces until you have the consistency of crumbs.

Remove the sausage from pan and place in large mixing bowl

Add small amount of olive oil to pan and add mushrooms, cook mushrooms for 3-5 minutes and then add chopped onions. Cook until liquid is reduced, (you want it to be on the drier side but not over cooked)

Place mushroom/onion mixture into the bowl with Sausage

In the same large frying pan add the chopped cabbage and cook this takes about 5-10 minutes, you want it to be tender but not over cooked, the finer it is chopped the quicker it cooks.

Add chopped shrimp, and chopped water chestnuts to bowl

Mix all ingredients and set aside
Crepes
Break all 12 eggs into a large mixing bowl, using either a standing mixer or hand mixer blend eggs until they are well mixed, do this on a medium speed, you don't want to many air bubbles

Add Water to egg mixture and blend

The last step is to take the flour and slowly add to the egg/water mixture and blend till smooth.

If there seems to be lumps, take the batter and strain it through a sieve pushing the lumps through the sieve to incorporate as much of the flour as possible.

Take your 8" frying pan grease with a paper towel, (you need the pan greased but you don't want any standing oil. heat the pan over medium high heat, please give the pan time to heat up, the crepes cook better on a well heated pan. Place 2 tablespoons of batter in the heated pan and swirl to coat bottom of pan. let cook 1 minute, the top of the crepe will begin to look dry, you will be able see this happen don't over cook they shouldn't brown. (there is a video in the blog to show you how.

Remove the crepe and place on a pan, these can be layered on each other they won't stick, after you have approximately 12 crepes move them and start over. It is easier to handle them if the stacks are not to long
Filling the Egg Rolls
Break 1 egg and add 1 tbsp of water in bowl and mix, this will be your egg wash to seal egg rolls

Place 1 crepe on counter, add 1 Tablespoon of filling in the middle of crepe (don't over fill the crepe will break when folding)

Take the egg wash and moisten the edges of the crepe

Fold up the bottom of crepe over the filling, moisten left and right edge with egg wash,

Fold the left and right sides towards the middle and then fold the egg roll over to seal.

Place the egg roll on a well greased cookie sheet if cooking that day, or place on wax paper or parchment paper on a cookie sheet in 1 flat row and freeze, for later use. Once they are completely frozen remove from tray and place in a plastic freezer bag. Will last up to 2 months, if they aren't eaten first.