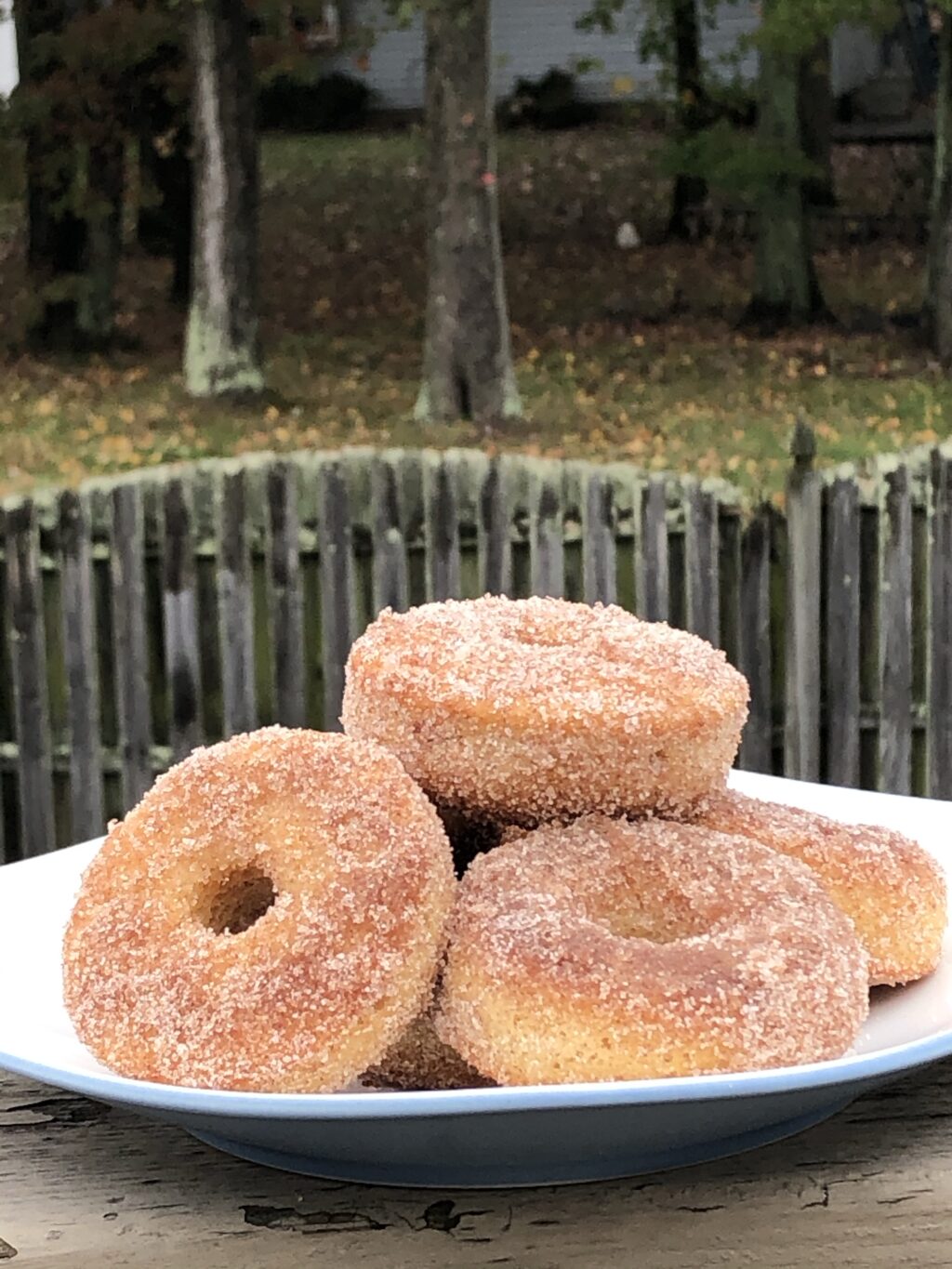 Apple Cider Doughnuts
A delicious baked donut, light and airy and full of flavor, and loaded with Cinnamon and Sugar.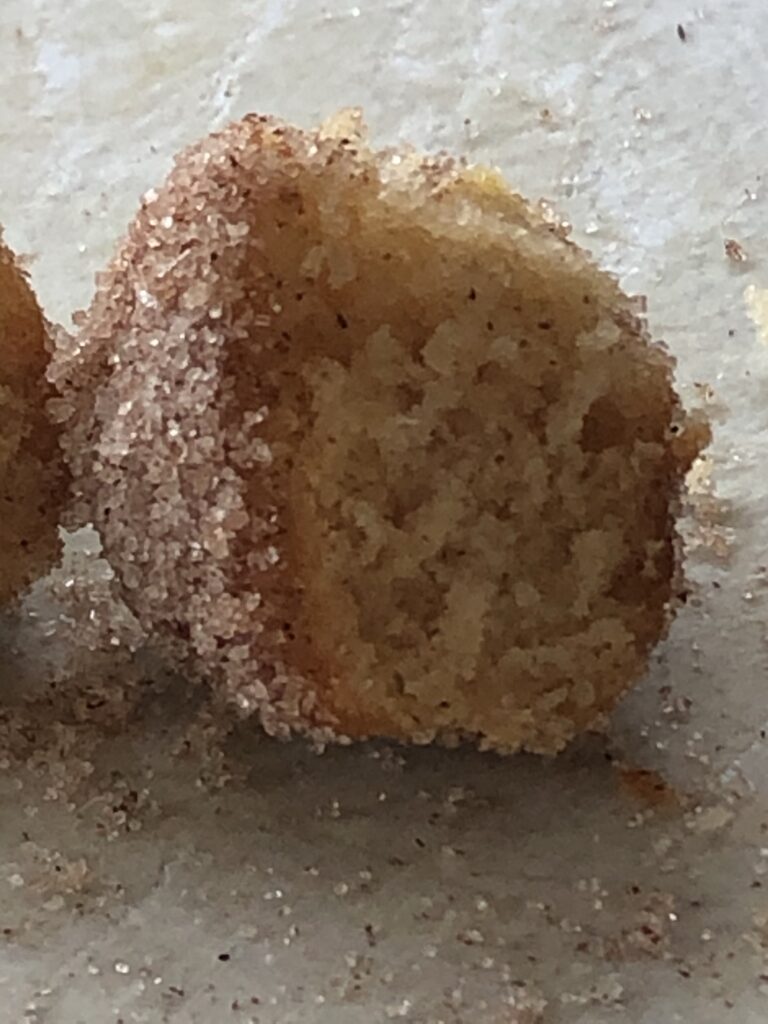 Fall is one of my favorite times of the year. The colors are amazing and the food is even better. One other treat are all the outdoor events that take place, Hayrides, Corn Maze, Pumpkin Picking and Carving, but one that has an added benefit is Apple picking. It gets you out side and when you get home you have a bounty to eat and create with. Apples are so plentiful this time of year, I decide to experiment with Apples this month. First we made Apple Cinnamon buns, what an amazing treat, hot apple pie in a delicious cinnamon roll. I used our Sticky Bun recipe, and added a homemade apple pie filling instead of the cinnamon butter filling that I borrowed from Gimme Delicious. I have updated the Sticky bun recipe to include my version of the filling.
When we went apple picking at Styers Farm, we stopped at the Styers market, two different owners (If you are interested in reading more about this visit my Apple Part 3-Canning blog). The store has an amazing bakery and are well know for their Apple cider doughnuts. So this week I decided to try my hand at making Homemade Apple Cider Doughnuts. A delicious baked doughnut, light and airy and full of flavor, and loaded with Cinnamon and Sugar. To my delight it is a very simple recipe and does not take all day to create a little heaven.
After sampling the doughnuts, I have decided to tweak the recipe slightly. The original recipe calls for lemon zest, and although it was delicious the lemon flavor overpowered the apple flavor, I have omitted it from my personal recipe. But I have made a not in the recipe about the zest. Second, I will continue to dip it in the sugar/cinnamon coating but instead of brushing the doughnuts with butter and dipping in a cinnamon and Sugar mixture. I think that I will be coating the doughnut in the future with a delicious Apple Cider Syrup, to give the donut a little more apple flavor. the recipe is also listed here.
You will thank me for this recipe I can not say enough about the flavors and textures of this doughnut. Try it you won't be sorry. And like I always say
Enjoy the Journey…
I adapted the doughnut recipe from the Barefoot Contessa by Ina Garten (posted in the Philadelphia Inquire, October 7, 2020), and the Apple Cider Syrup from Little Dairy on the Prairie. Thanks to both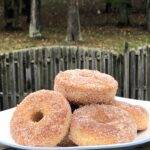 Apple Cider Doughnuts
Rich cake batter, baked in a specialty donut pan, then coated with butter and dredged in Cinnamon and Sugar. Best served warm
Ingredients
For the Doughnuts
1 1/2

cup

Flour

All Purpose

1 1/2

tsp

Baking Powder

pinch

salt

you can use up to a tsp of salt, I do not cook with salt, but original recipe calls for salt.

1

tsp

Cinnamon

1/4

tsp

Nutmeg

fresh ground or store bought

1/2-1

Lemon Zest

optional (it gives the doughnut a definite lemon flavor that diminishes the apple flavor)

1/2

cup

Butter

soften

1/2

cup

Brown Sugar

packed firm

1/2

cup

White Sugar

2

Large

Eggs

1/3

cup

Apple Cider

1 cup reduced down to 1/3 cup

1/4

cup

Buttermilk

1

tsp

Vanilla
For Cinnamon and Sugar topping
4

Tbsp

butter

melted

1/2

cup

Sugar

1

tsp

Cinnamon
Apple Cider Syrup
1/2

cup

Brown Sugar

1/2

cup

White Sugar

2

tbsp

Cornstarch

1

tsp

Cinnamon

1/8

tsp

nutmeg

2

cup

Apple Cider

1/2

tsp

Vanilla

1/4

cup

butter

1

tbsp

lemon juice
Instructions
Doughnut Directions
Pre Heat oven to 350°. If you are using metal doughnut pans spray with non stick baking spray

The first bowl combine flour, baking powder, cinnamon, nutmeg, and lemon Zest

In the second bowl or stand mixer combine the butter, brown sugar, and white sugar. Mix until light and fluffy, this will take between 3-5 minutes depending on your mixer.

Add eggs one at a time mixing thoroughly after each addition

Add the Cider, then buttermilk mixing on a low speed, add flour and mix completely

Place the batter into a pastry bag fitted with a tip that has a large whole. If you do not have tips you can just snip off the end of the bag and pipe it that way.

Pipe into the prepared pans, filling approximately 2/3 full

Bake approximately 13-15 minutes. Doughnuts will be light brown in color and will spring back when touched.

At this point you will either dip or brush warm doughnuts with butter and dip into sugar and cinnamon mixture, or

using the Apple Cider Syrup (recipe included) brush on doughnut and serve or dip in cinnamon and sugar topping.
Cinnamon/Sugar topping
Melt Butter and place in bowl, whisk cinnamon and sugar together and place in second bowl.
Apple Cider Syrup Directions
Add Sugars, cinnamon, nutmeg and cornstarch to saucepan. Blend completely

Slowly add apple cider and lemon Juice

Cook and whisk over medium heat until thicken to desired consistency. (if you are using for syrup it should be a little thicker, for the doughnuts it should be a little thinner so you can just lightly coat the doughnuts and cover with sugar.)

Remove and stir in vanilla and butter.

The syrup is best served warm!
Recipe Notes
These donuts area delicious treat any time of the day.  The amount of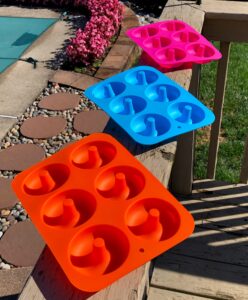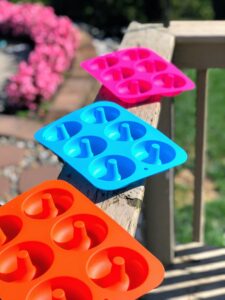 donuts you get from this recipe depends on the size of the donut pan or muffin pan you use.  My donut pans are the silicone style and they are 3″ in diameter and approximately 1″ deep.