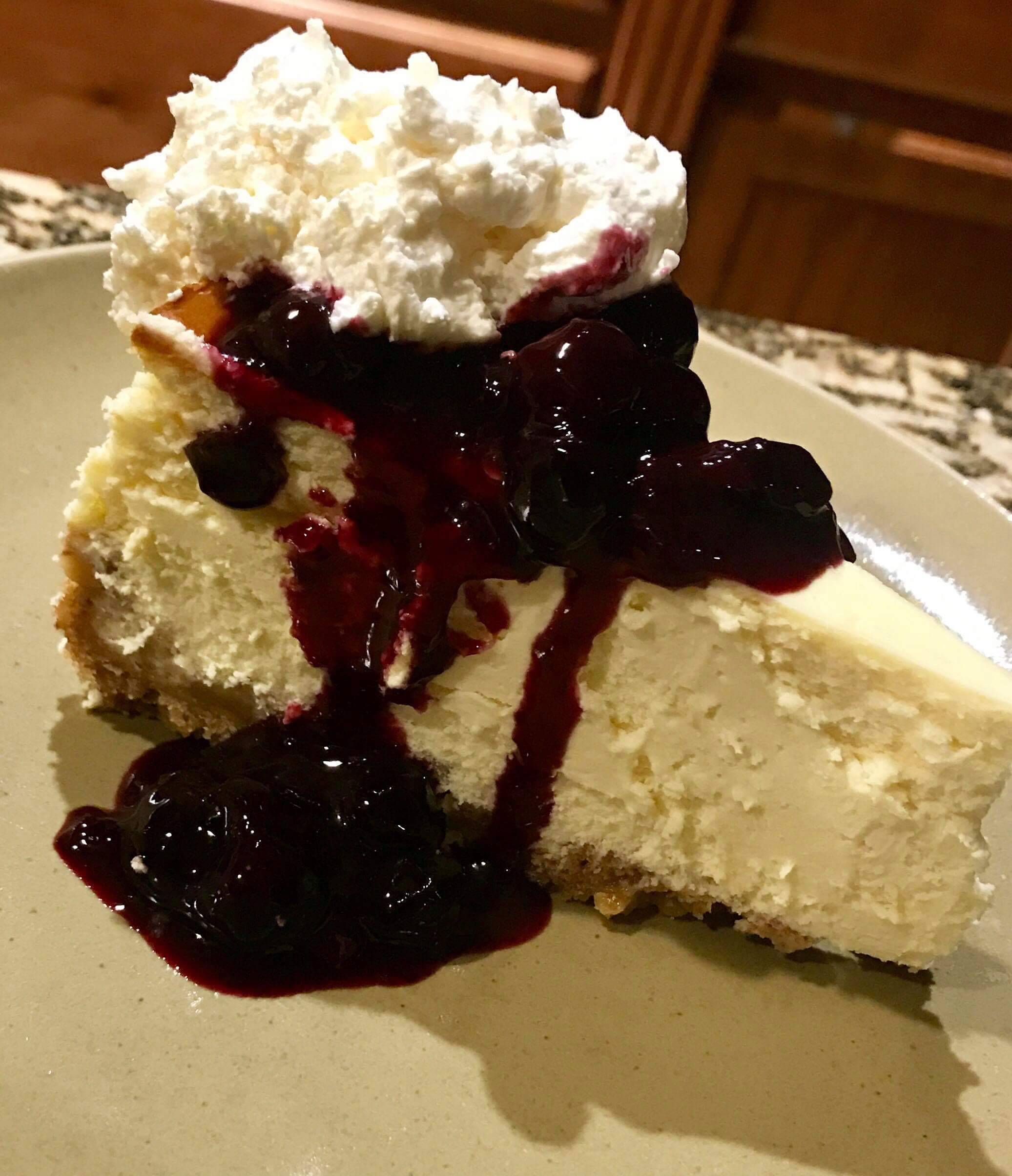 "Cheesecake is a sweet dessert consisting of one or more layers. The main, and thickest layer, consists of a mixture of soft, fresh cheese (typically cream cheese or ricotta), eggs, vanilla and sugar; if there is a bottom layer it often consists of a crust or base made from crushed cookies (or digestive biscuits), graham crackers, pastry, or sponge cake.[1] It may be baked or unbaked (usually refrigerated). Cheesecake is usually sweetened with sugar and may be flavored or topped with fruit, whipped cream, nuts, cookies, fruit sauce, or chocolate syrup. Cheesecake can be prepared in many flavors, such as strawberry, pumpkin, key lime, lemon, chocolate, Oreo, chestnut, or toffee."
Above is Wikipedia' description of the many styles of Cheesecakes. I couldn't have described it any better so I have borrowed there quote for this post.
My mother has a few different recipe variations for cheesecakes that she has used over the years. All were delicious, and all were slightly different in their texture, taste and toppings. This particular recipe happens to be my favorite. Rich creamy and quite heavenly. . I have used the original name in this post for this recipe. It is from the 1950's. The original recipe is from my mom's recipe collection, she believes it originated from a Better Homes and Garden Magazine back in the 1950's. My sister Donna thankful had a copy of the recipe in her recipe collection. We have tried to research which actual magazine it came but at this point no luck. Any info would be greatly appreciated, but my sister did find this great article about Better Homes & Gardens styles since the 1920's I have attached a link for those of you who would like a little light reading
"Better Homes and Gardens has always assumed a leadership role when it comes to how America eats. Over the years we've helped spot and create trends in eating, cooking, and kitchen design."
Personally I like a creamy plain cheesecake and this recipe fits the bill perfectly, the original recipe called for a cherry topping "Top with sweetened pitted cherries thickens with cornstarch." I just love their description of how to make the topping. No measurements, just what is in the topping!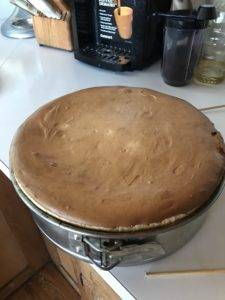 I can't tell you how easy this recipe is! There are basically 4 steps. Don't be put off by the steps of whipping the egg whites and folding in the egg whites. This simple gives your cheesecake a lighter and fluffier texture. The recipe has a large amount of cream cheese and the whipped egg white reduces the heaviness of the batter.
So your first step will be to prepare your graham cracker crust you can be creative with this Oreo crust, pecan crust for those looking to reduce the carbs (you can replace the sugar in this recipe with artificial to reduce the carbs even more), or if you have a favorite go to crust (except a pie crust). You will have to use a springform pan or you won't be able to get the cheesecake out after you have cooked it.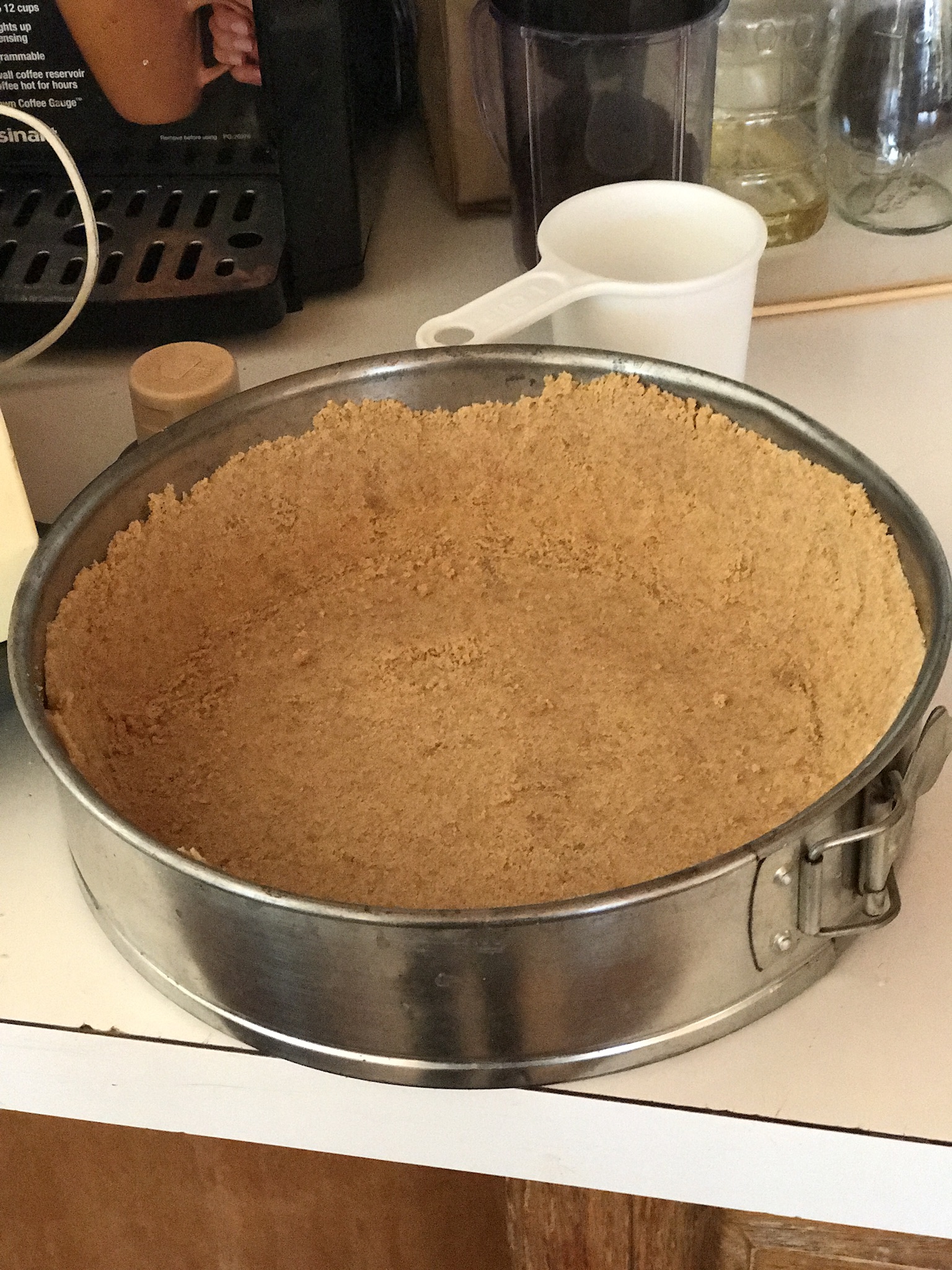 Second step, you will need to whip those egg whites and set aside.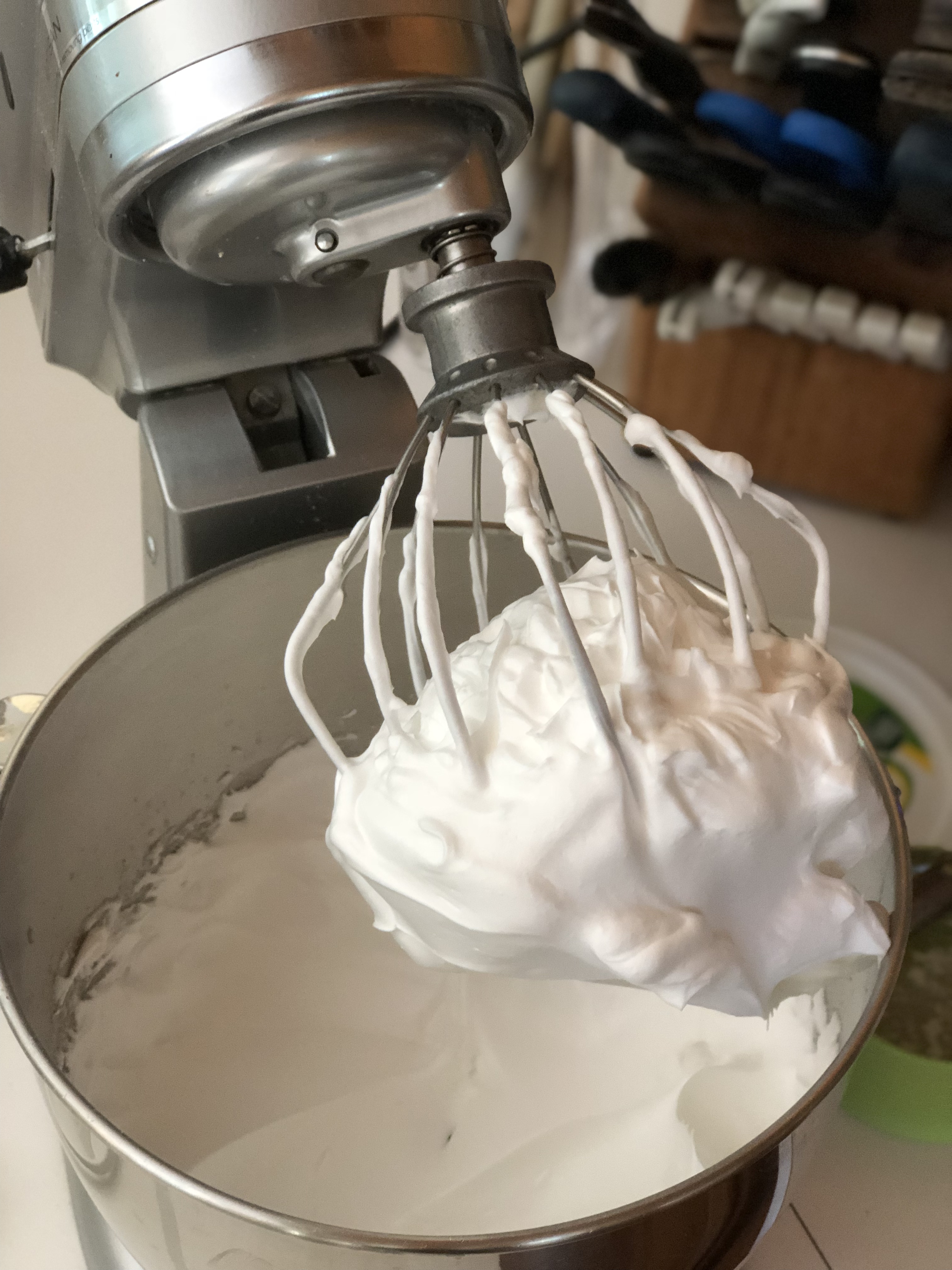 Third step, blend the cream cheese, egg yokes, sugar, vanilla and lemons rind. This will need to be smooth no lumps of cream cheese .
Step 4 Take the sour cream and blend into the batter and then add the whipped eggs and fold the mixture together (folding it in is different than mixing in, you are gently folding the egg whites into the batter to keep some of the air that you have whipped into the egg whites.)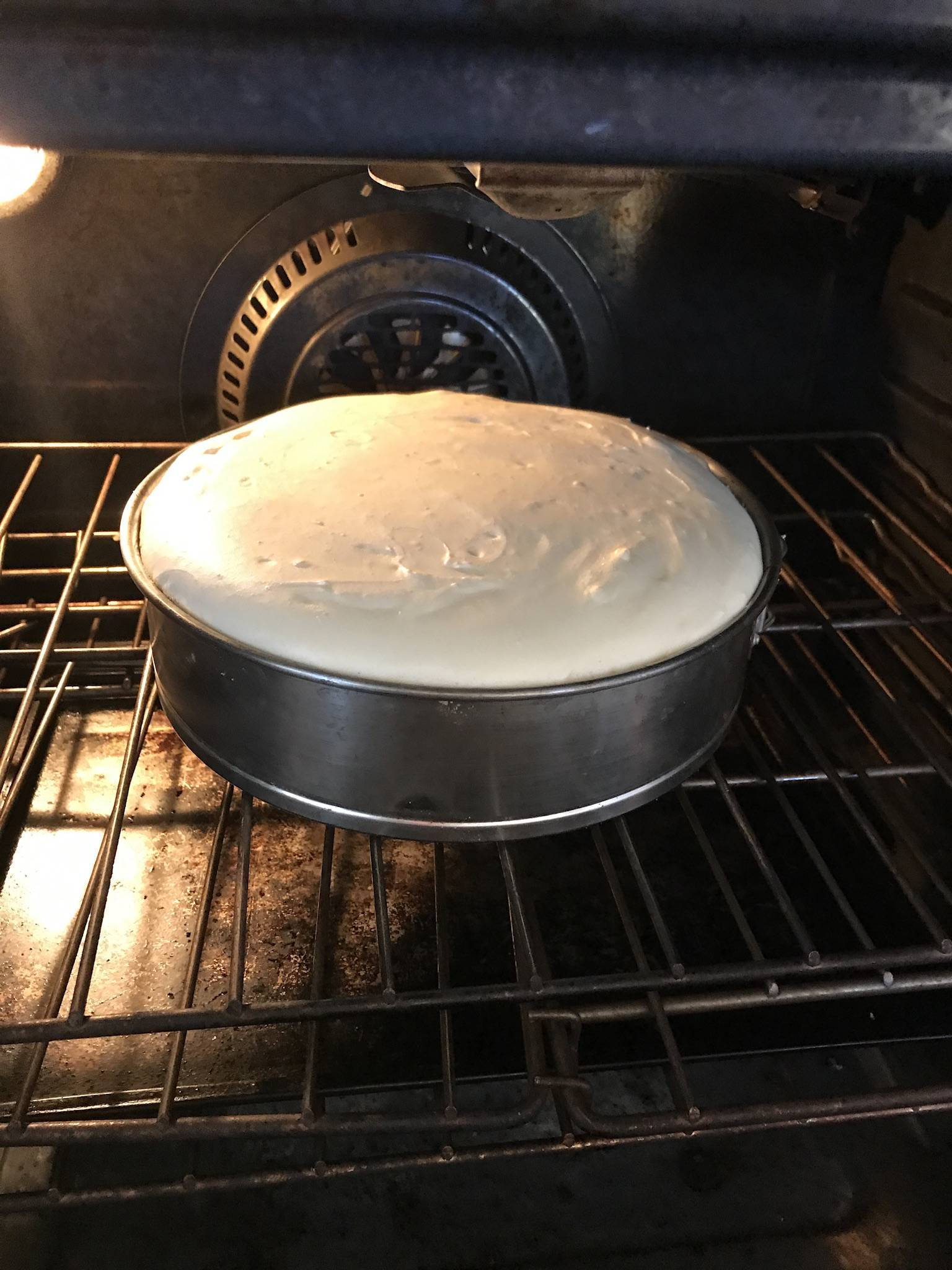 Finally you have a very light and fluffy batter that you will add to you chosen crust. Place it on the middle shelf with lots of space above it. This cheesecake will rise and if you haven't moved the top shelf you will have a problem. Bake at 350 degrees ( this is where we vary from the original recipe they say to cook for 1 hour and 15 minutes. I had to bake my cheesecake for a good full 1 1/2 hour.) You can cook 1 hour and 15 minutes and turn oven off and let the cheesecake remain in oven for an extra 1/2 hour. It's your choice. Let it cool and then you are ready to delve into an amazing treat.
I hope you have been inspired to try this recipe. When I say amazing it is an understatement. I do want to throw out a HUGE shout out to my friend and past coworker Ro Cooney for her wonderful picture of this spectacular cheesecake with a blueberry topping and whipped cream.
Enjoy the Journey….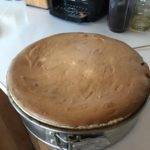 Cheesecake
This is an amazing cheesecake plain or with your favorite topping!!
Cook Time
1
hour
30
minutes
Total Time
1
hour
45
minutes
Ingredients
Filling
5

Eggs

Separated

2 1/2

Pound

Cream Cheese

1 1/4

Cup

Sugar

1

Lemon

Grated

1

Cup

Sour cream

1

Tsp

Vanilla
Graham cracker crust
1 1/2

Cup

Graham cracker crumbs

1/3

Cup

Sugar

6

TBSP

Butter
Instructions
Graham Cracker Crust
Melt butter. Add graham cracker crumbs, sugar,and butter in a bowl, combine and pat into a 10" springform pan
Filling
Separate 5 eggs. Whip the egg whites to stiff peaks and set aside. In a large bowl combine 2 1/2 pounds cream cheese (5 packages), 5 egg yokes, 1 1/4 cups sugar, the grated lemon rind and vanilla. Beat together until smooth, add 1 cup sour cream blend till smooth, Fold egg whites into the batter til smooth.
Final step
Pour into the prepared springform pan and bake for 1 And 1/2 hours at 325 degrees. You will need to check the cheesecake to ensure it is fully cooked. Much like a cake when it feels firm to the touch (no jiggling). Start checking at 1 hour and 15 minutes.
Topping
Top with your favorite topping
Recipe Notes
I adapted this recipe from one of my mom's church recipes. So I can't give credit to the original author. This cheesecake is delicious plain or with a topping of your choice. Enjoy the Journey