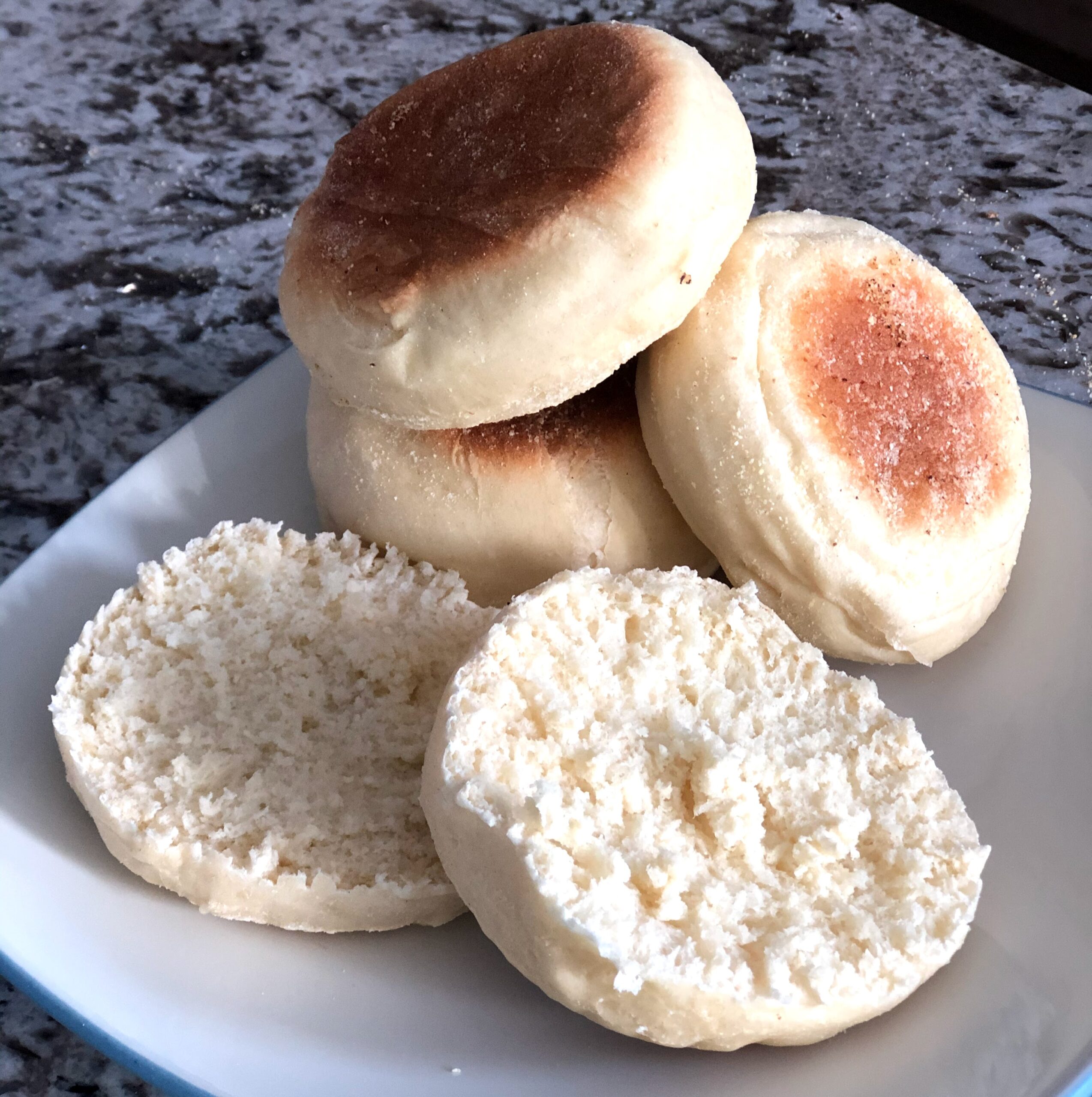 Good morning to all you Breakfast lovers….. now if you are anything like the members of my family, breakfast isn't only for the morning. We have Breakfast for dinner at least once a week.. My grandson's favorite is Waffles, homemade, none of those frozen ones for him. Now, I will admit that my go to on rushed mornings is Bisquick, can't ask for a better tasting waffle that you only have to add eggs, milk and oil. But I digress, today I am going to write about the English Muffin you can not find a better all around bread to eat anytime of the day.
Before the Covid-19 pandemic I was like most other people and I purchased English muffins at the store. When the pandemic hit and I had lot's of time on my hands, I decided to make my own english muffin's. It is one of my mom's favorite breakfast foods. There are lots of recipes out there and I pulled together my most favorite parts of a few and came up with my version. The best one I found was https://pin.it/483bPCs, feel free to go to their Pinterest and try it out. My recipe is below.
The great thing about making your own English Muffin is you can customize your muffins in a million different ways, I have made wheat muffins, everything muffins, honey wheat muffins and my favorite the original muffin. Your imagination is your only limit. My mother is Lactaid intolerant so I use Lactaid Milk as a substitute for the milk. I am thinking you could use Almond Milk or even water if you wanted to watch the calories. I haven't tried with this recipe but I have with many others. I am constantly looking for ways to eat what I love without all the calories. If you are a vegetarian, replace the egg with egg substitute and butter with a butter substitute https://www.bobsredmill.com/blog/baking-101/vegan-baking-substitutes-butter/#:~:text=What%20are%20good%20vegan%20butter,avocado%20oil%20to%20replace%20butter. and use the Almond milk .
Professional Bakers are very particular about how and what they use to bake, what makes it rise the best, what is the correct type of ingredient or what brand and what type of equipment you need. I am a home chef and don't profess to be anything else, so if you are looking for precision baking I am probably not the person to talk to. I am all about enjoying my time in the kitchen and making delicious tasting food that looks good and is good for you if at all possible (sometimes you just need the fat and sugar).
Please note that this recipe does take a few hours from start to finish but you do have time in between to get other things done.
Mixing the Dough is pretty self explanatory, you mix the yeast with warm water and set aside, you heat the milk and add sugar to dissolve and set aside. The butter should be soft, if not (mine usually isn't) put it in the milk while it is still warm and it will soften it. In your large mixing bowl, (a stand up mixer is the easiest, but a hand mixer can be used, but you will need to hand knead the dough, and although I have done this plenty of times, I have found that using a stand-up mixer or if you have a big enough food processor with a dough blade the texture and consistency of the dough is much better.) add 1/2 of the flour, yeast mixture, milk mixture, egg and salt, mix until smooth, add the remaining flour and knead in machine or by hand until you have a soft dough about 5 minutes. Place the dough in an oiled bowl, cover and place in a warm spot to double in size.
Once the dough has doubled there are 2 methods you can use. First you will need to prepare 2 cookie sheets, place parchment paper on the sheet and sprinkle with corn meal this is a very important step, they will stick to anything and everything if you don't. Second I prefer to punch down the dough and then split it in 2 pieces, roll out the dough to about 1/4 inch thick, then take a glass or a biscuit cutter and cut out your English muffins, about a 3 inch diameter makes a good size English muffin. You should get about 24 muffins out of the entire recipe. Once you cut them out take the left over dough and knead slightly back to a ball and roll out again and cut remaining dough. Do the same with the second piece. The original recipe tells you to cut a piece of dough, roll it in a ball and flatten into a 2-3 inch muffin, you will get about 18 muffins. This method works but the muffins for me were very inconsistent in shape and size, and making 18 gives you huge muffins…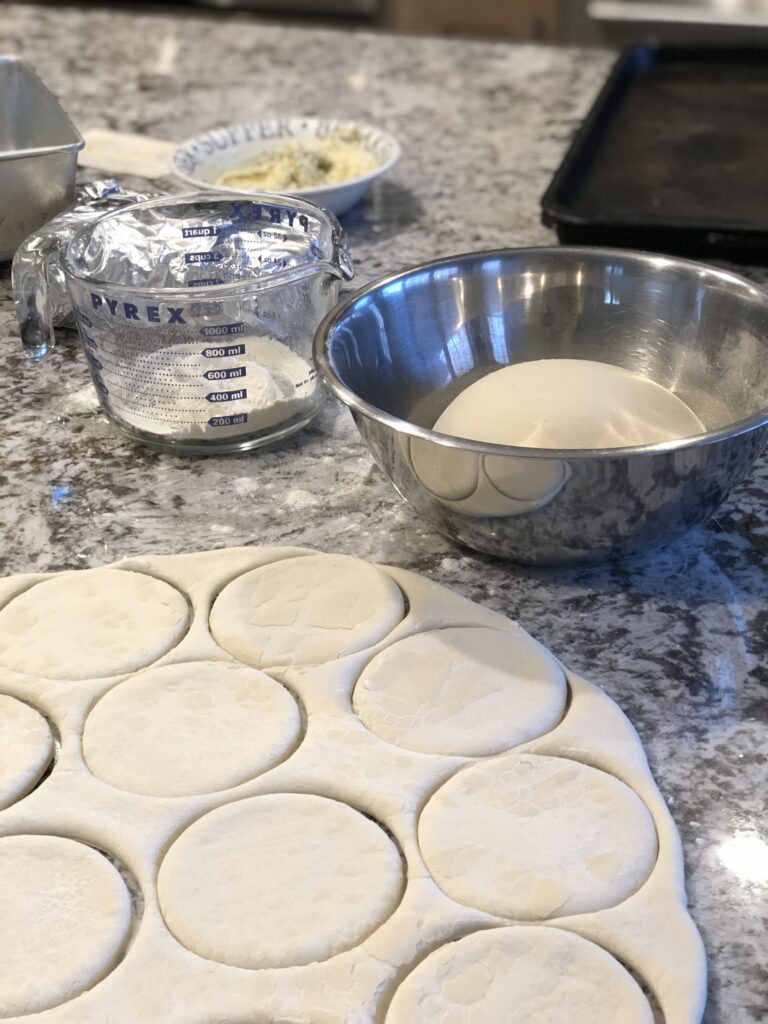 Now that you have all the Muffins cut out, and placed on the parchment paper, sprinkle the top of the muffins with corn meal as well. They must raise again, about 30 to 40 minutes, and then they are ready to cook. You are going to cook these muffins on the top of the stove!!! You will either need a griddle for your stove or an electric griddle. Your griddle must be preheated to a medium heat, these need to cook slow and if the heat is to high the bottoms will burn or get to brown to fast and the middle will stay raw,(It's just like cooking a pancake). You mustn't try to cook them until the pan is completely heated. I use my mothers old Aluminum Griddle from the 1950's but anything flat and that conducts heat well will work. Grease the pan lightly and gently place the muffins an inch apart (you don't want to deflate the muffin). They will cook for 10 minutes on one side, then turn them with spatula and cook on the other side for 10 minutes.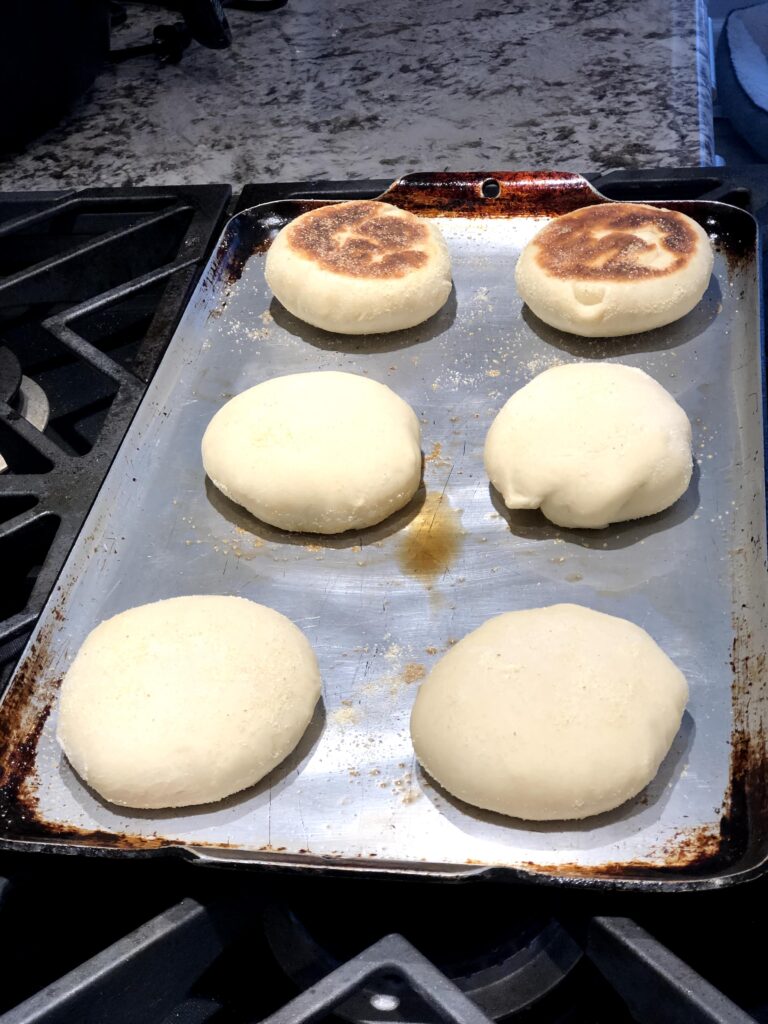 Place muffins on a cooling rack. Once they are completely cooled you can store in a plastic freezer bag and store in the freezer.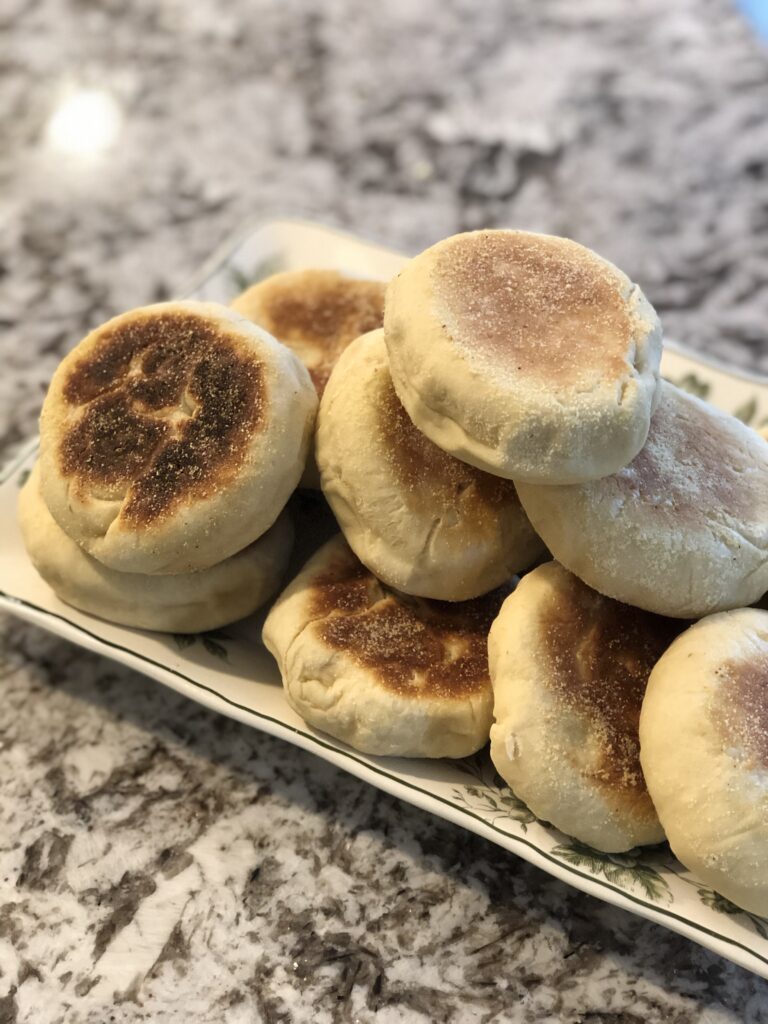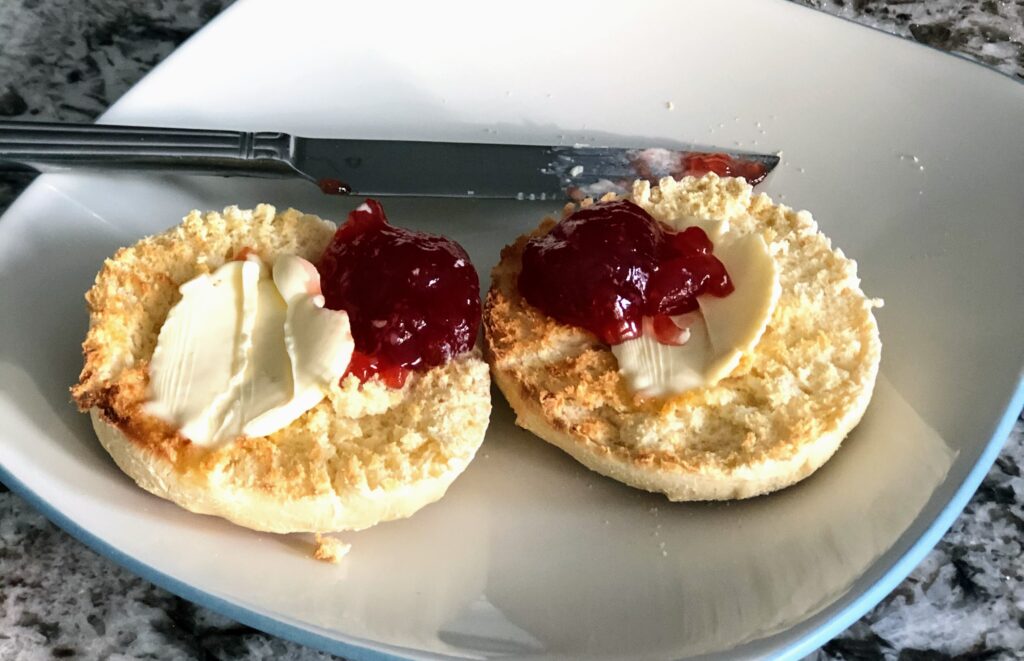 Well I hope you will take the time to try this recipe, and comment on your results. I love to get productive feedback on recipes and what could make it better.
And remember Always Enjoy the Journey……….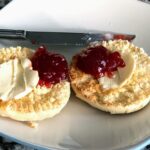 English Muffins
Fresh and Fluffy these English Muffins make any breakfast just that much better…
Prep Time
1
hour
30
minutes
Ingredients
Dough
6

cups

Flour

1

cup

Water

Warm Water

2 1/2

tsp

Yeast

1

cup

Milk

Warmed

2

tbsp

Butter

Softened

1/2

tsp

Salt

1

Egg

2

tbsp

Sugar

Corn Meal
Instructions
English Muffin
Add the yeast to the warm water, set a side

Warm the milk, add the sugar and butter set a side to allow sugar to dissolve

Place 1/2 the flour into the large mixing bowl and add the egg, water/yeast mixture, milk/sugar/butter mixture and salt. Blend until smooth

Add remaining flour, 1/2 cup at t time. Knead dough until it is a soft smooth dough.

Place in a greased bowl and cover, let it rise it should double in size.

Take 2 cookie sheets and line them with parchment paper and sprinkle with corn meal. Set a side.

Cut dough in 1/2 and roll out 1 piece to about 1/4" thick. Using a 3 inch glass or biscuit cutter, cut dough into circles and place them on the parchment paper. Take the extra leftover pieces of dough and knead into a ball and roll out to 1/4 inch and cut into circles. Continue until dough is gone. You should be able to get 12 out of each half. Repeat with second 1/2 of dough

let your circles of dough raise for about 30 minutes
Cooking English Muffins
Prepare your griddle. Heat should be on medium to medium low, let the griddle heat up completely. Grease the griddle, and place the muffins about 1 inch apart. Each side will cook for 10 minutes.

Place muffins on a rack to cool, when they are completely cool you can store them in a freezer bag, and place in freezer.
Recipe Notes
It is very important to cook these on a medium to medium low temperature.  If it is too hot the bottom will get to dark and the inside will stay raw.
When it comes time for substituting the sky is your limit.  I will give you a few suggestions on what I have done so far.  
1. Wheat muffins, I take 3 cups of wheat flour and 3 cups of unbleached flour.  
2. Honey wheat muffins, substitute honey for the Sugar, and if you want a stronger flavor do 3 tablespoons instead of 2.
3. Cinnamon Raisin Muffins, just add raisins and cinnamon to the dough at the beginning when you do the first 3 cups of flour and the water, milk and egg, then when you or your machine in kneading the dough it will be all through the dough, I suggest you go easy with the Cinnamon the first time to see how the flavor is for your taste you might want a little more sugar or honey to help with the cinnamon.
4. My last suggestion is if you want everything muffins then again when you are mixing the first flour with milk, water, and egg add the toppings you would like sesame seeds, sunflower seeds, and so on…