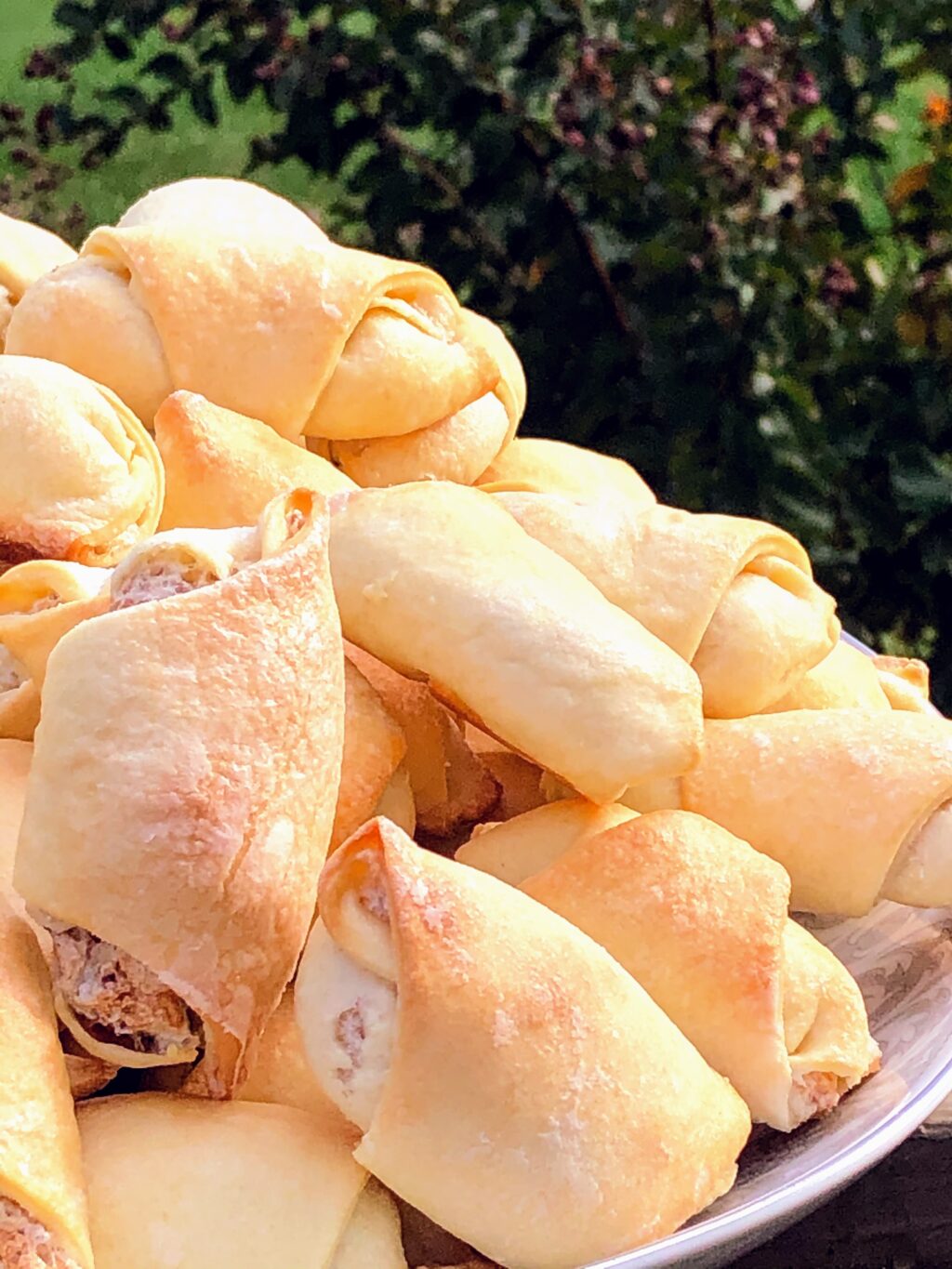 Butter Horns – #2 in the series
Butterhorn Cookies are one of the prettier cookies on the tray, it has a light flaky pastry dough, filled with a melt in your mouth meringue filling loaded with dates, pecans.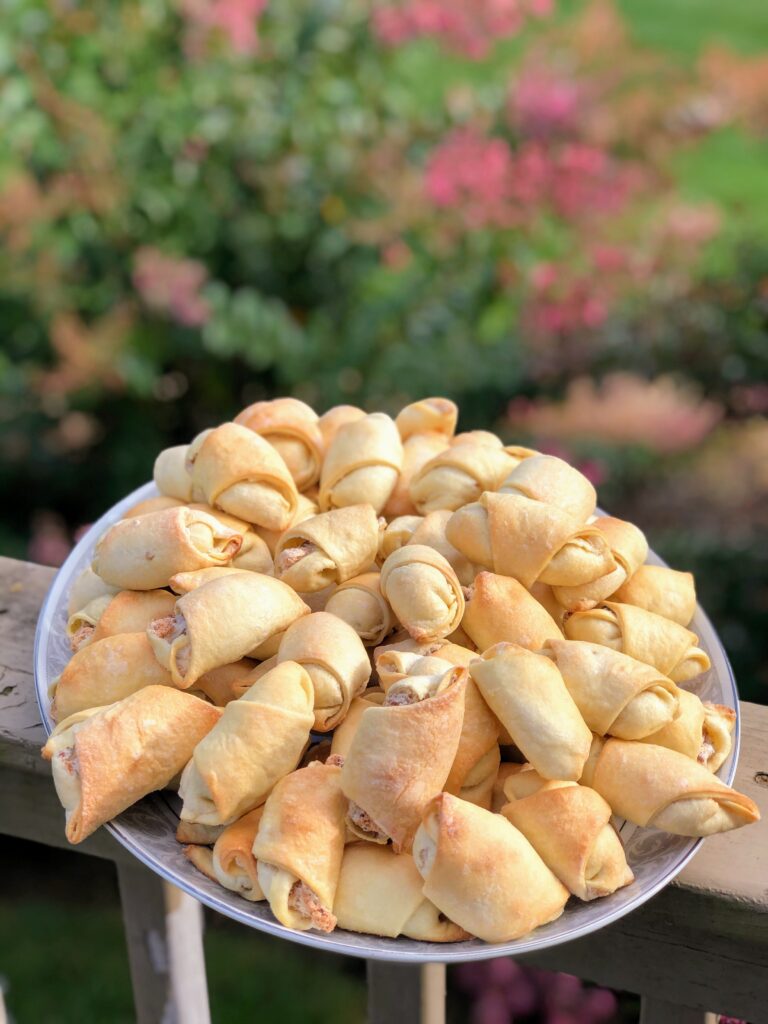 As promised, second in the series "holiday traditions". Be prepared this Blog is a little long. Every year as long as I can remember my mom would start about 2 weeks before Christmas making her holiday cookies. Although we were the benefactors of these cookies, so were many friends and family. Every time my parents would go "a visiting" during the holidays, my mom always brought a small and sometimes large tray of cookies, she was well known for her cookies.
When I moved out of my parents home, I began the same tradition with a little twist. Yes I made all the same cookies, and yes I gave them to friends and family, but so many people asked if they could purchase my cookies that eventually I started a little catering business called the Cookie Jar. This went on for about 10 years, and then I moved on to working in retail. But the cookie tradition lived on.
The Butterhorn Cookie is one of the prettier cookies on the tray, it has a light flaky pastry dough, filled with a melt in your mouth meringue filling loaded with dates, pecans. This is a yeast dough so it does take a bit longer to prepare. The easiest way is to make Butterhorn's is to make the dough the night before and then you can work with it the next day. My mother tells us that the original recipe was from Better Homes and Gardens in the late 1950's to early 1960's. I have yet to find the original magazine, but I continue to search. If you know when it was published please let me know…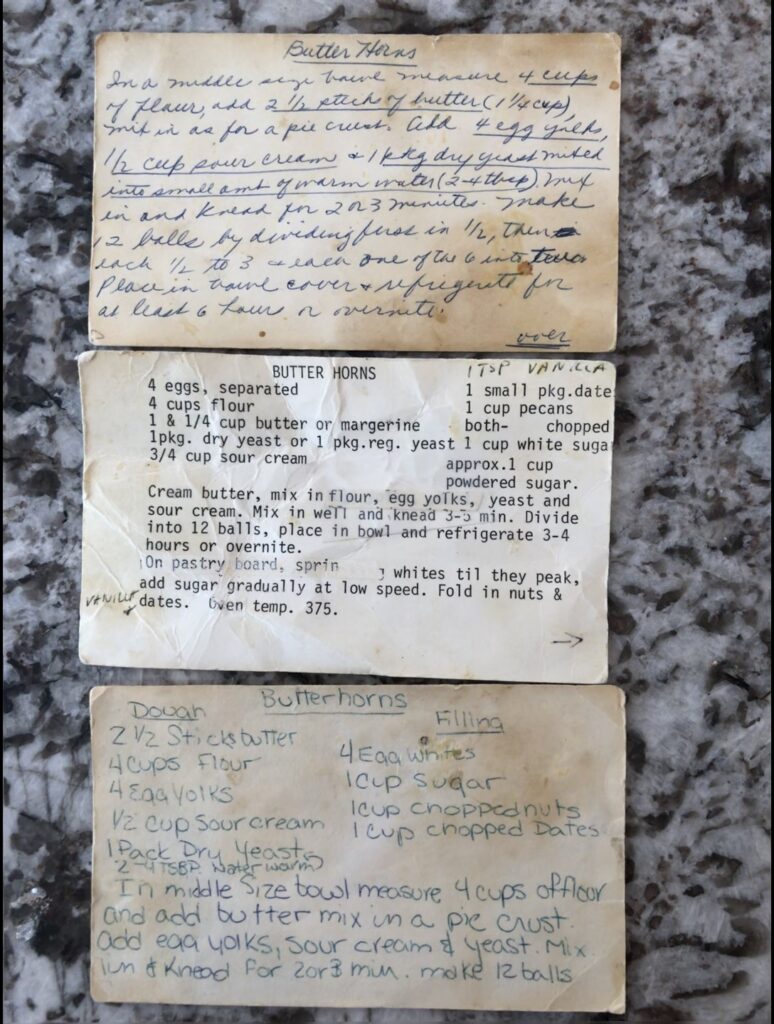 I don't know about your recipe box but mine has multiples of the same recipe. One that my mom wrote out for me, one that my sister typed out for me for my Wedding Shower gift (the box was a gift from my mom) and then my copy from before I was married. This way I am sure not to lose it!!!
I really love this cookie, it makes a beautiful tray on its own or it enhances your total tray of cookies.
Now onto how to make Butterhorns.
First you need to separate your eggs. Take 4 eggs and separate, saving the whites in one bowl and the yolks in another. You will need the Egg Whites for the Filling and the Egg yolks for the dough. If you are making the cookies the same day, the egg whites are better at room temperature.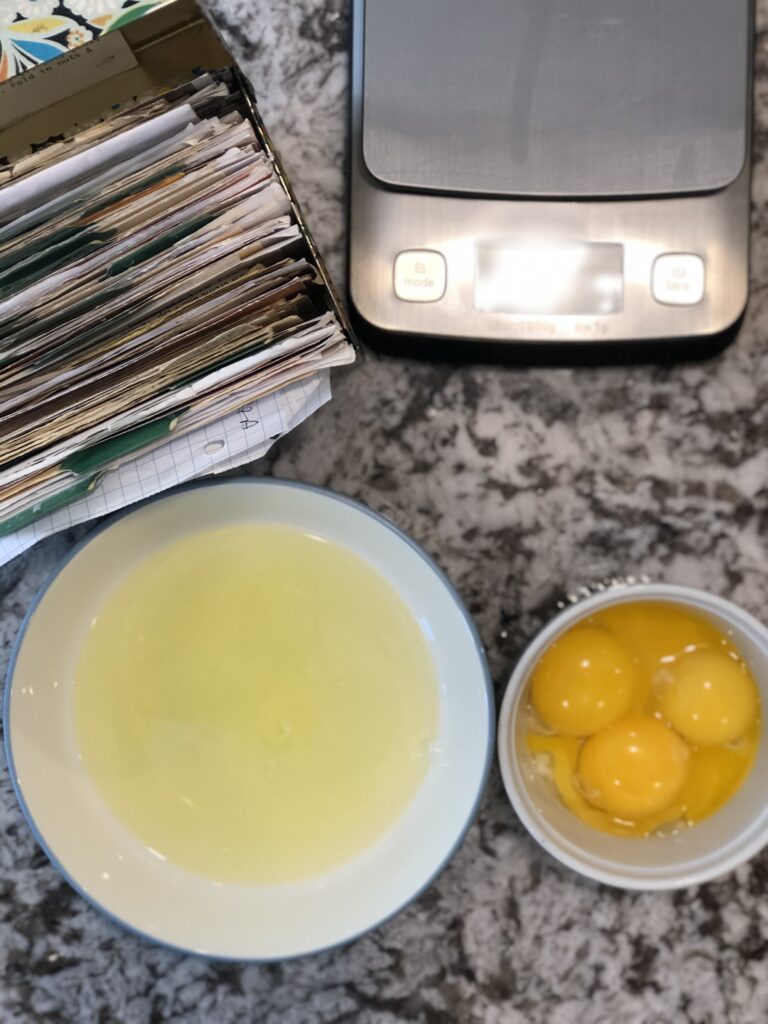 Now onto making the dough. As I said before this is a yeast dough so it will need to up to 4 hours in the refrigerator, the nice thing is you can keep it in the refrigerator for 1 – 2 days, until you are ready to work with it.
Start with your butter, it should be cool, not too soft or your dough will be hard to work with.
Place the butter in the bowl and blend until creamy,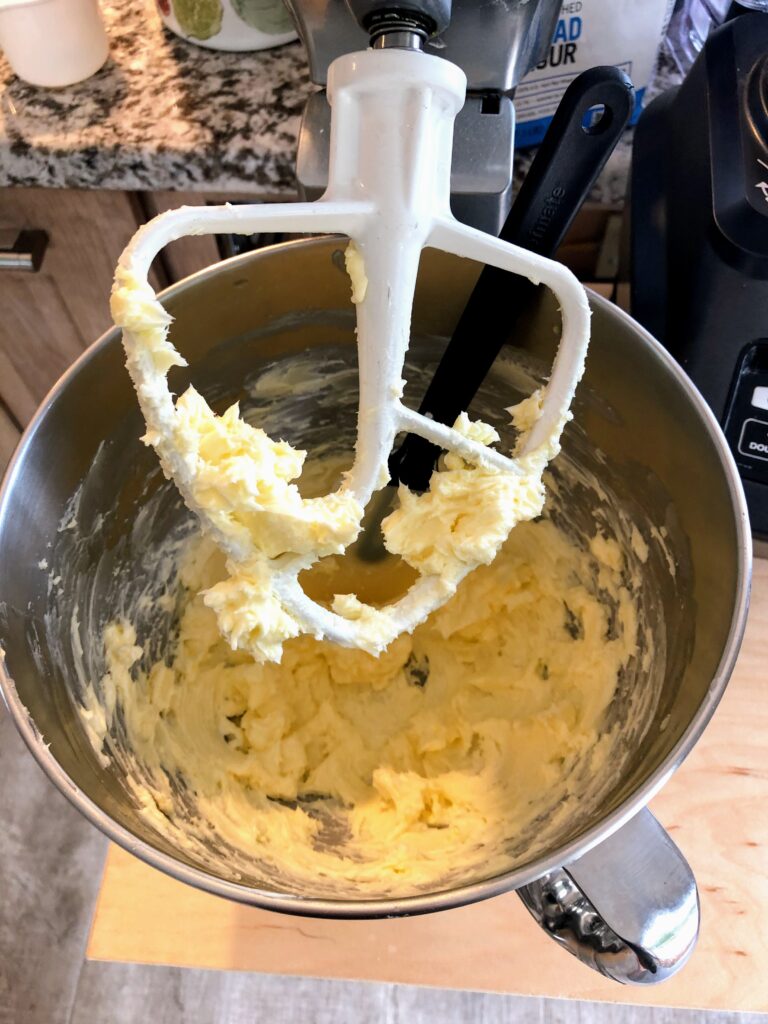 add the Flour and blend together.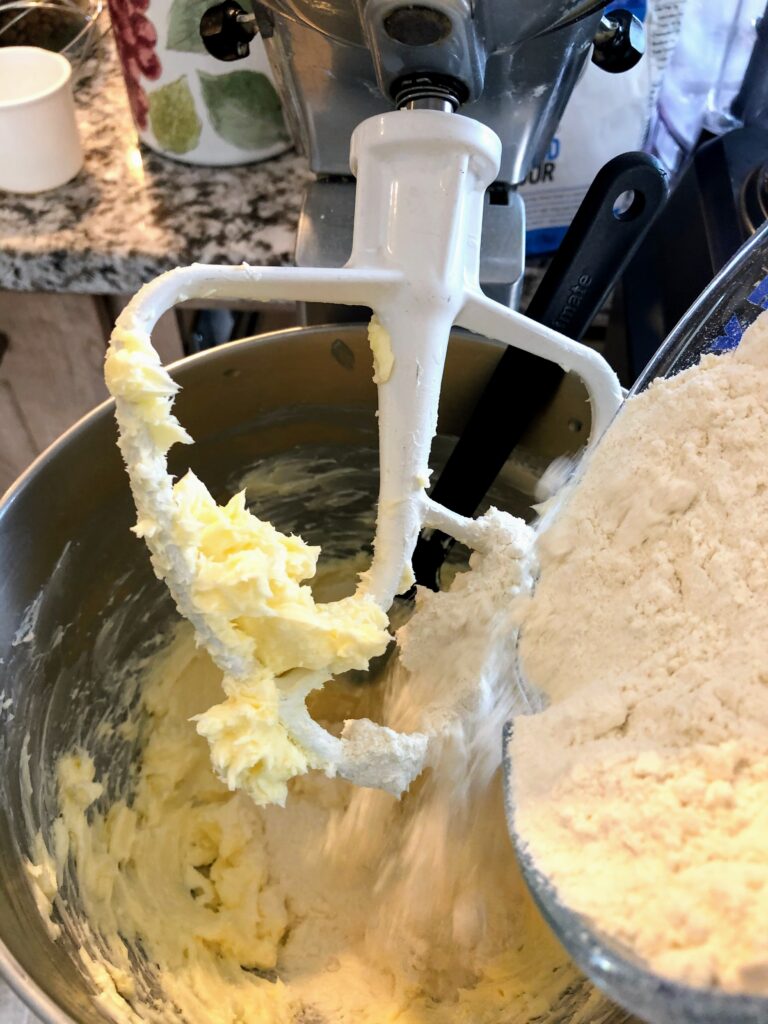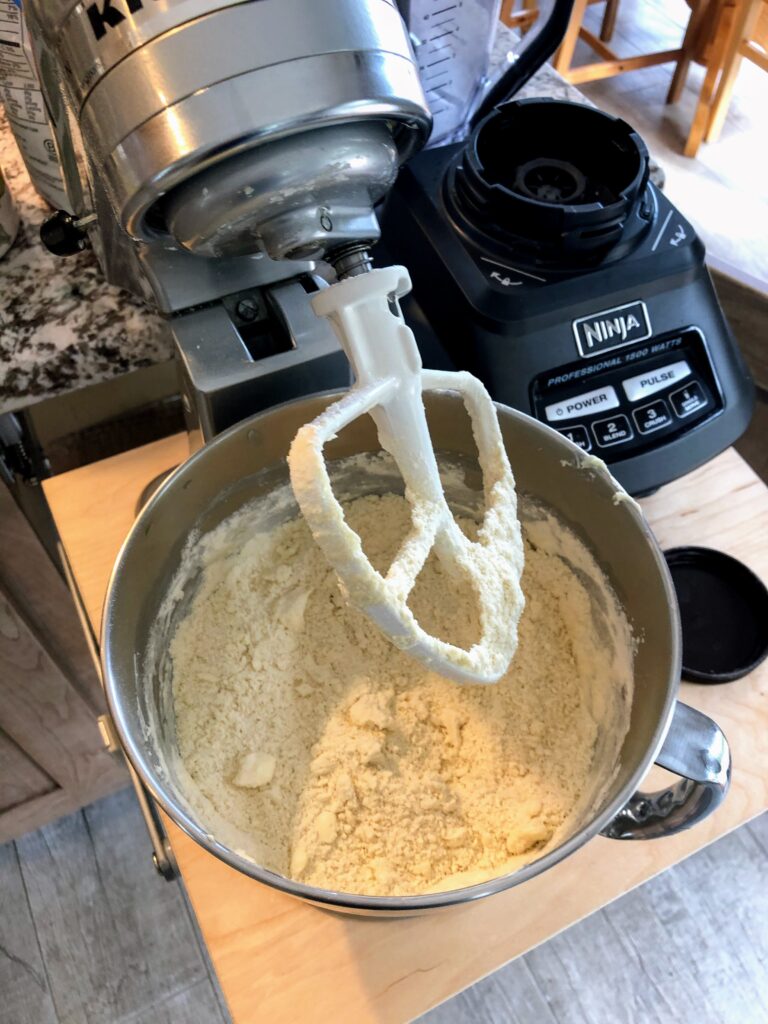 Once your Flour and Butter are blended your flour will have a coarse look to it. Then add the yeast, I added a little warm water to make the yeast a paste so it mixes into the flour, and add the egg.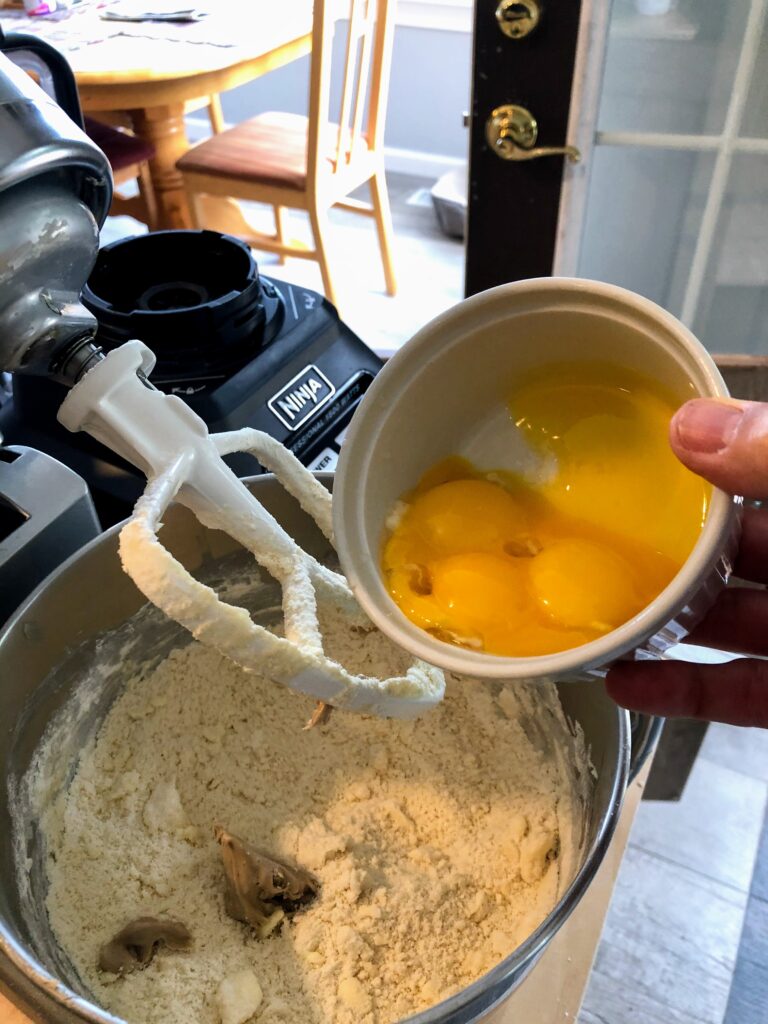 Blend completely, and then add the sour cream.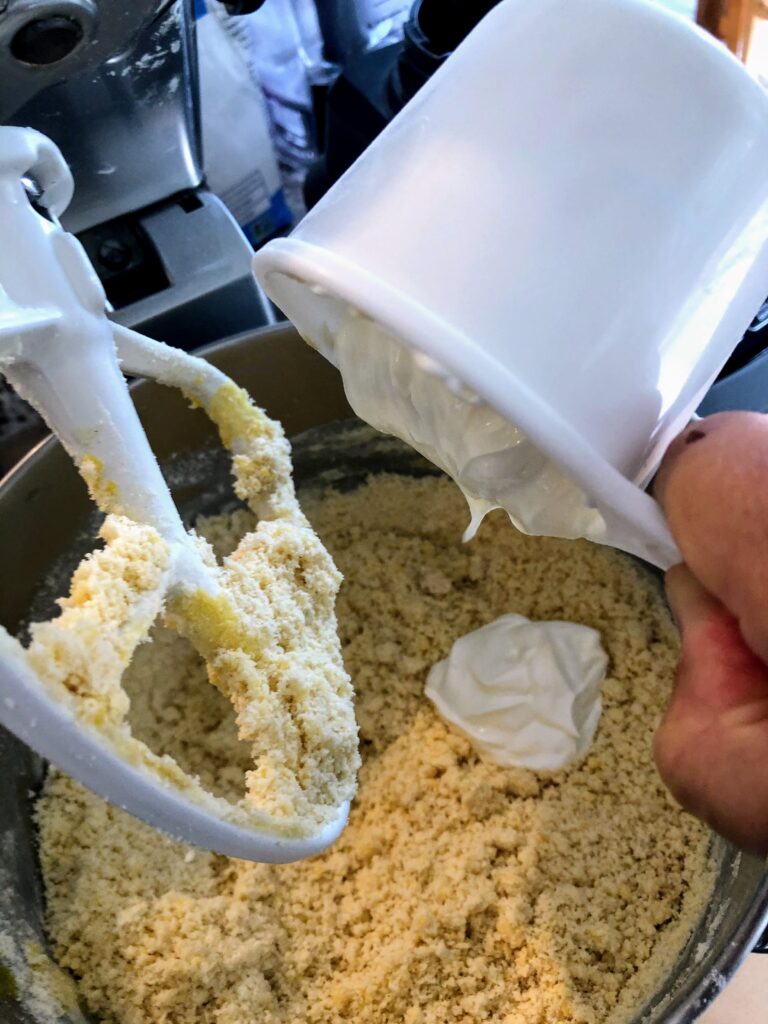 After mixing the sour cream into the dough, I remove the paddle beater and replace it with a dough hook, you don't have to do this but it makes it easier to knead the dough.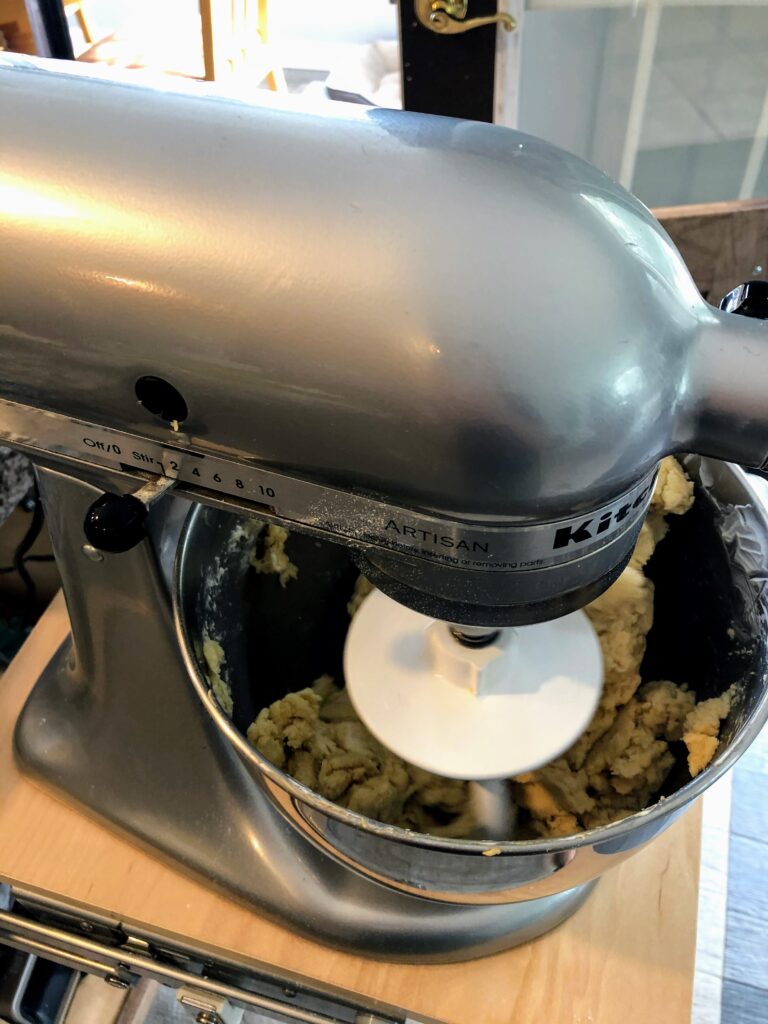 After about 5 minutes give or take, the dough is ready to work with. Remove it from the mixing bowl and place it on a clean counter or wooden board.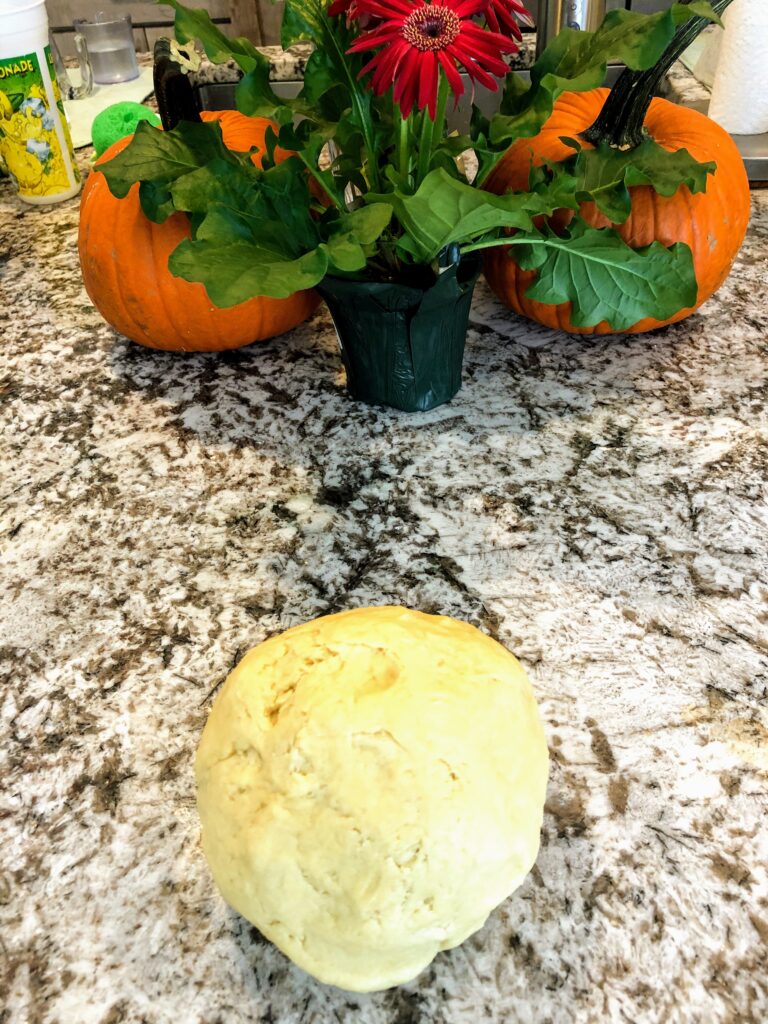 You will now divide the dough into 12 balls, I use a scale to get them into equal sizes, but I have eyeballed it plenty of times.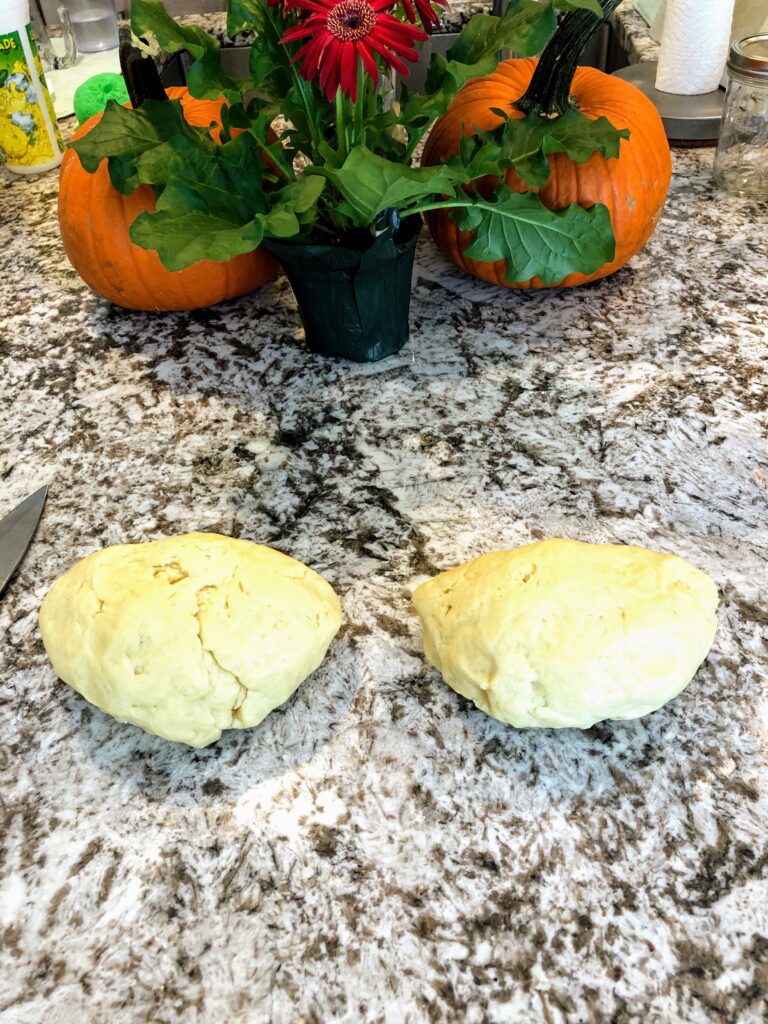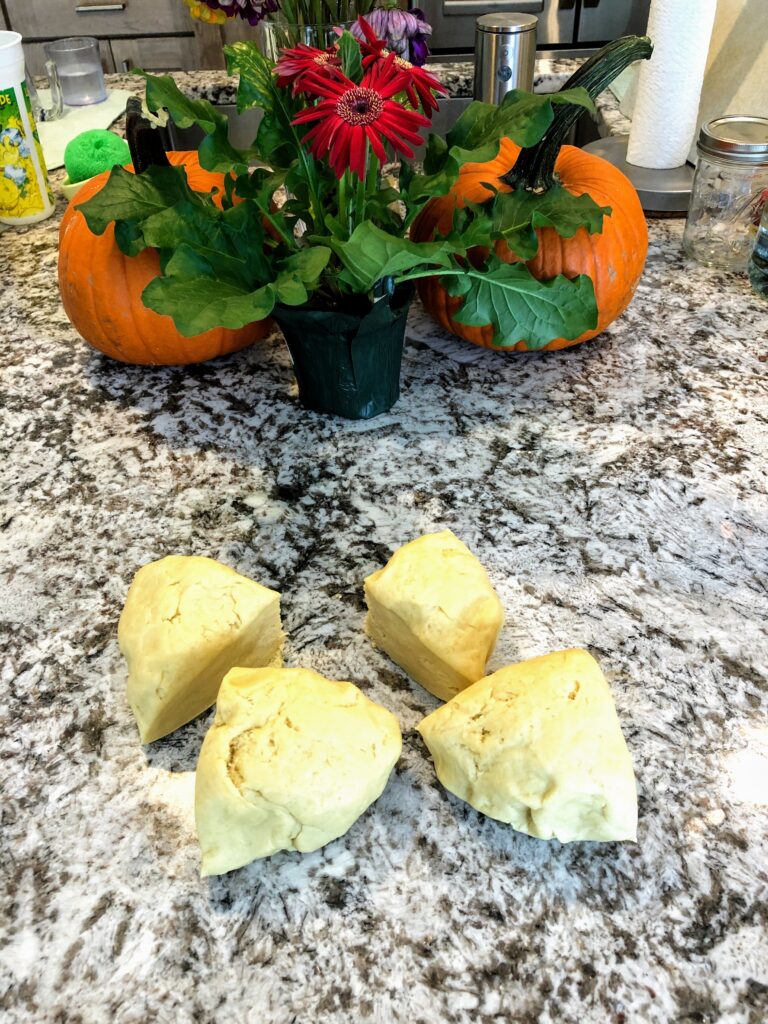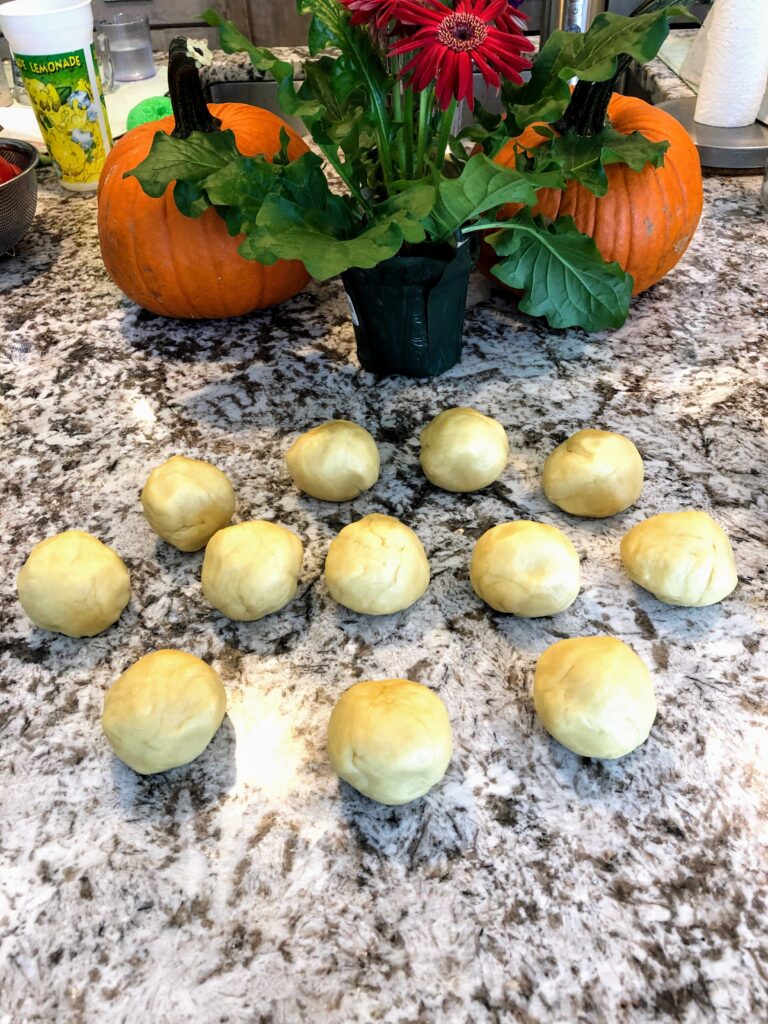 Once you have 12 balls of dough, place them into a bowl and cover with saran, place them in the refrigerator for at least 4 hours, or over night.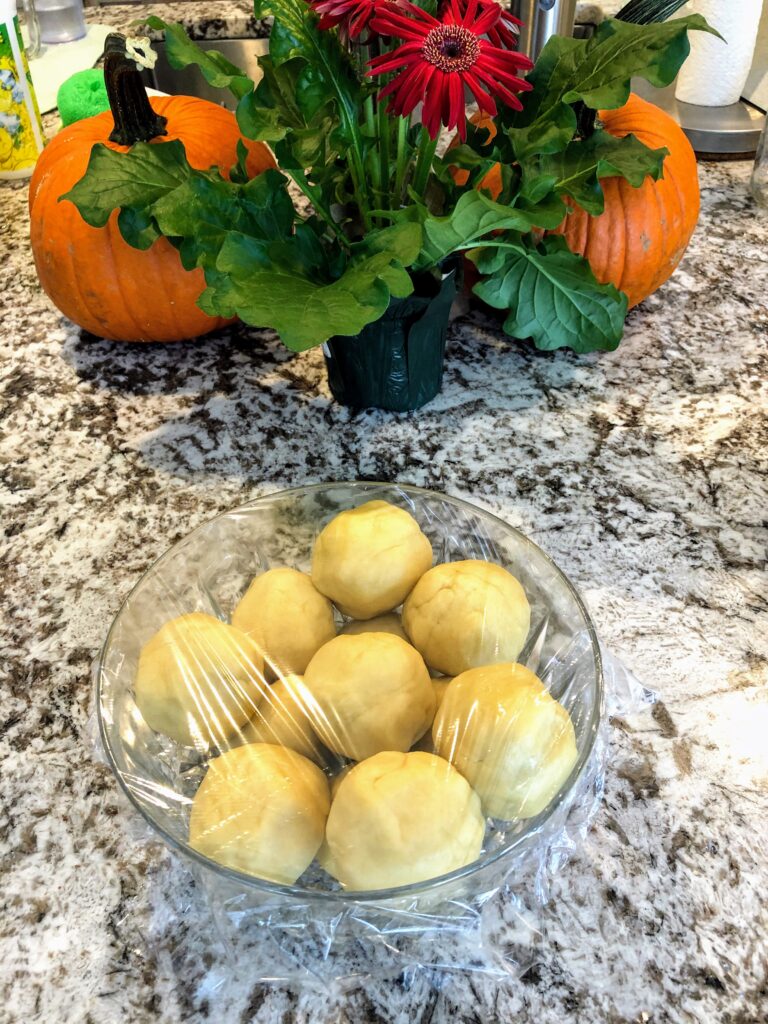 Now remember that if you are making the cookies the same day as the dough you can leave your egg whites out, just cover with saran until you are ready. The egg whites will whip up much nicer at room temperature and will give you a nice base for your filling. if you don't whip it enough two things will happen, 1 your filling will be to loose and very hard to use and second you will not have enough to fill all 12 balls.
Making the Cookies:
Before you begin you will need to chop 1 cup of Pecans, and either purchase chopped dates, or like I had to do today, take whole dates and place in a food processor with 1/4 cup sugar and chop the dates into small pieces. You will need 1 cup of chopped dates.
Then you are ready to go. Whip your egg whites. I use a kitchen aid but you can use a hand mixer as well, I don't suggest using a whisk, it will take a long time and it will be hard to get the egg whites stiff enough. Whip the egg whites until they stand up when your lift up your mixer.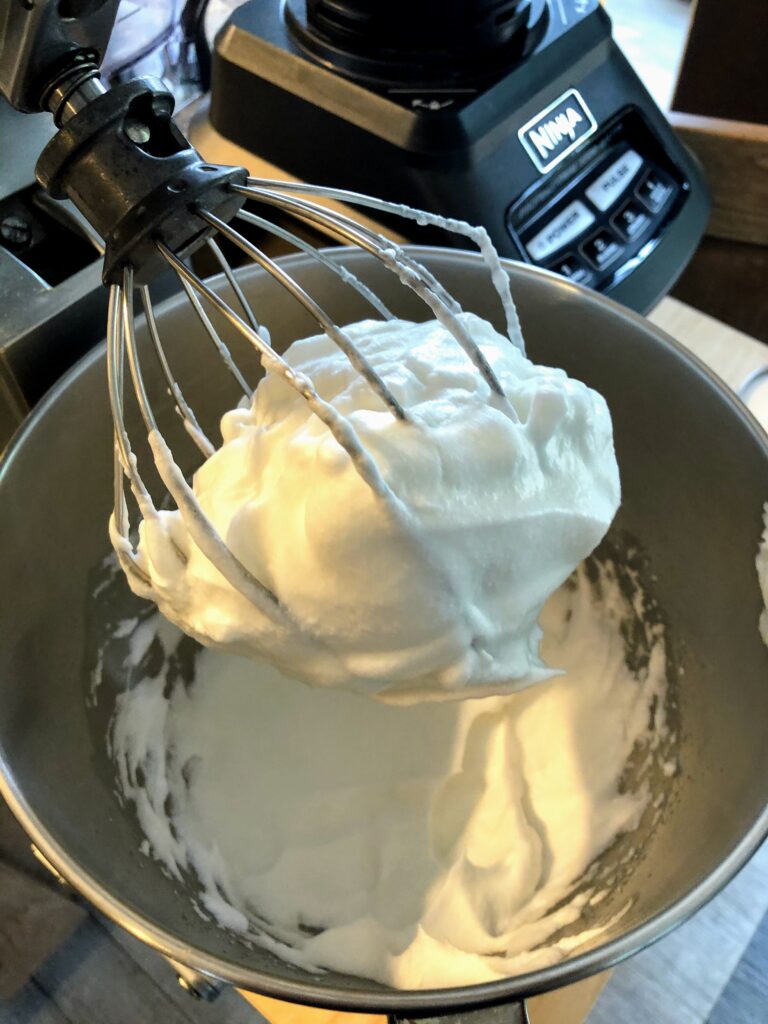 Once the Egg whites are stiff, you will need to add your sugar, please don't add it all at once, this will deflate your egg whites. Just add a few tsp's at a time. You do not have to wait long just sprinkle the sugar over the egg whites while your mixer is running. After the sugar is incorporated add a tsp. of vanilla and mix it through the egg whites.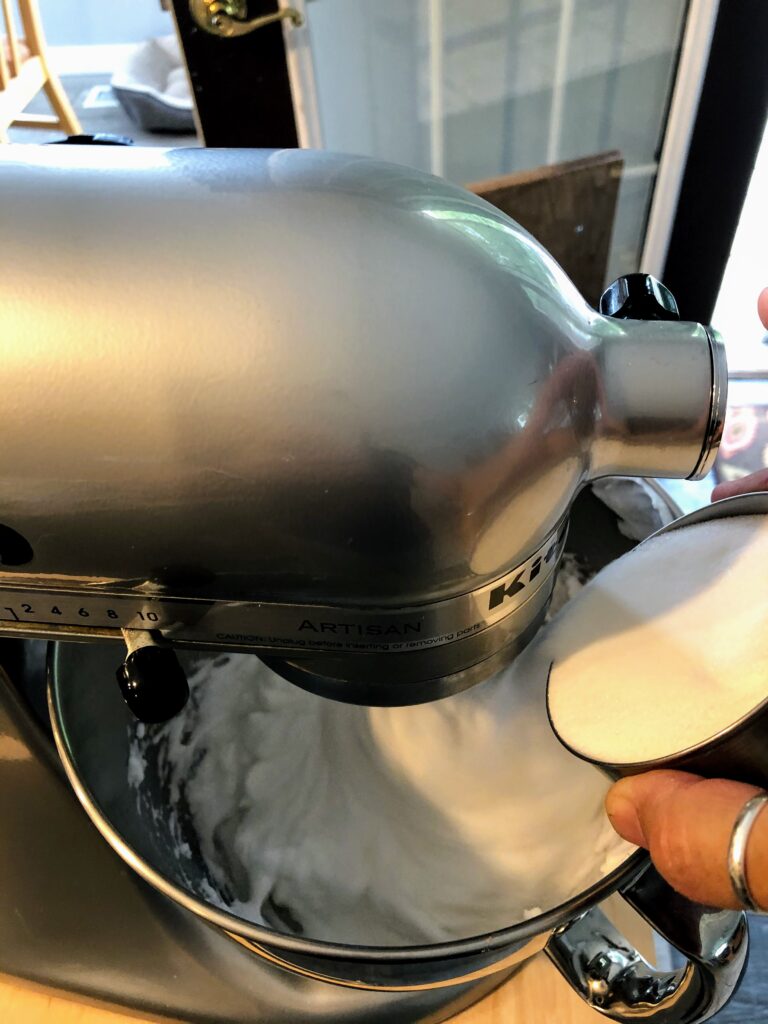 Once sugar and vanilla are incorporated, the egg whites will have a nice shiny look to them.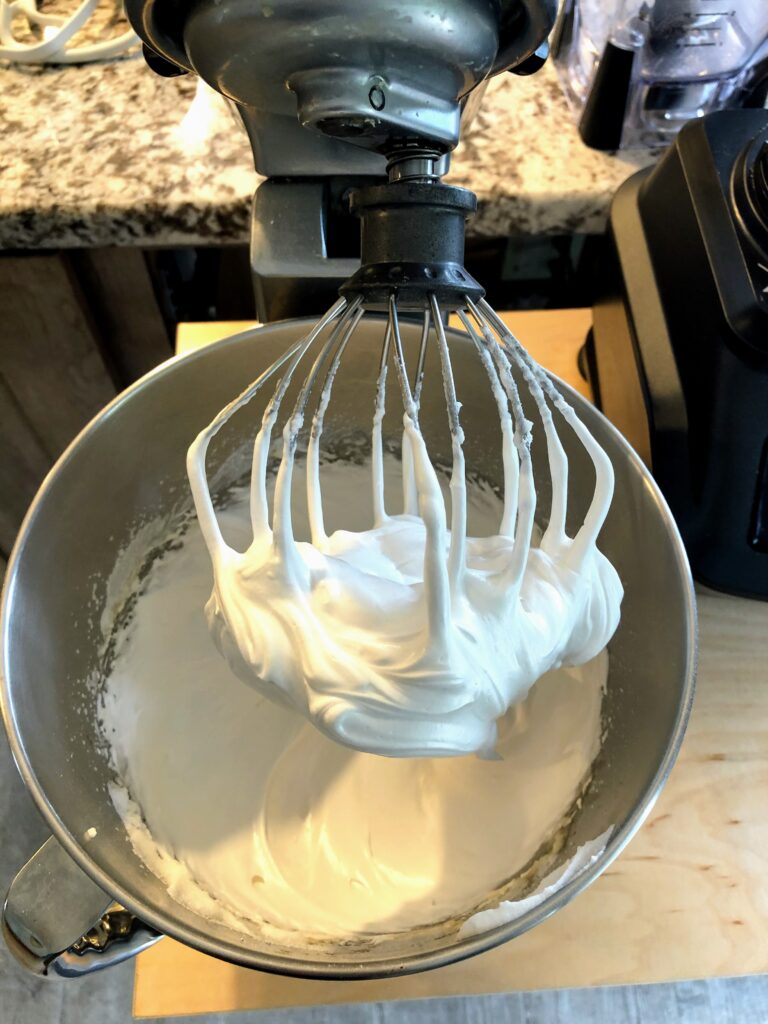 Remove the bowl from the mixer, the next part you will do by hand. Gently place your pecans and dates into the bowl and FOLD them into the egg whites. Again if you don't fold them gently into the egg whites you can deflate the egg whites and this could reduce the amount of filling you will need.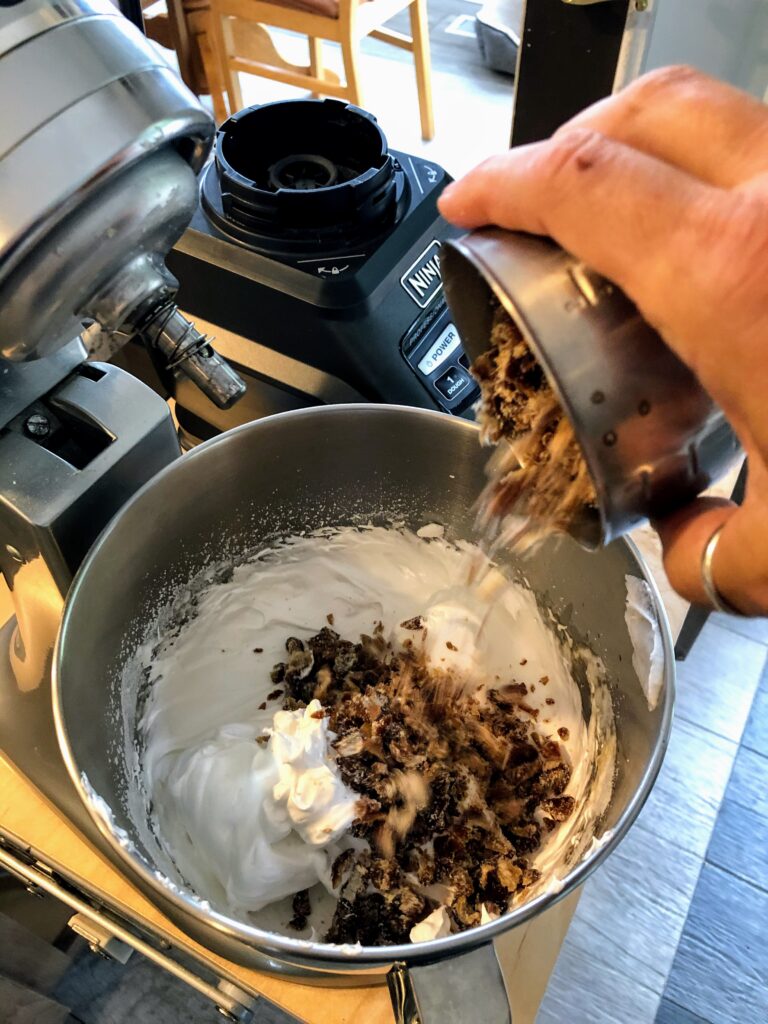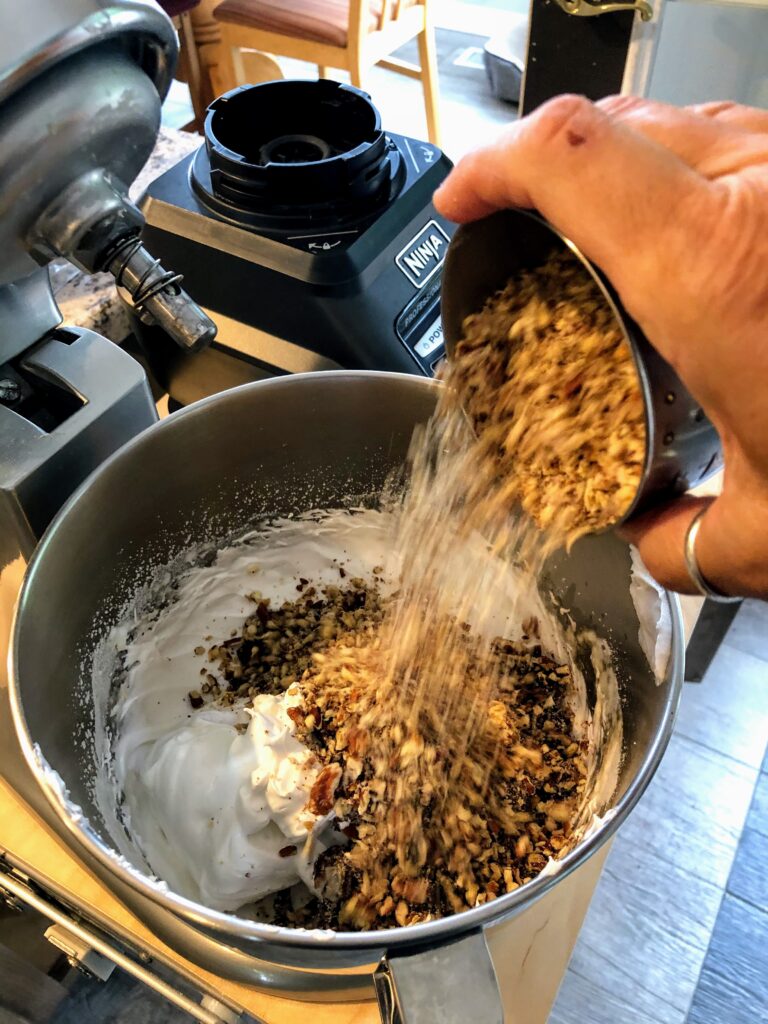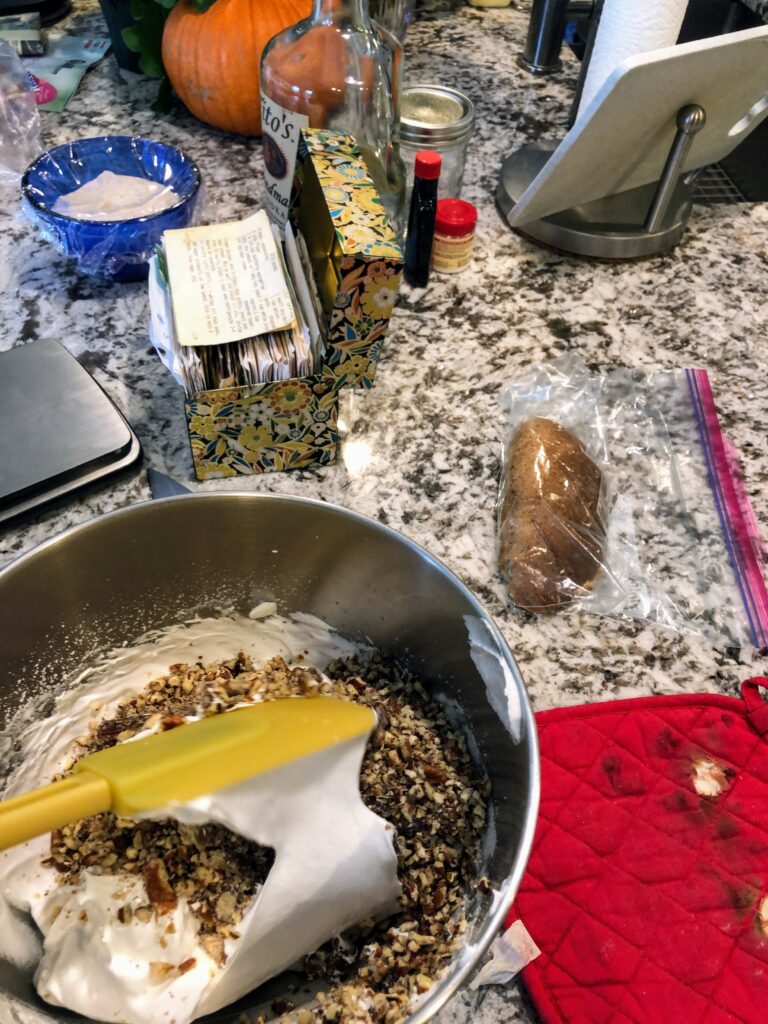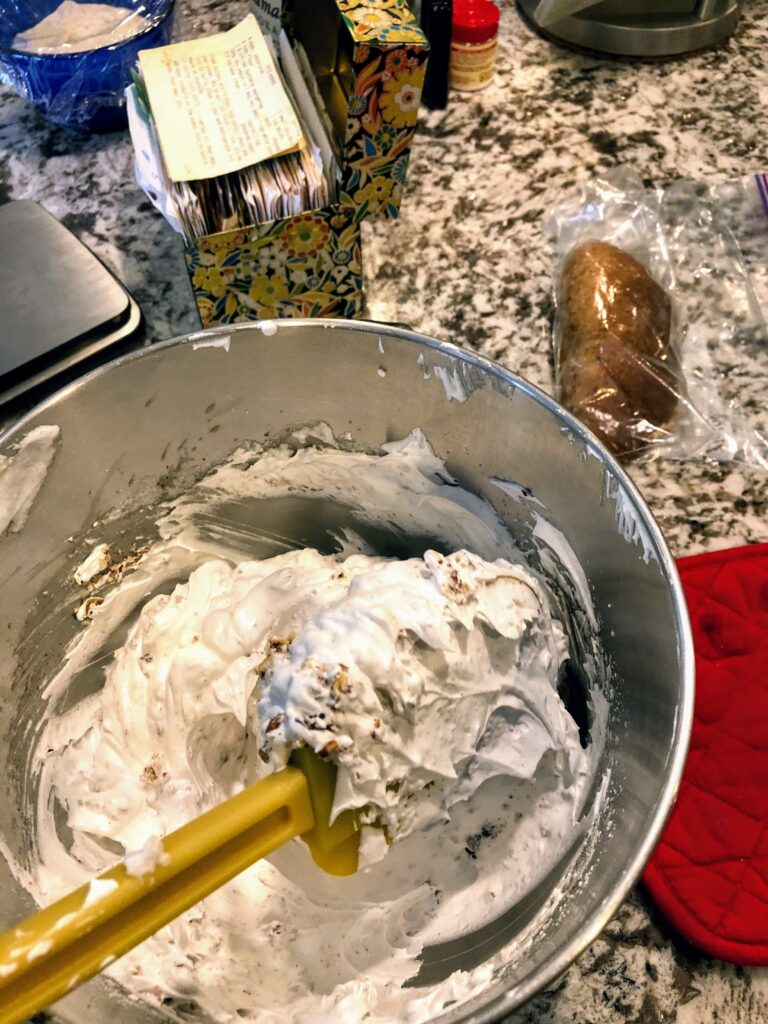 You are now ready to make your cookies. These cookies are not rolled in flour. You will use powdered sugar, to roll them out, remember there was no sugar added to the dough, so don't worry about them being too sweet. Place about a cup of powdered sugar on your counter.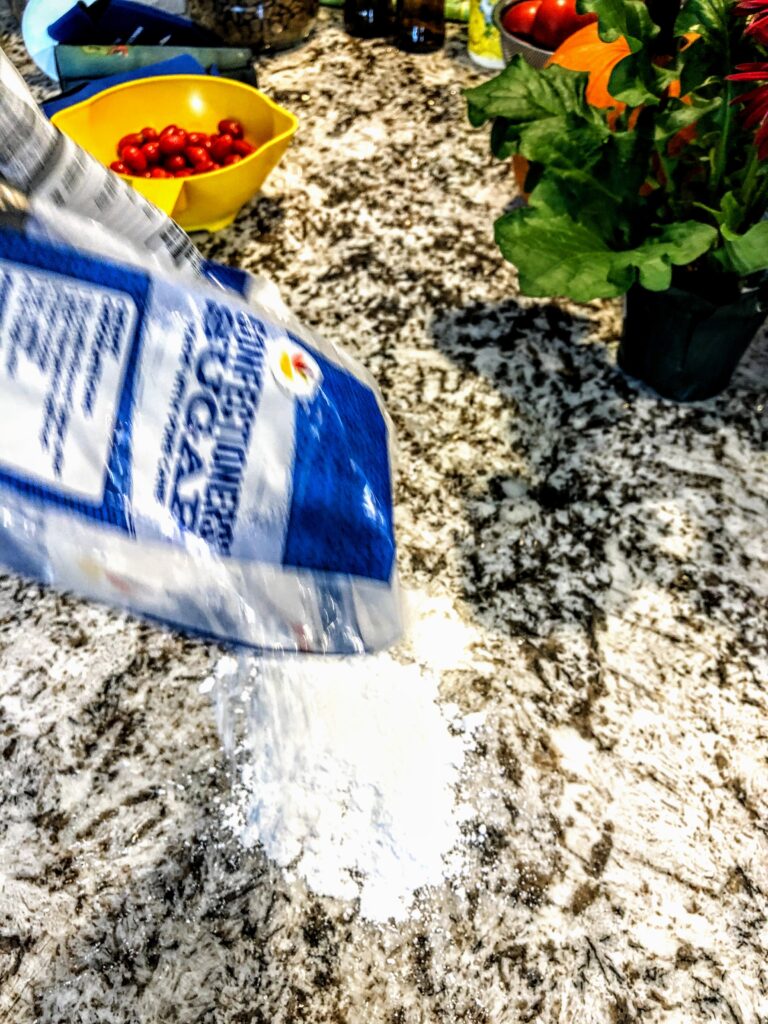 Take 1 ball of dough out of the refrigerator at a time, the dough will get to soft if you let it sit out while you are making the cookies.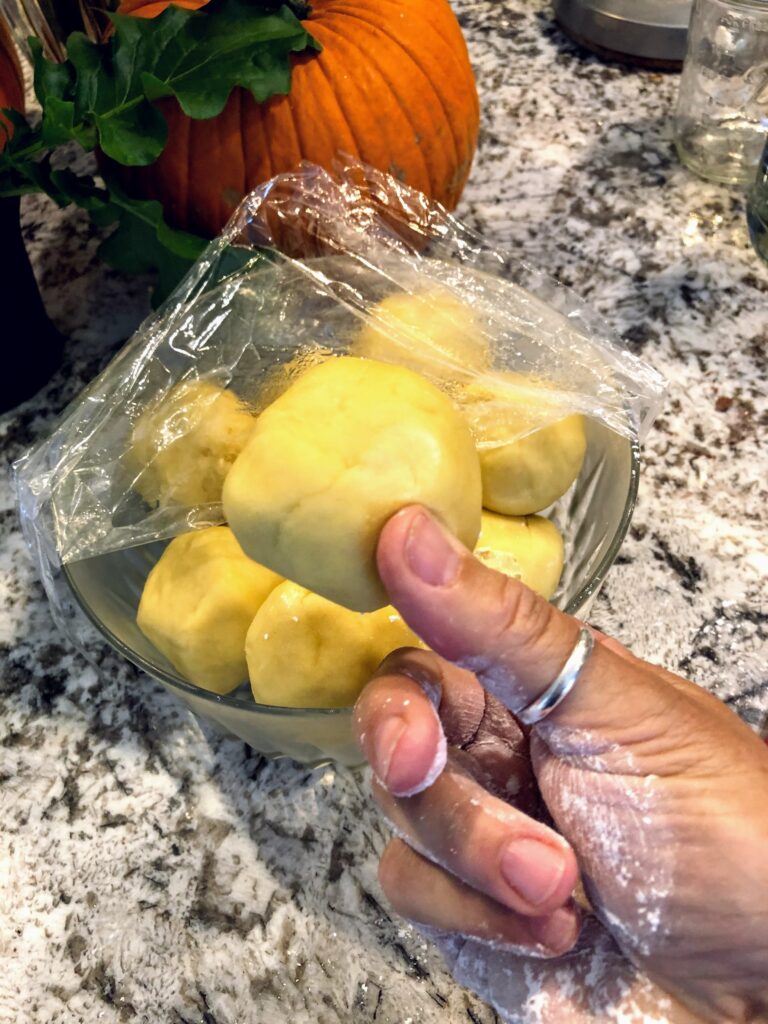 Take some of the powdered sugar from your pile and move to the middle of your work area, now flatten your ball of dough into the powdered sugar coating both sides.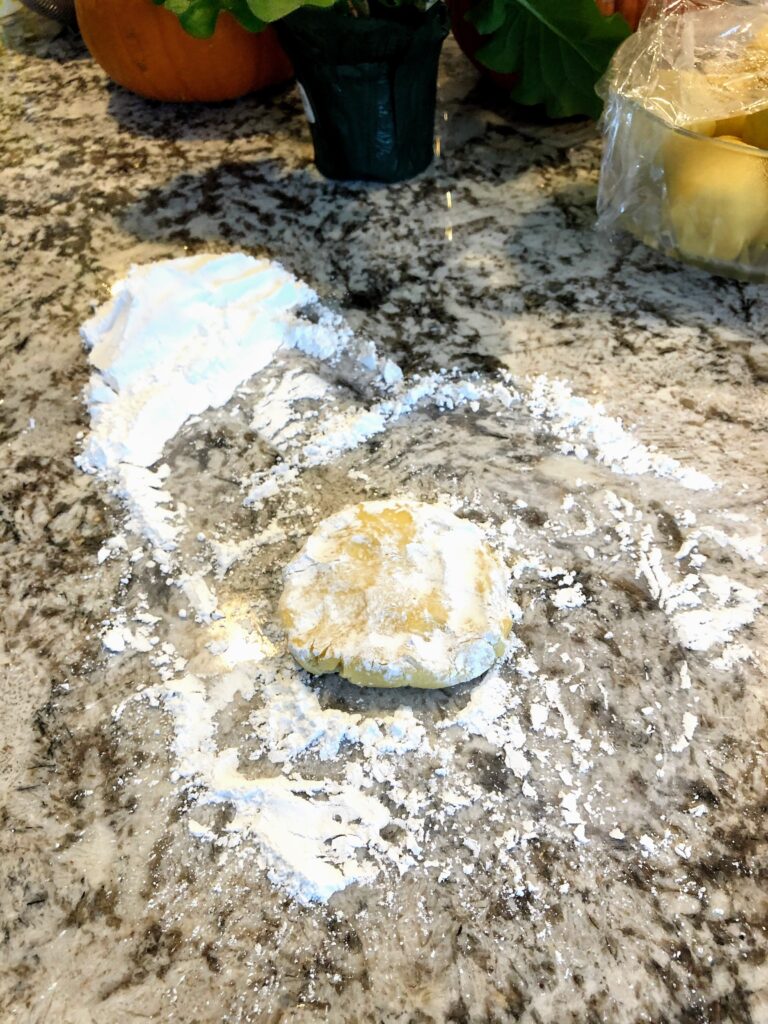 You will need to roll your dough into a circle and it will need to be rolled out pretty thin, remember this is a yeast dough so it will have some elasticity to it. Make sure you use enough powdered sugar. As you will see below I have 2 pictures of rolled out dough, the first is how it is suppose to look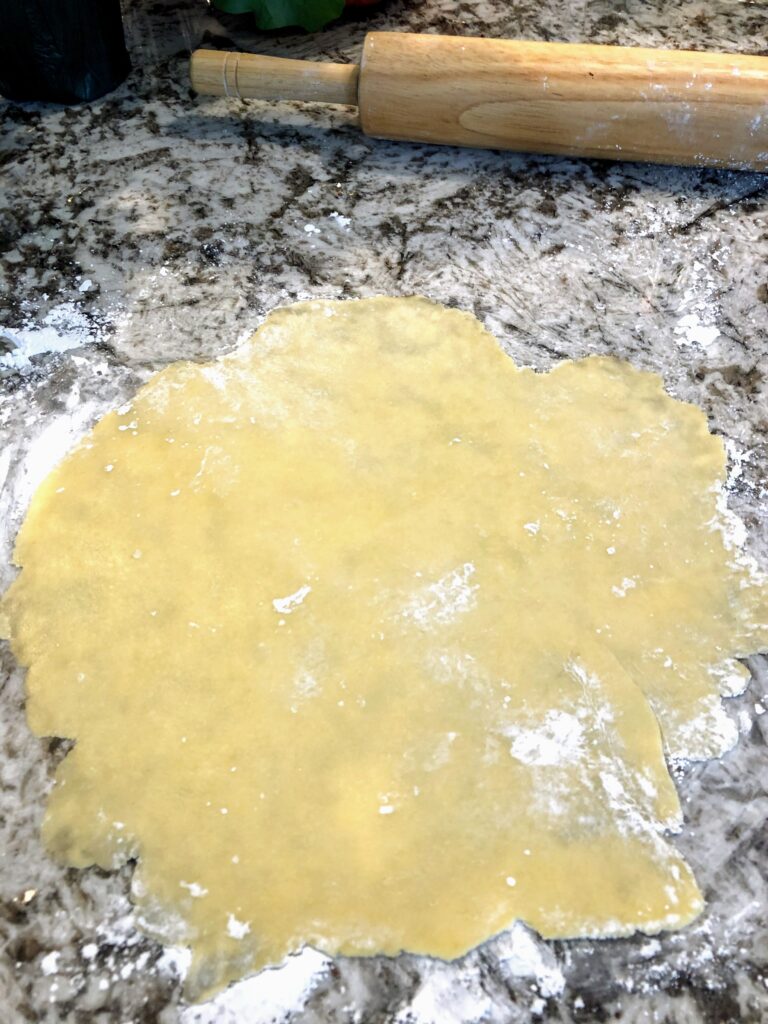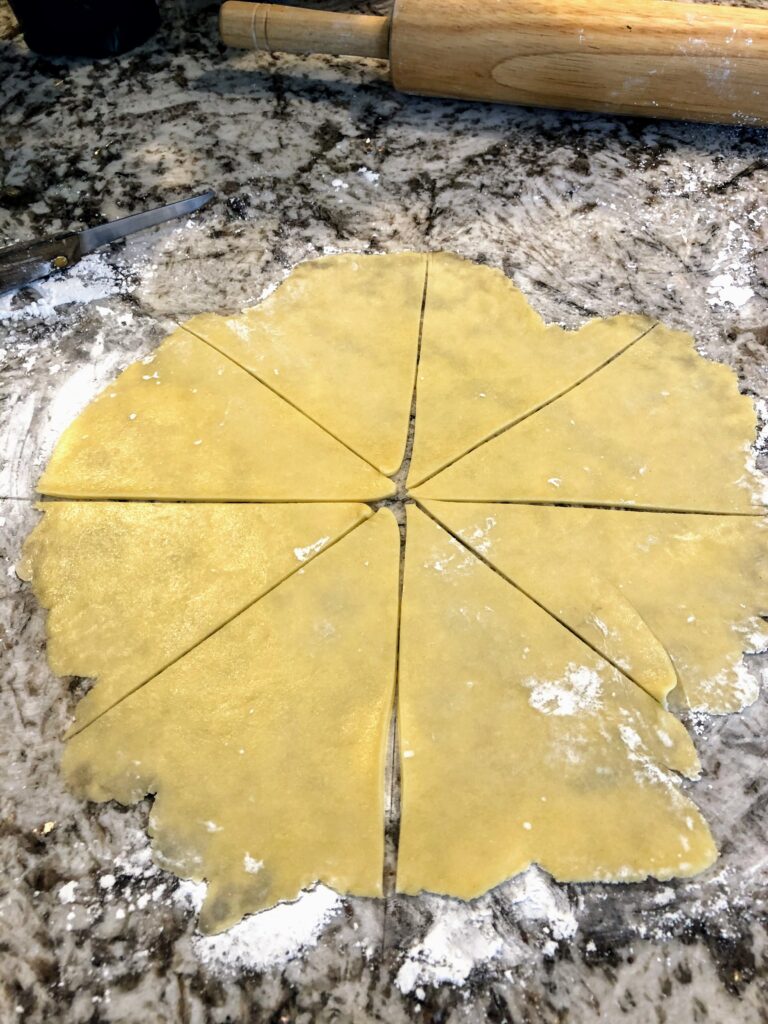 The second picture is what it might look like, don't worry either one will work. As you get used to rolling the dough out it will become more like a circle and therefore the cookies will be a little more even in size. Don't worry they both taste good and once you add powdered sugar to the tray of cookies they will look magnificent.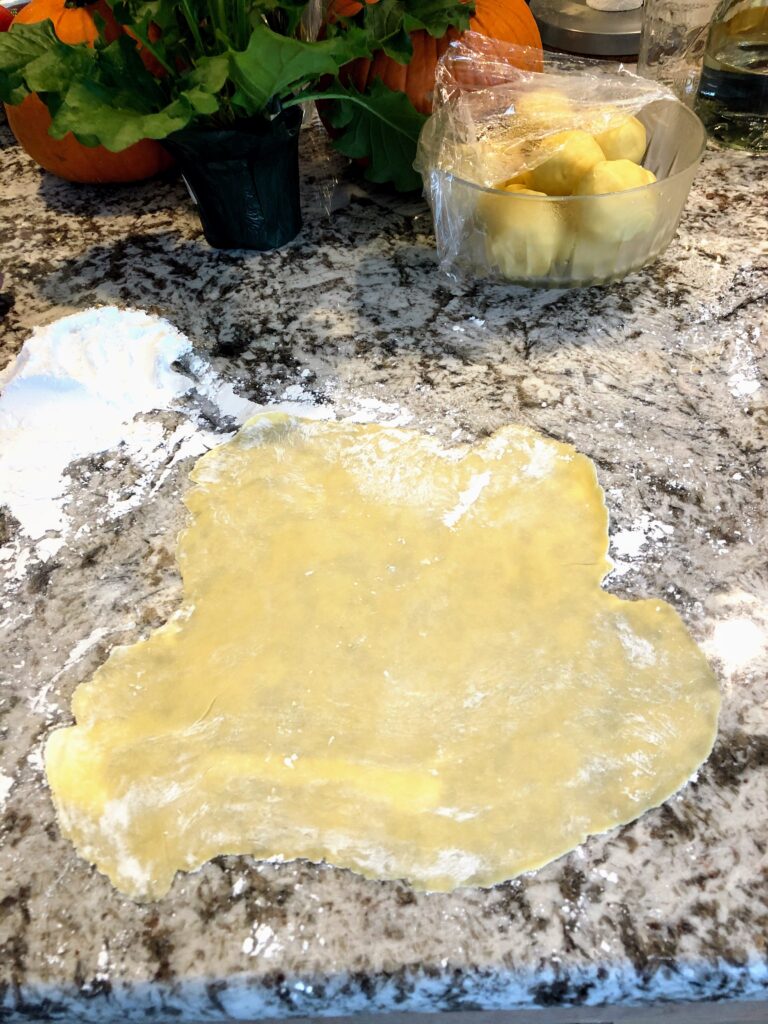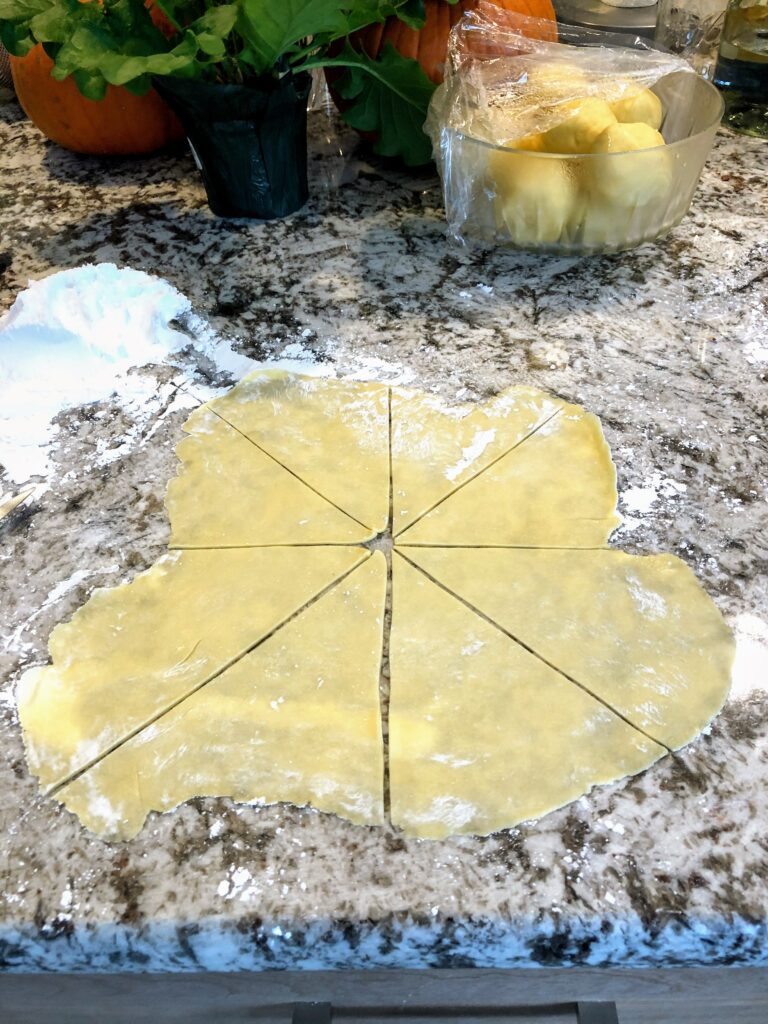 As you can see from the pictures, you will need to cut the dough into 8 pieces, just like you cut a pizza, make sure you use a sharp knife. Once the dough is cut you will take a scant tsp of filling and place on center of the wide end of the slice. I say scant because if you add to much it will pop out of the cookie while in the oven, of course I have a picture of this below.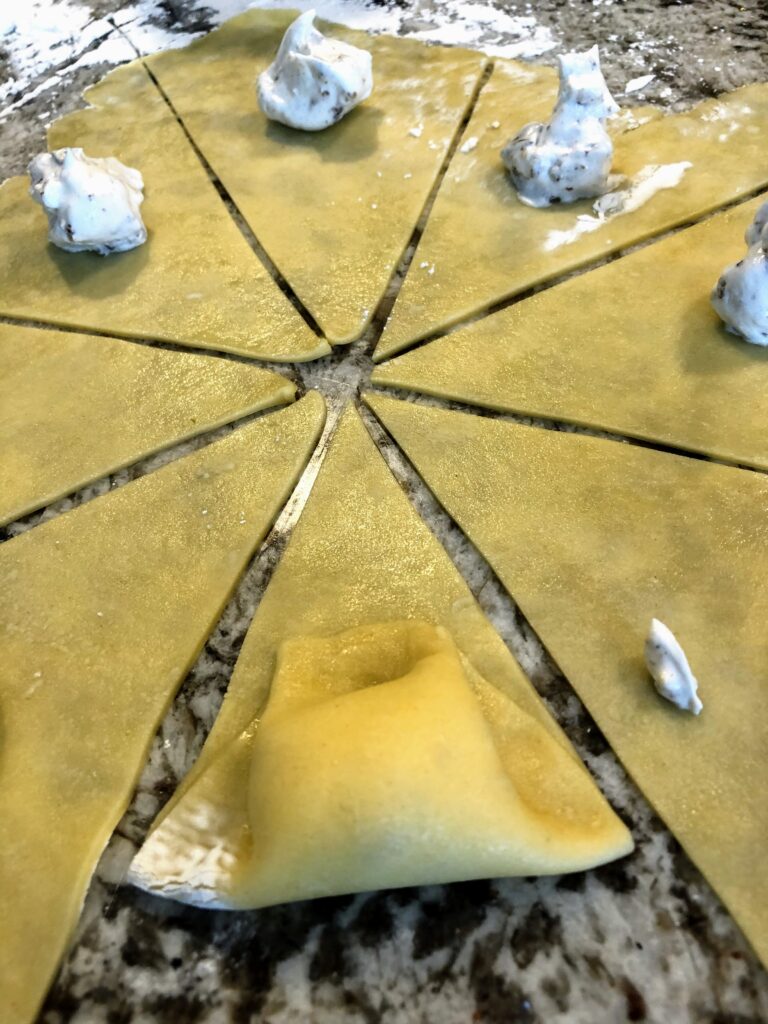 Fold the wide end of the dough over the filling an seal the edges and middle then roll the cookie up like a crescent roll.
Place the cookies on an ungreased cookie sheet and leave space in-between each cookie.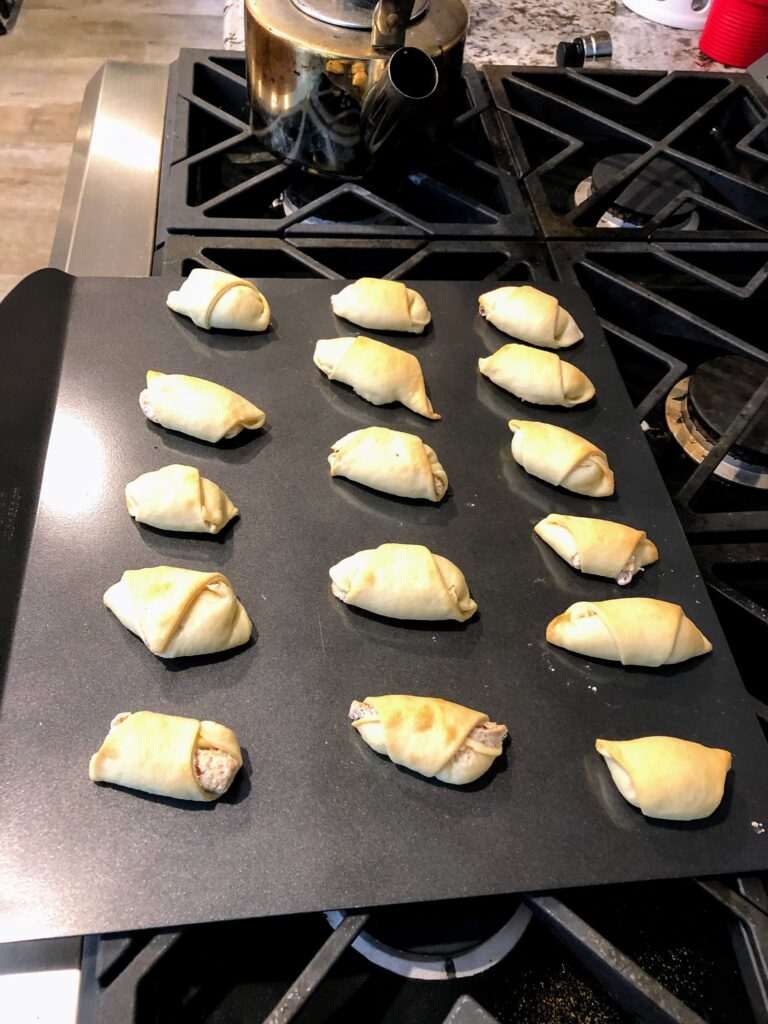 Bake in a 375° oven for approximately 9 minutes, these cookies are not meant to be dark, the will start to brown on the edges and they are ready to come out. As I stated above, I have posted 2 pictures of finished cookies, the first is the preferred shape, the second one is how they sometimes come, don't worry they are still delicious and will look great on your cookie tray.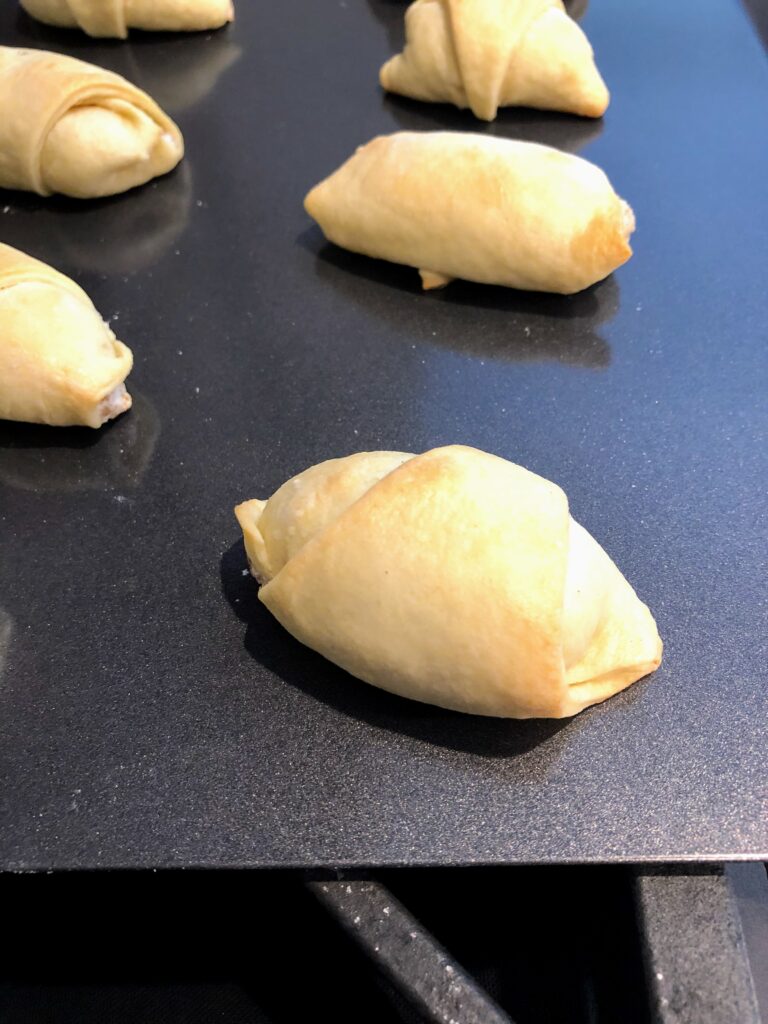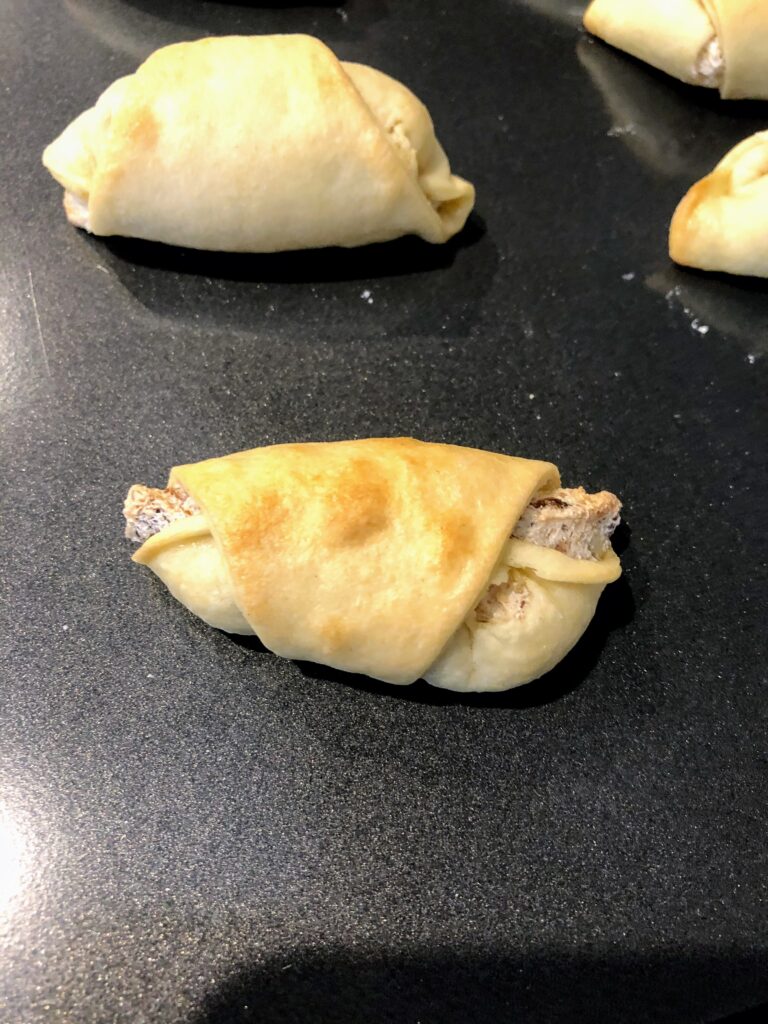 If you are a beginner baker, Butterhorn's are a little daunting, But once you roll out a few doughs and get a feel for how much filling to use, you will love the end result….
Remember it is really all about the Journey!! Have fun and enjoy, if you have kids get them involved, I taught my 2 daughters and my son to make our holiday cookies when they were in their teens. Those times are some of my most treasured memories…
If you are interested in staying in the loop, and receive all 10 recipes, Please Subscribe to my blog!!!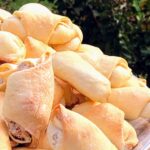 Butterhorn Cookie
Butterhorn's are one of the pretty cookies on the tray, it has a light flaky pastry dough, filled with a melt in your mouth meringue filling loaded with dates, pecans.
Ingredients
Do Ahead of Time
4

Eggs

Separated

Powdered Sugar
Dough
4

Egg yolks

From separated eggs

4

cups

Flour

1 1/4

cup

Butter

1

package

Dry Yeast

3/4

cup

Sour Cream
Filling
4

Egg Whites

From the Separated Eggs at room temperature

1

tsp

Vanilla

1

cup

Chopped Pecans

1

cup

Chopped Dates

1

cup

White Sugar
Instructions
Eggs
Take your 4 Eggs and Separate, yolks into one bowl and whites into one bowl
Dough
Add Flour, mix until you have a coarse flour mixture

place yeast in a bowl and add 1-2 tablespoons warm water mix and add to the flour mixture

Add Eggs to Flour mixture, blend together

Place your Sour Cream into your dough and just mix till it is incorporated. Replace paddle with Dough hook if you have one. ( if not you will need to mix until it can be formed into a ball}) and knead dough until a ball forms and the dough is smooth.

Take the dough and cut it into 12 balls

Place into bowl, cover with Saran and place in Refrigerator for at least 4 hours or overnight
Filling
When dough is ready you will need to make your filling. You will need to chop your pecans and dates before you start.

Take your room temperature Egg whites and whip them until it has stiff peaks

Add Sugar to the Egg whites slowly (you don't want to deflate the egg whites) and then add Vanilla

Take the Egg white mixture and add the Pecans and Dates. You will need to FOLD these ingredients in gently, if you just mix them in you will deflate the egg whites.
Constructing the cookie
Roll the ball of dough in Powder Sugar into a round circle

Cut the circle into 8 wedges, (like a pizza)

place a scant tsp. of filling in the center of the wide end of the slice, fold over the dough and seal edges and center, roll into a crescent shape

Place the cookie directly onto the ungreased cookie sheet leaving space in between the cookies.

Bake at 375° for 9 minutes

Repeat rolling and filling for all 12 balls of dough
Recipe Notes
It is best if you work 1 ball of dough at a time placing the cookie on the cookie sheet and then baking.  The dough will become soft and will stick to surfaces if left on the counter or board.