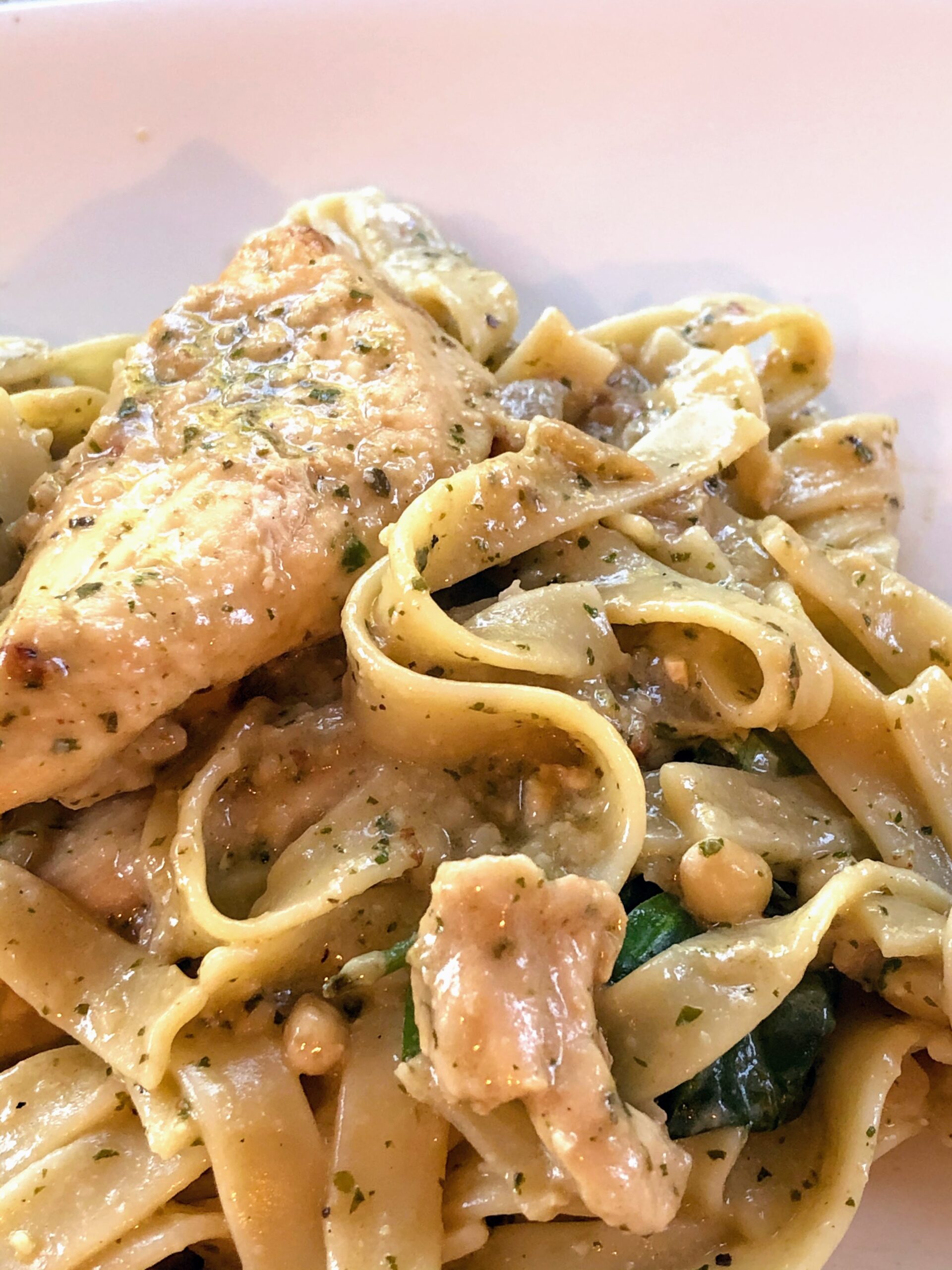 Chicken Pesto w/Egg Noodles
Wonderful summertime bounty. Basil made into a flavorful pesto sauce.
Summer time is always a favorite. As I have grown up (maybe haha) I have realized that the summer bounty that comes with growing a garden is just amazing. We can our tomatoes, Freeze fresh corn, create enough jams and jellies to last the winter. One other bountiful plant is the almighty Basil plant. Plant it and it will grow and grow and grow. The trick we have found is that you need to cut it back hard to allow new growth to appear.
So today I decided that I needed to use some of my basil before it went to seed. So in search of a recipe I settled on an amazing Pesto sauce. There are many ways to make it, with nuts, without nuts. Using Spinach and Basil to make it a little more healthy., you can use lemon if you like. I went more on the traditional side and used basil, pine nuts, olive oil, garlic and parmesan cheese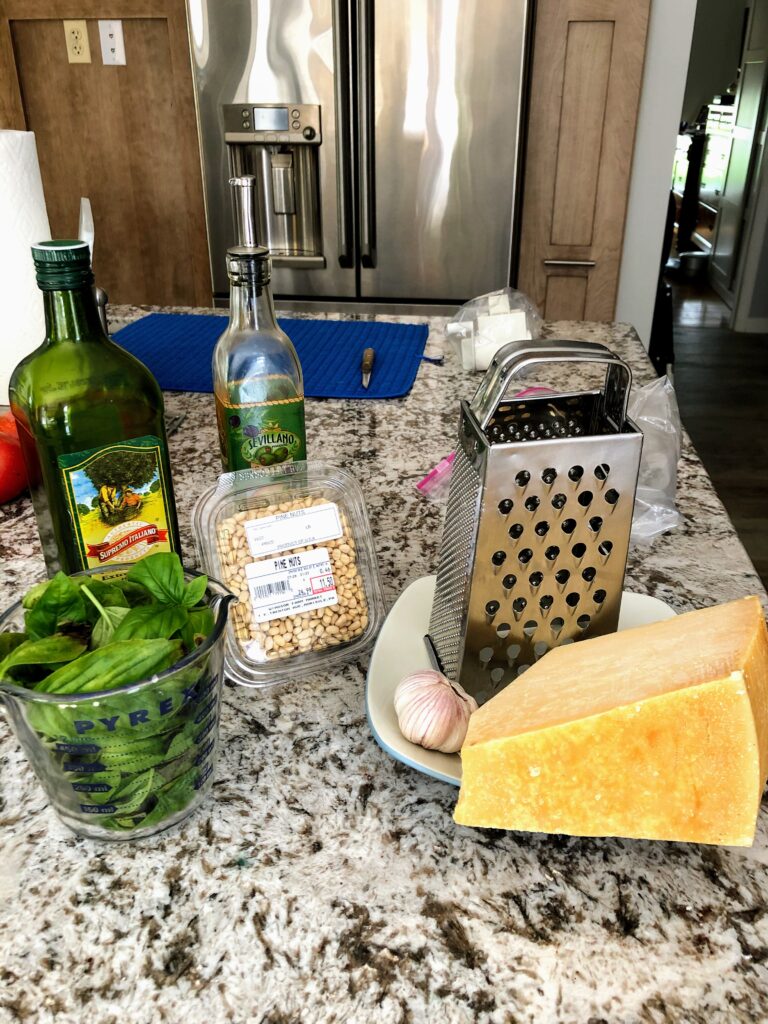 Making pesto is a very easy process. You will need a Food Processor or a blender.
First you will need the basil, if you have a garden cut that baby back. If you don't have it growing you can purchase it from your local grocer or farmers market. You will need a good amount, when it is cleaned and stems removed you should have a 2 cup container packed tight with the leaves

Next make sure you have all your ingredients ready, Grate 1/2 cup of Parmesan or a cheese of your liking, Coarsely chop your garlic, have your olive oil measured out about 1/3 of a cup and your pine nuts, 1/2 cup.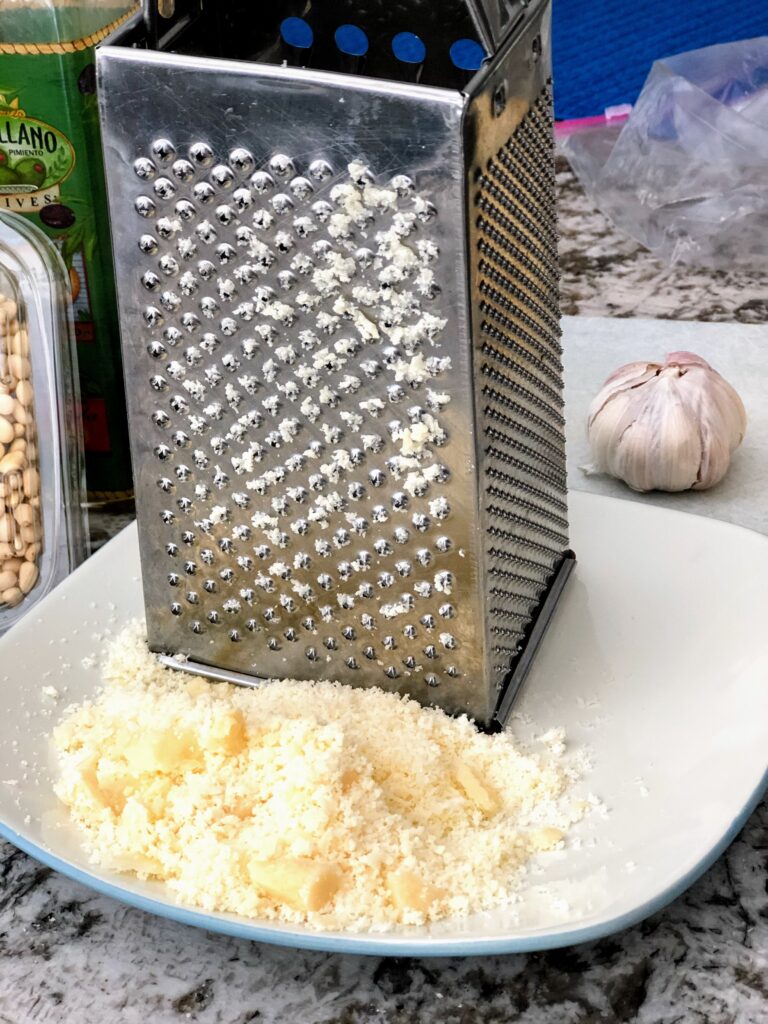 Take your Basil and olive oil and place it into your food processor. Blend until you have a smooth consistency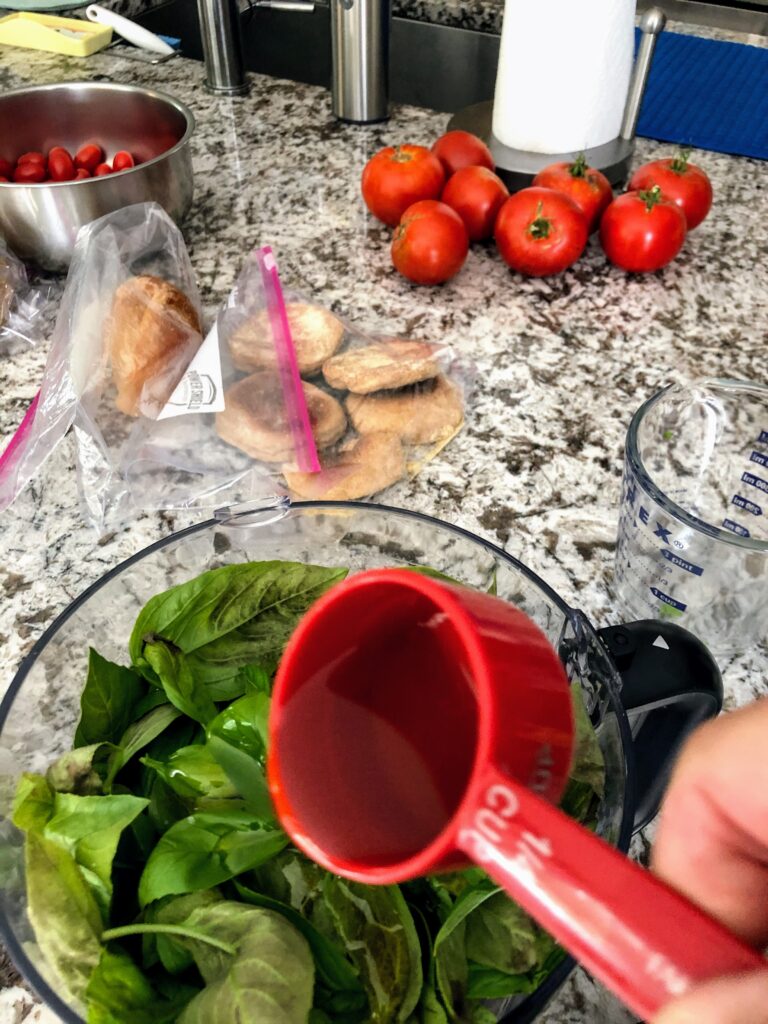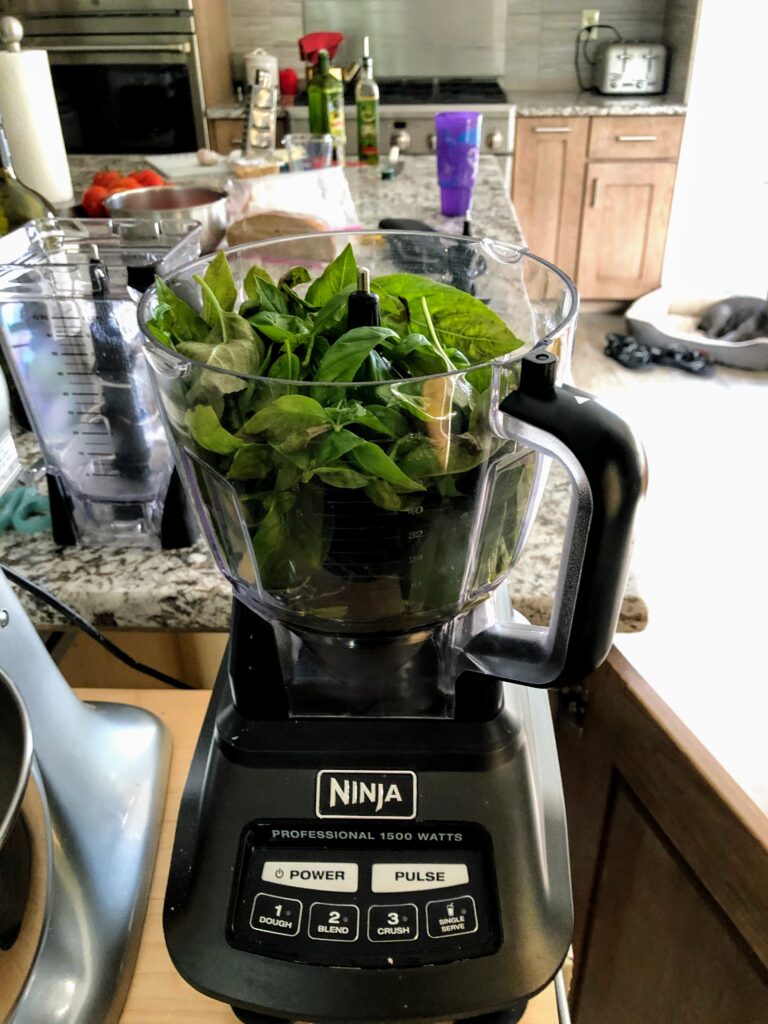 Next add each of the additional ingredients, Garlic, Parmesan Cheese, and Pine nuts. Blend until you have a smooth consistency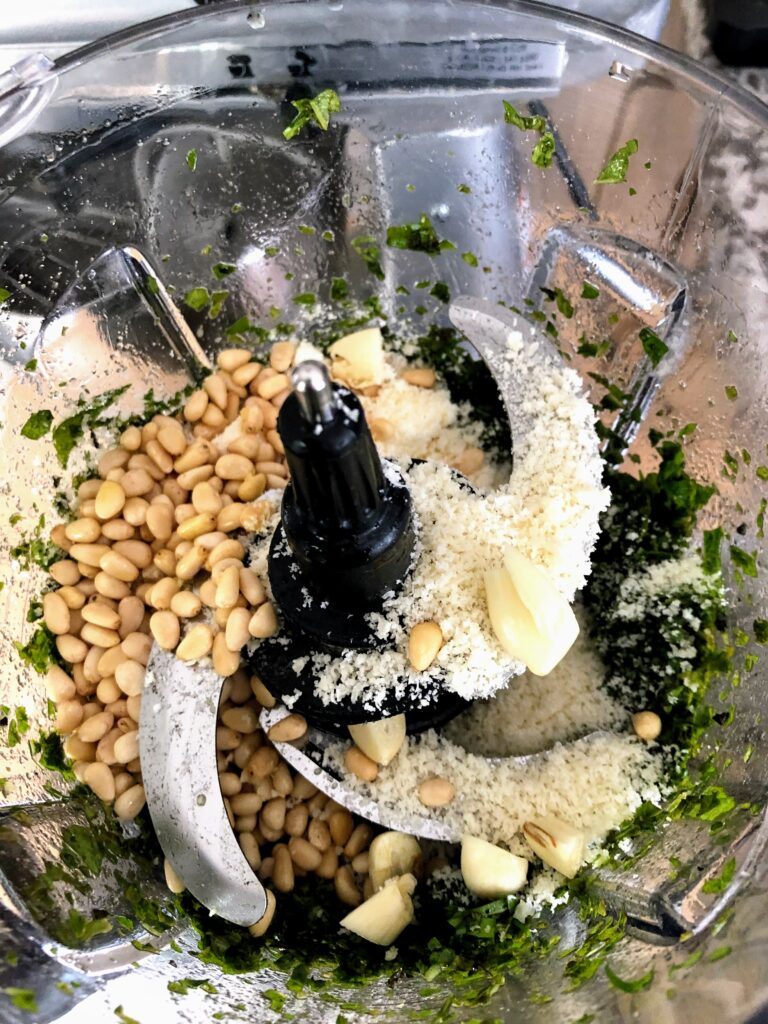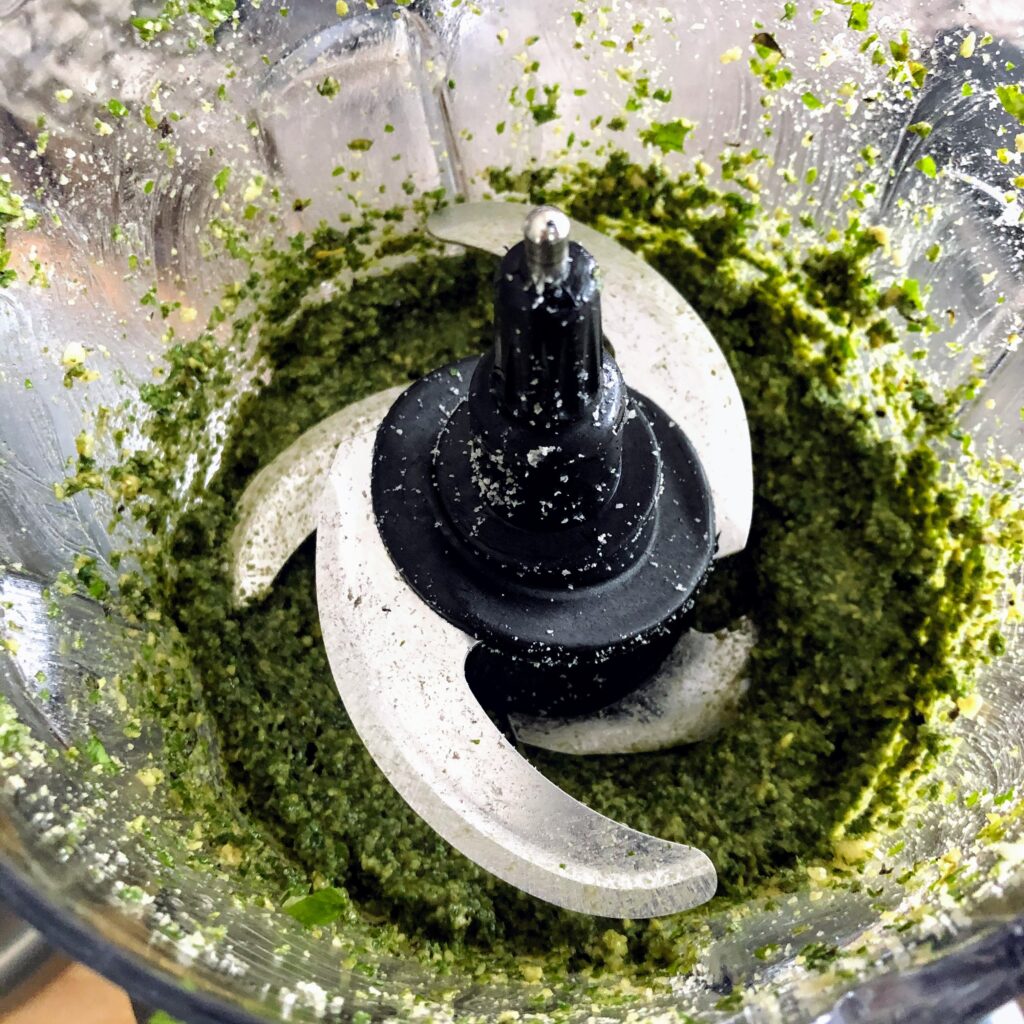 And there you have your Pesto sauce. You can use immediately, refrigerate for up to 1 week in a tightly sealed container or freeze up to 6 months.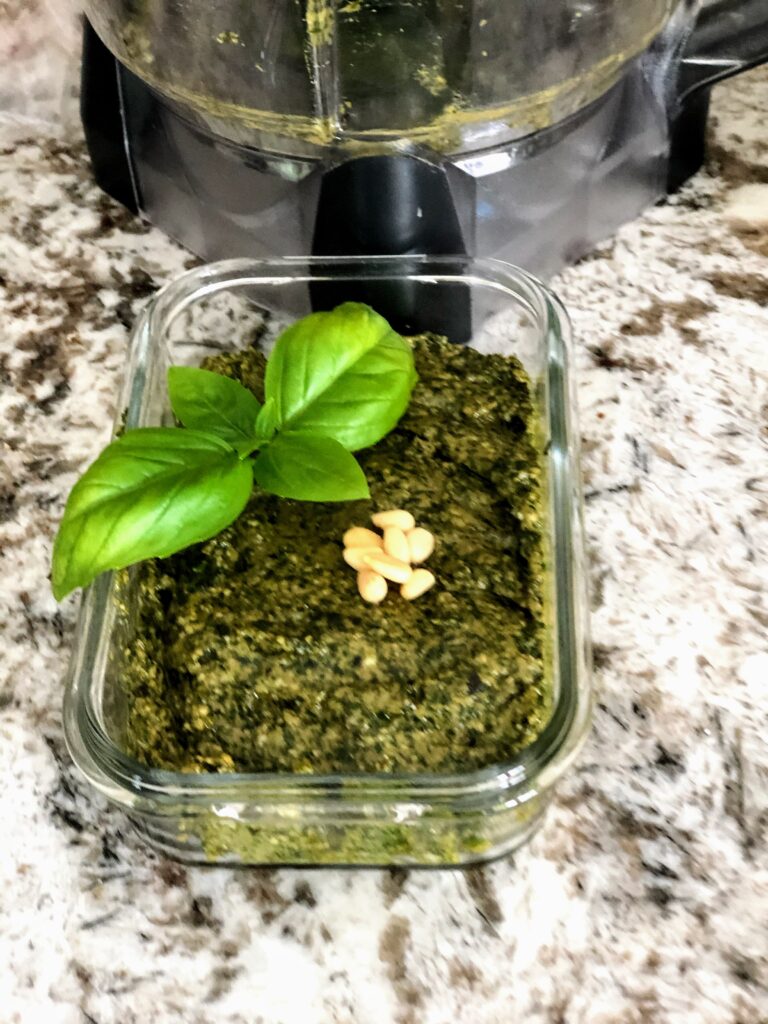 Now that I have my pesto sauce, I decided Chicken Pesto with Egg Noodles sounded perfect for this evening's dinner. This whole process will take you less than 2 hours and it is a real gourmet meal.
You will need 2 pounds of boneless chicken breast, I cut mine into strips but bite size will work just as well. Dredge the chicken in your seasoned flour and set aside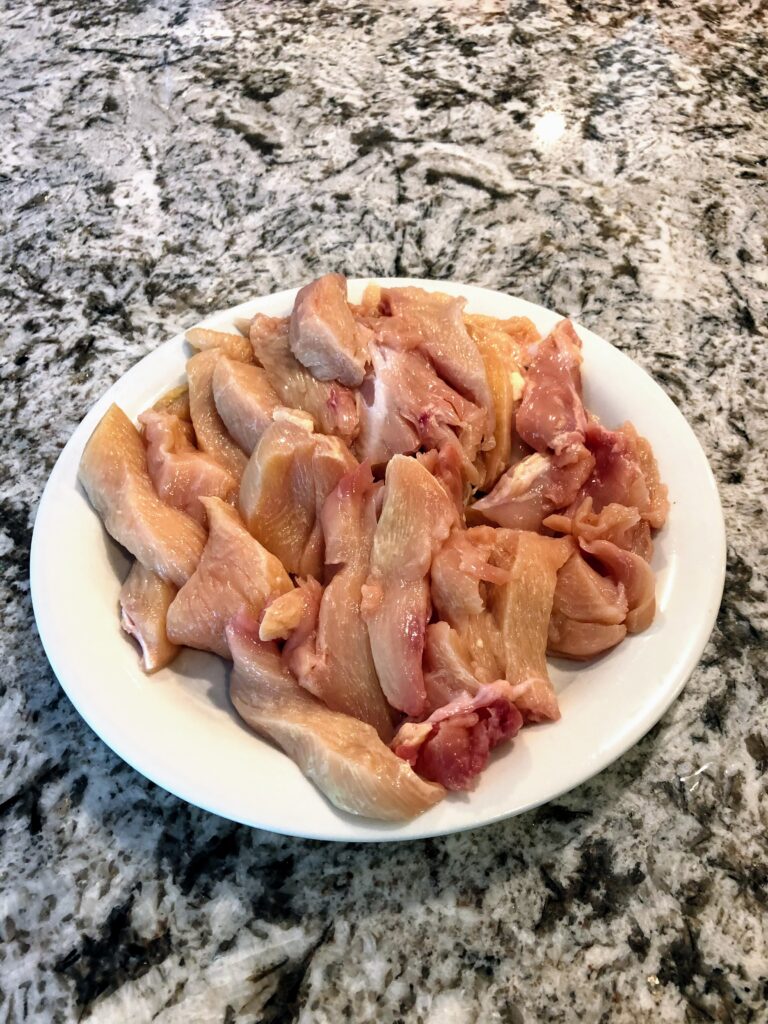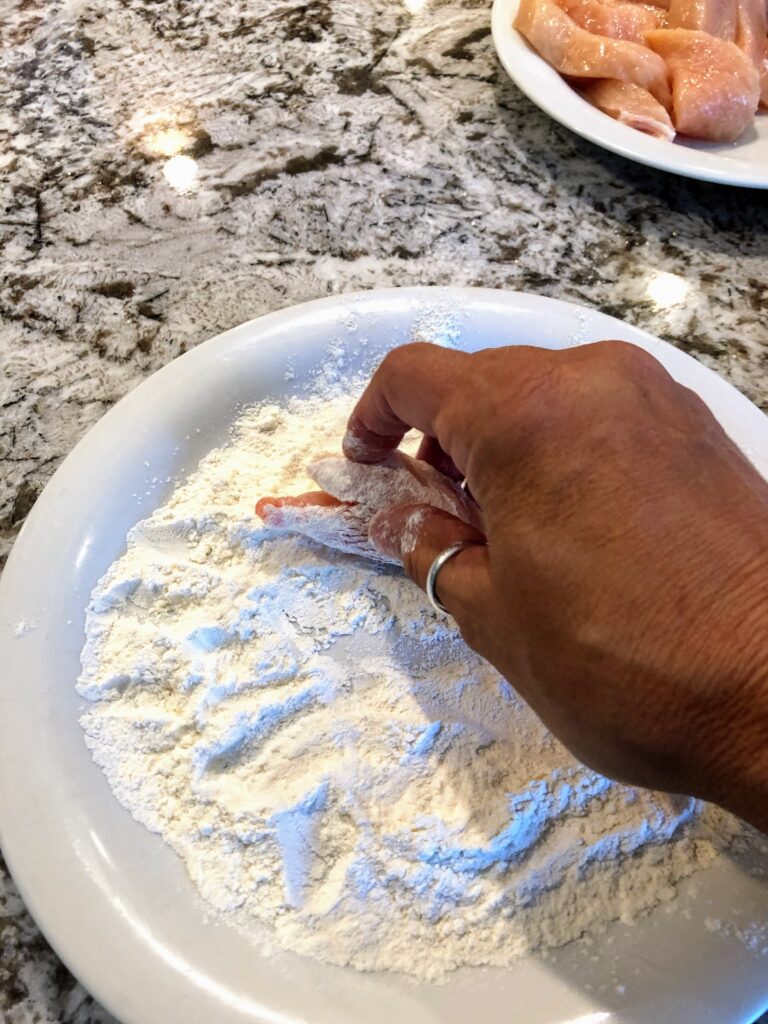 At this point you should put your Pot on to boil the Noodles, you will need to save a cup of the pasta water to add to your chicken dish. You will cook the noodles while you are cooking the chicken they will both be finished around the same time.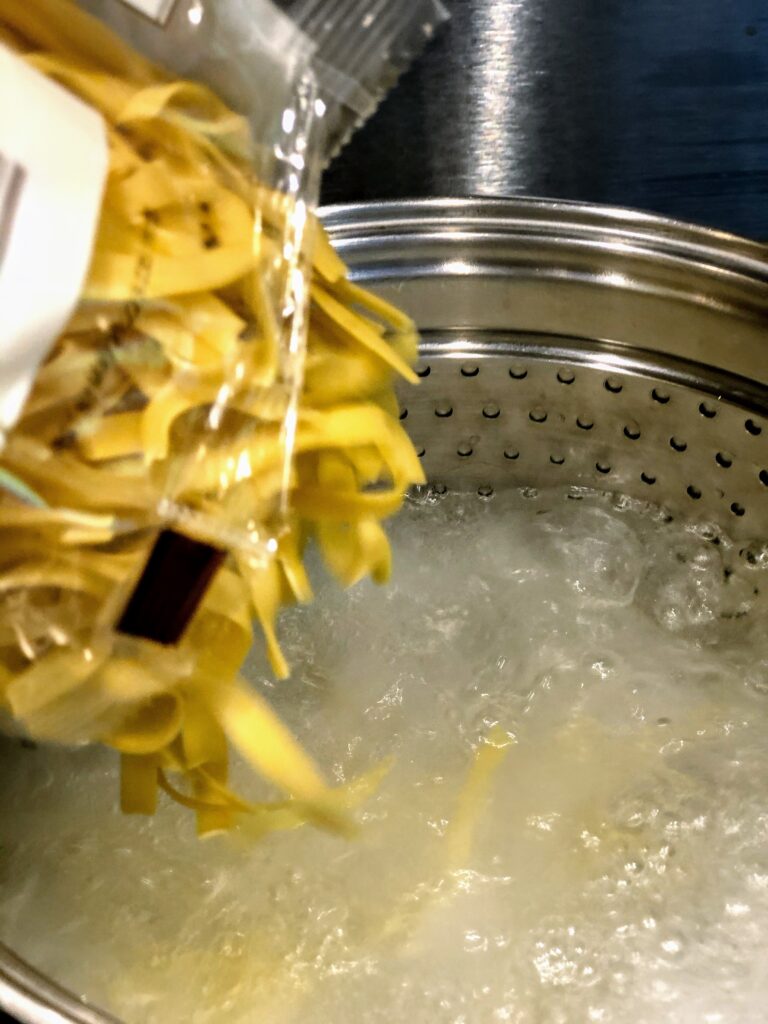 while the water is coming to a boil you will saute the Onions and Garlic in a large sauce pan with olive oil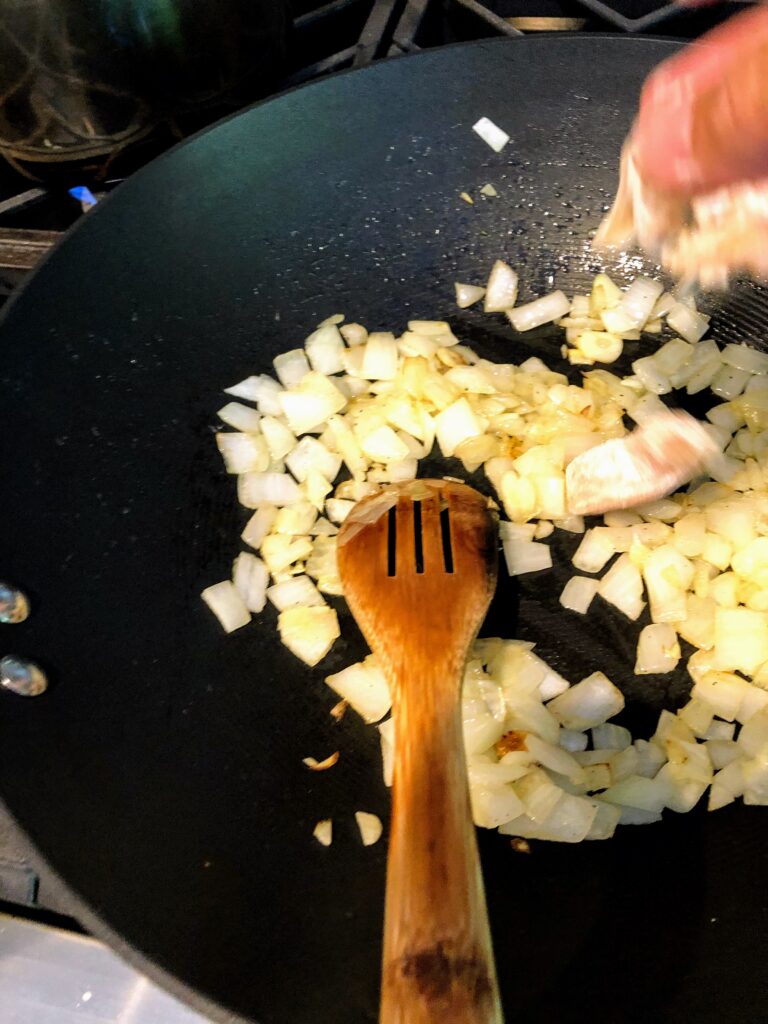 Once the onions are soft add the chicken and brown on all sides. The chicken should be cooked through, this will take between 15 and 30 minutes depending on the size you cut the chicken. Now is a good time to put the Noodles in the water.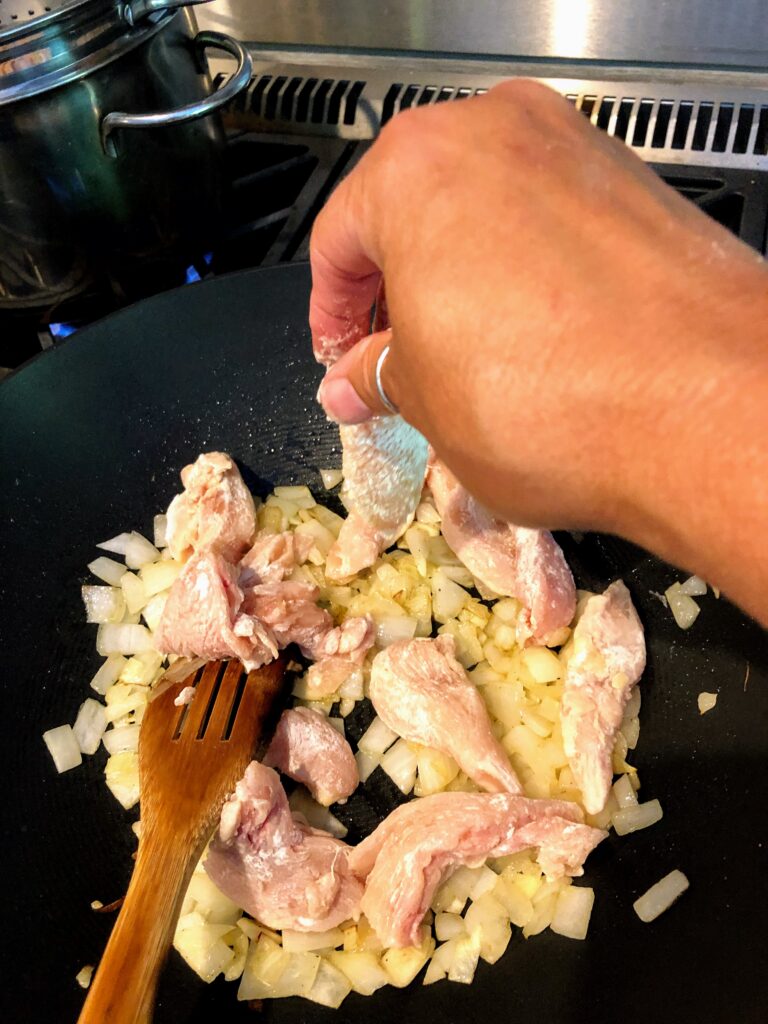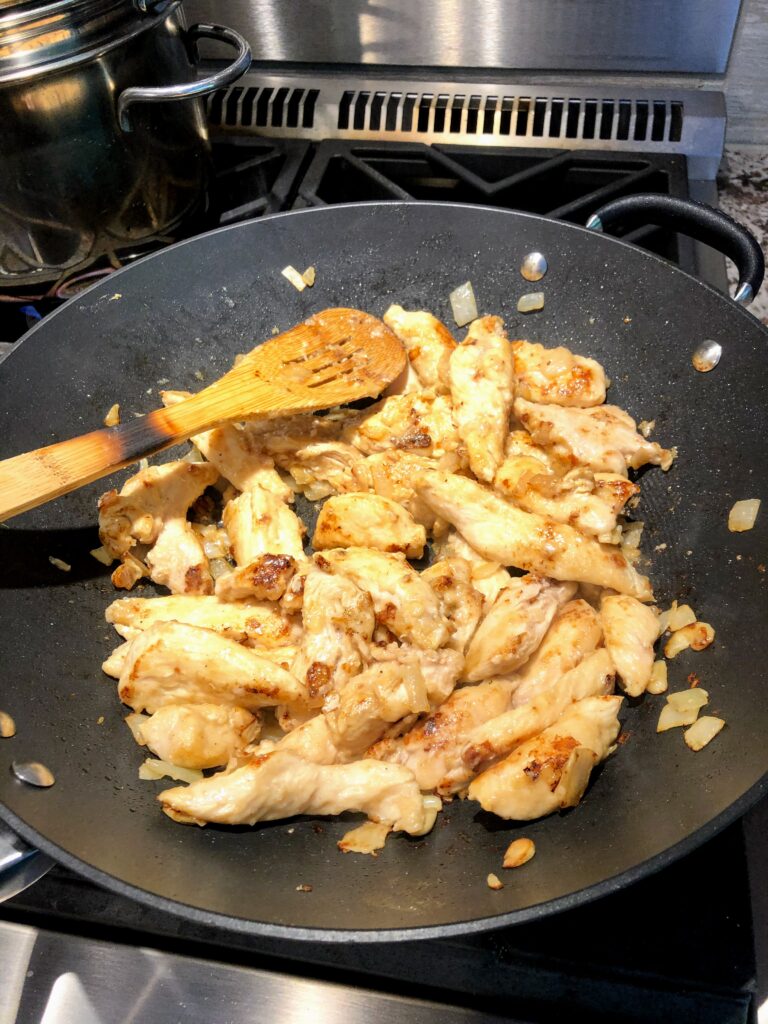 Now that the chicken is cooked, add the Pesto sauce and stir the chicken until the pesto sauce is spread evenly.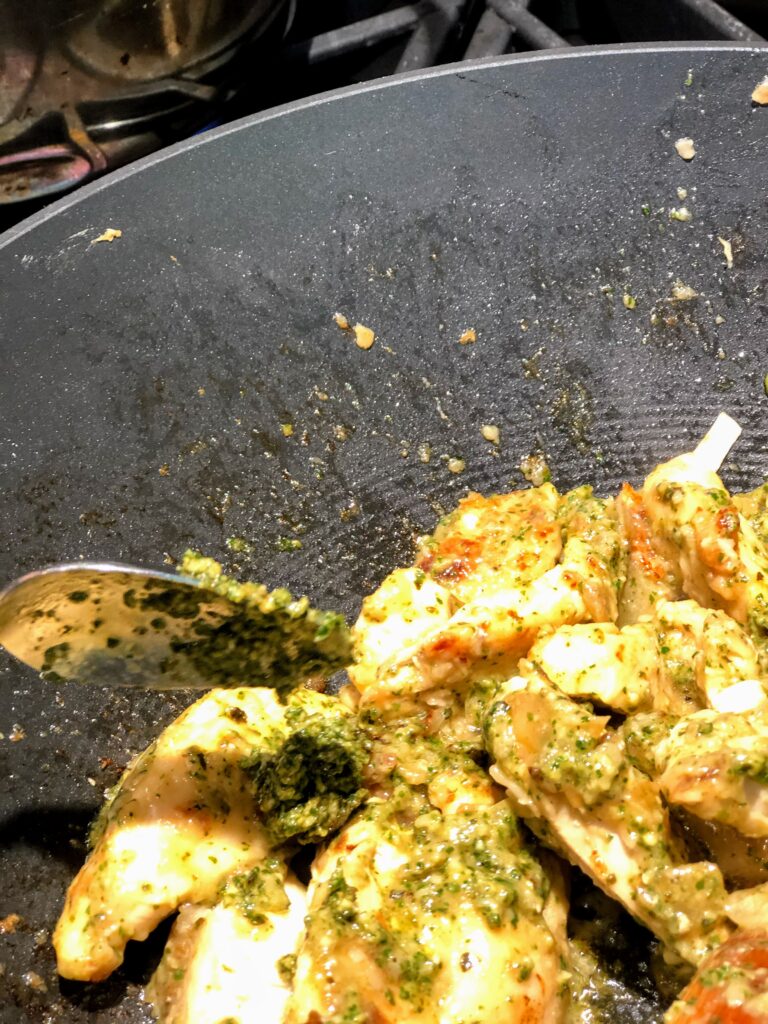 Next add the sour cream and toss the chicken to coat, if you would like you can add additional Pine nuts to give it a great texture and taste. But this is optional…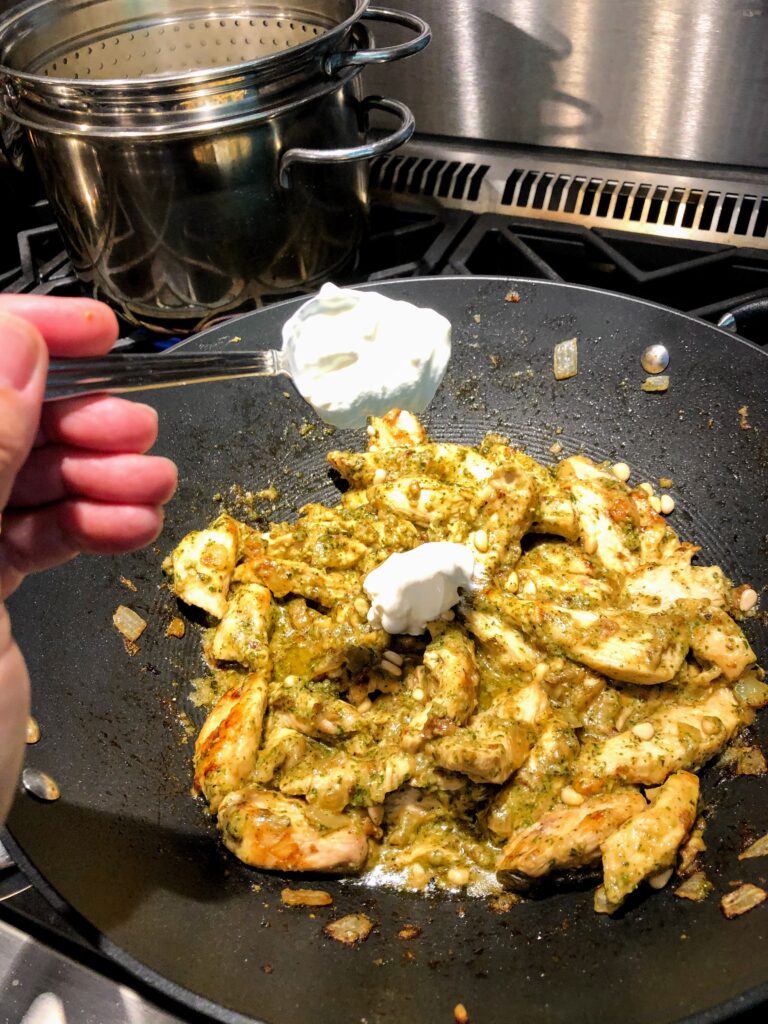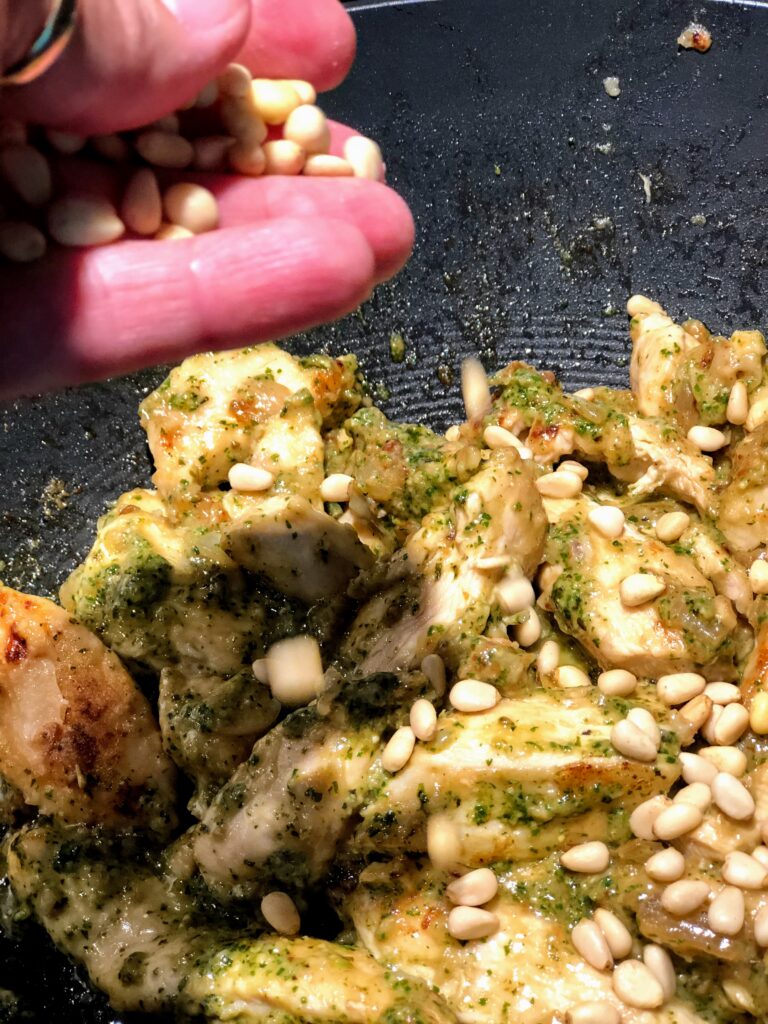 By now your Noodles should be cooked and you should have kept a cup of the liquid to add to the chicken, this will give your sauce the right consistency for the pasta. If you have forgotten and drained the water (which I do quite often) no worries use chicken broth or water with some bullion this will do the same thing. The pasta water is a little starchy and helps thicken the sauce. Just add the liquid a little at a time to create the consistency you like.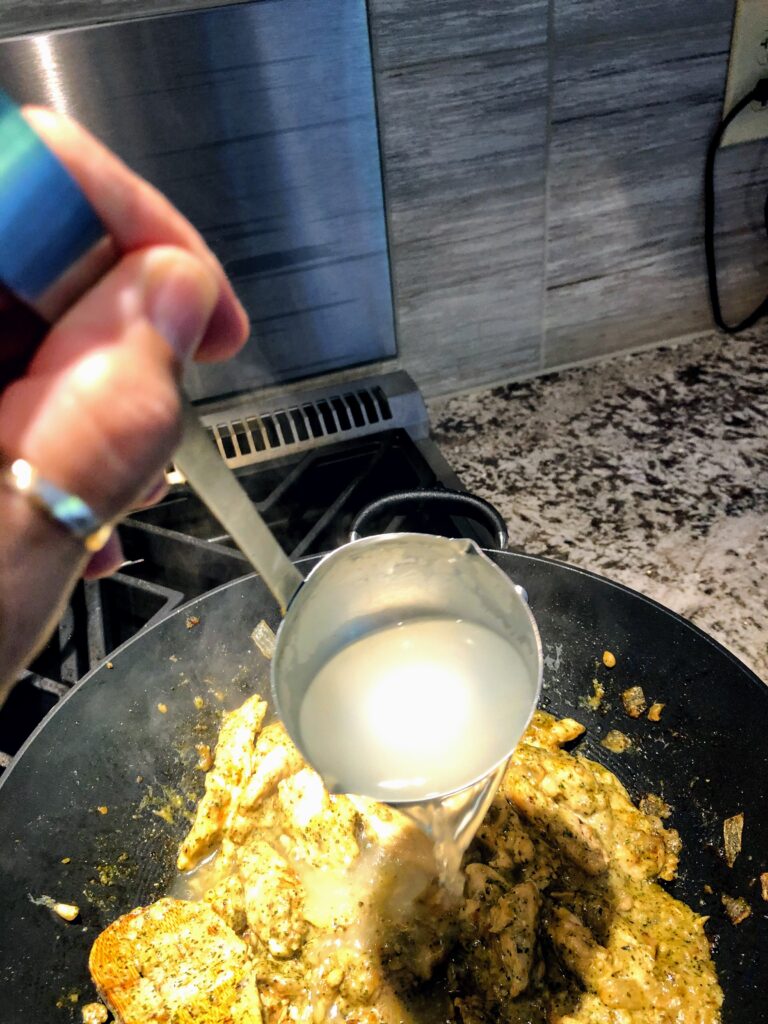 The last step is to add your Noodles and toss together!!!! We are a fan of Parmesan cheese so at this point if you would like to add cheese or have it grated for the table it adds that much more flavor to the meal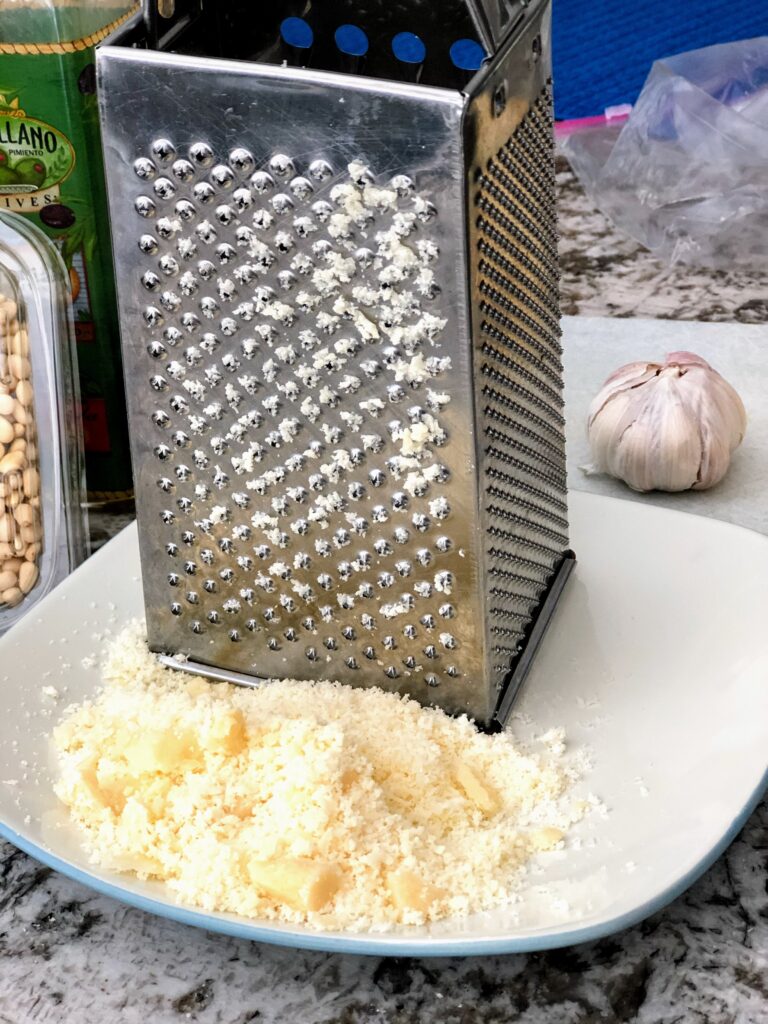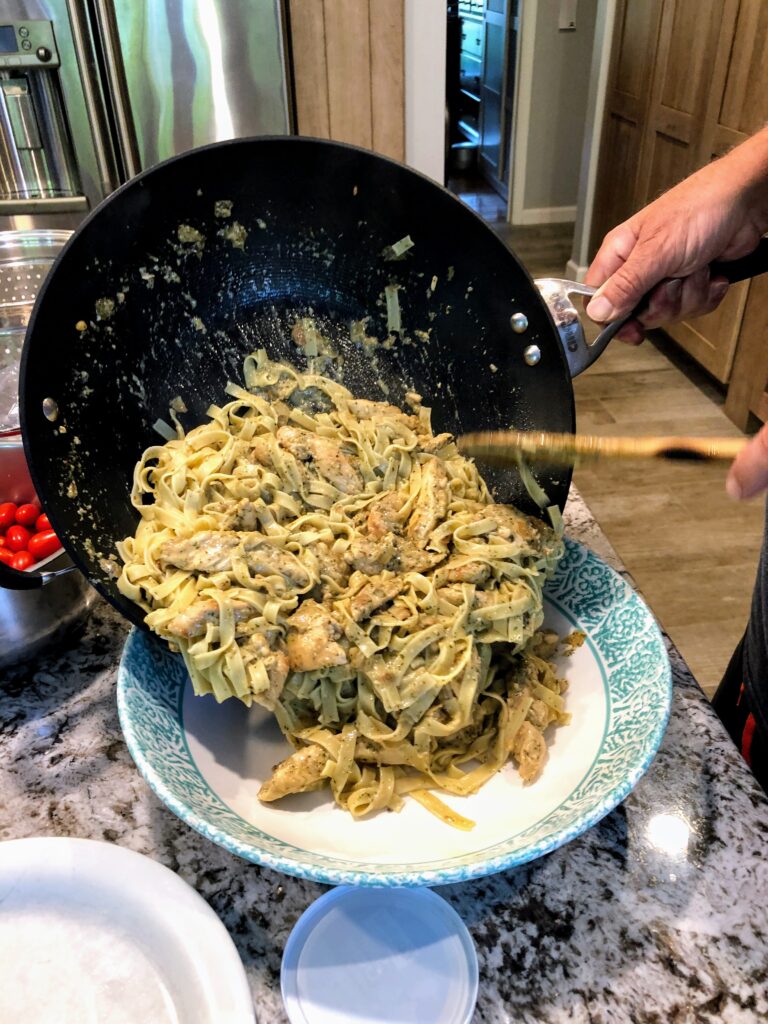 Enjoy…. This is a very lengthy description of something that will take only 1/2 hours to 45 minutes to complete. I hope you enjoy this as much as we did and as I always say please enjoy the Journey as much as the end result…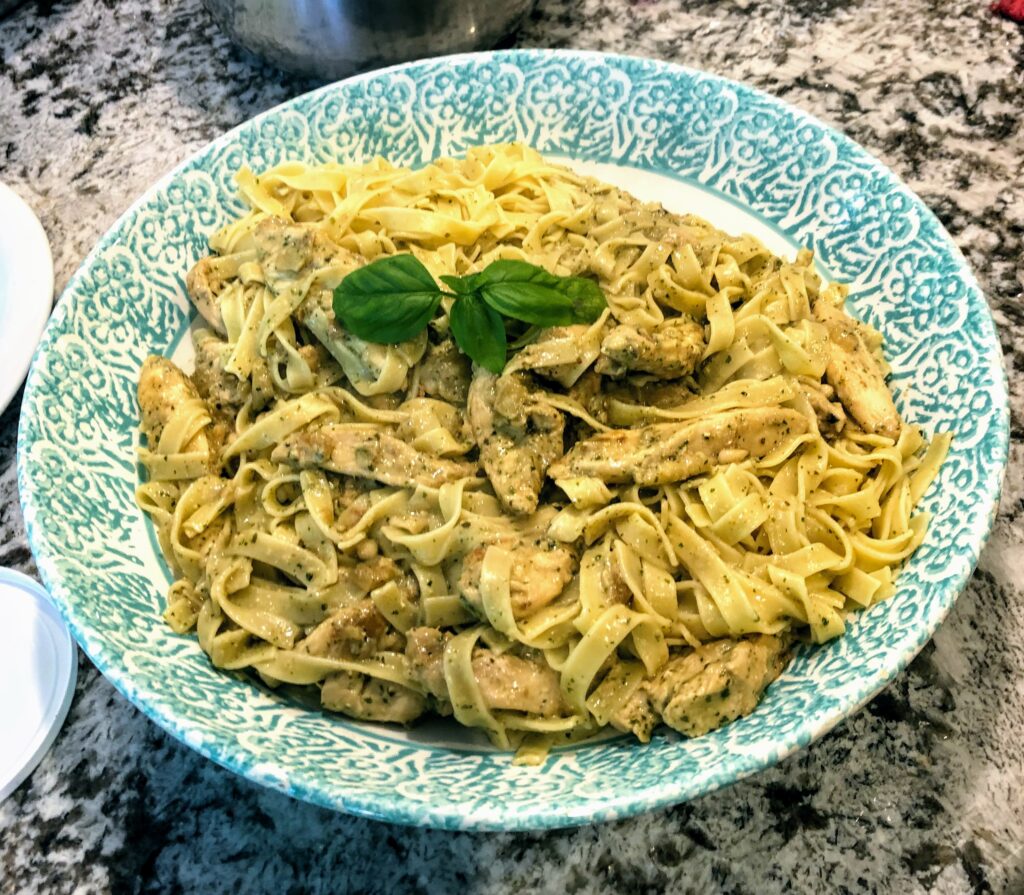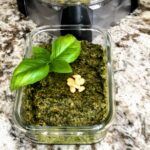 Pesto Sauce
Home made pesto sauce with pine nuts
Ingredients
Pesto Sauce
2

cups

Fresh Basil

clean and remove stems

1/2

cup

Pine nuts

1/3

cup

olive oil

1

clove

garlic

chopped

1/2

cup

Parmesan Cheese

grated
Instructions
Pesto Sauce
Clean basil and remove the stems, place in a 2 cup container and pack tightly

Place the Basil and Olive Oil into the Food Processor and Blend until smooth

Add the Pine Nuts, Parmesan Cheese and Garlic. Blend until you have a smooth paste

remove from food processor.
Recipe Notes
This recipe is quick and easy.  It will make enough for 1 large dish for 6 or more people, or 2 dishes up to 6 people.  Once you have made the pesto you use immediately or you can store in an air tight container for up to 1 week, or you can freeze up to 6 months.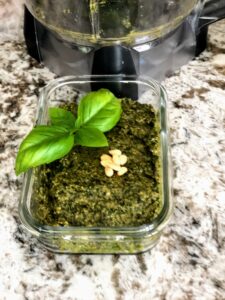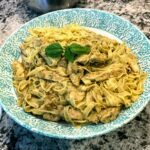 Chicken Pesto with Egg Noodles
Fresh basil pesto sauce with saute chicken and egg noodles
Prep Time
1
day
30
minutes
Ingredients
Chicken Pesto
2

lb

boneless chicken breast

Cut into strips or bite size

olive oil

1/3

cup

flour

1

small

onion

chopped

2

cloves

garlic

chopped

1/2

recipe

Pesto sauce

1

lb

egg noodles

or favorite pasta

2

tbsp

sour cream
Instructions
Chicken Pesto with Egg Noodles
Clean and cut boneless chicken breast into strips or bite size pieces.

Place flour on a large plate and dredge chicken pieces through flour and set a side.

In a large saute pan place Olive Oil, onion and garlic, saute until onion is soft

While onion and garlic are cooking Place large pot of water to boil and cook Pasta. you will need to save 1 cup of the water from pasta.

Add chicken to pan and saute until chicken is cooked through. Approximately 40 minutes depending on the size of the chicken pieces.

Add 1/2 the recipe of pesto sauce and stir until completely incorporated into the chicken and onion.

Add 2 Tablespoons of sour cream and mix into chicken

Take 1/2 to 1 cup of Pasta water and add to the chicken and stir. This will give you a nice consistency for your pasta

Take cooked noodles and add to the pan with chicken and stir.

Place in a serving platter and you are ready to eat!!!
Recipe Notes
I am using the Pesto sauce that is homemade.  The recipe is also on my web page.