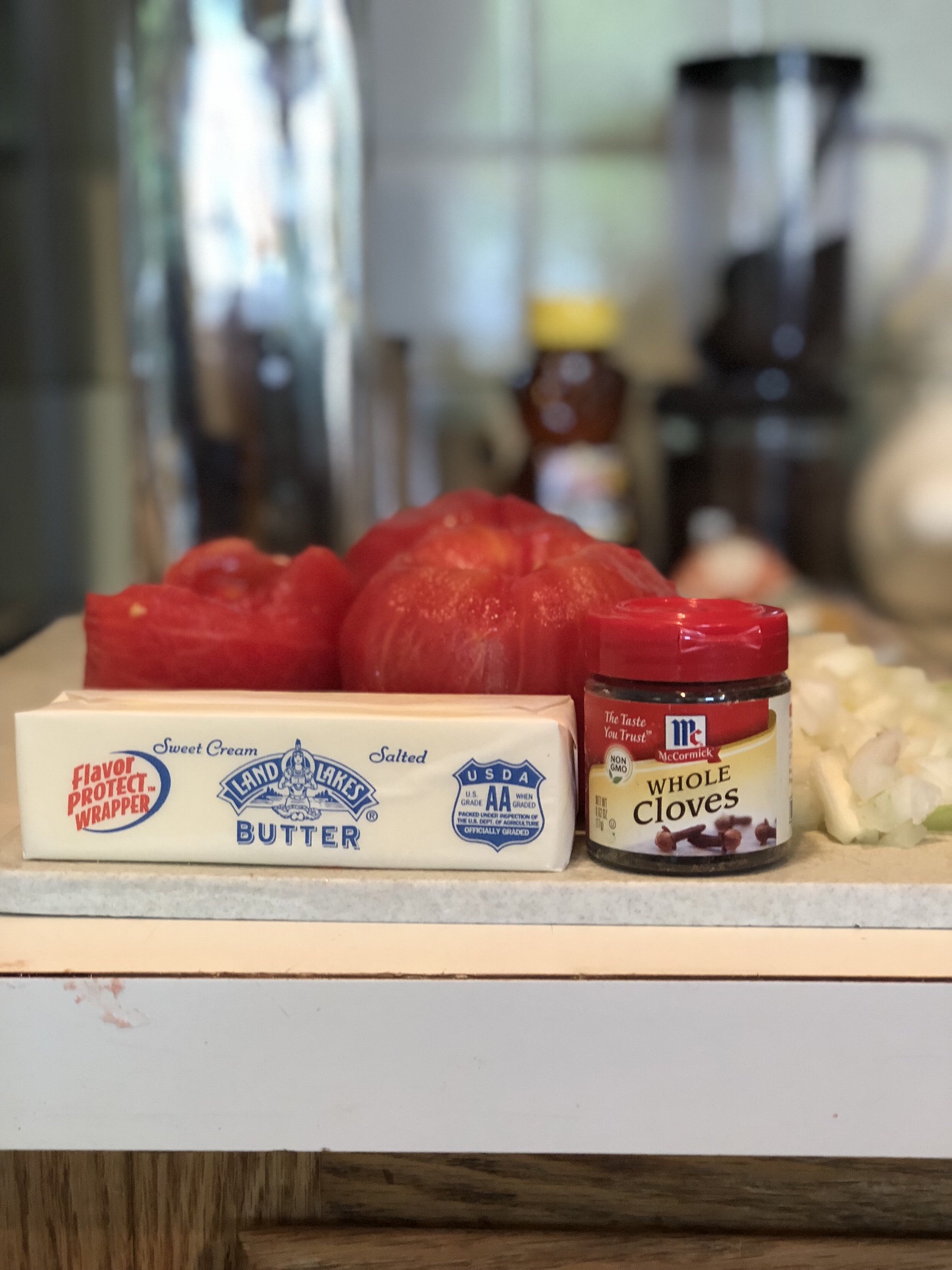 Have you ever wondered why you don't eat Tomato Soup more often?!? Each year we can our Tomatoes and always say we will make fresh Tomato Soup. This was the year!! What a treat. The tomato flavor is amazing not acidic just a mild tomato flavor.
I did a little research on the Tomato, and although Joseph Campbell made canned tomato soup famous, it originated in Central and South America both these articles have some very interesting facts. "Tomatoes originated from the Andes, in what is now called Peru, Bolivia, Chile and Ecuador – where they grew wild. They were first cultivated by the Aztecs and Incas as early as 700 AD." Flavorfresh Blog or The Spruce Eats-History of Tomatoes both articles have some enlightening information.
We started with about 10 pounds of Tomatoes. We purchase ours from a local farmer Charlynn Farms . Please support your local farmers, it might take an extra stop but the fresh fruits and vegetables are well worth it. Go to your local farm turing the month of August, they are picking furiously and most have soft Tomatoes that they sell for a very reasonable price.
You will need to clean and blanch the Tomatoes so you can remove the skin. Once you have peeled , cut the tomatoes up into chunks and add to stock pot with chopped onions and whole cloves and chicken broth. Bring to boil, reduce heat to medium and cook for 45 minutes. After the tomatoes are well cooked you will need to blend them. I am lucky enough to have my grandmothers Food Mill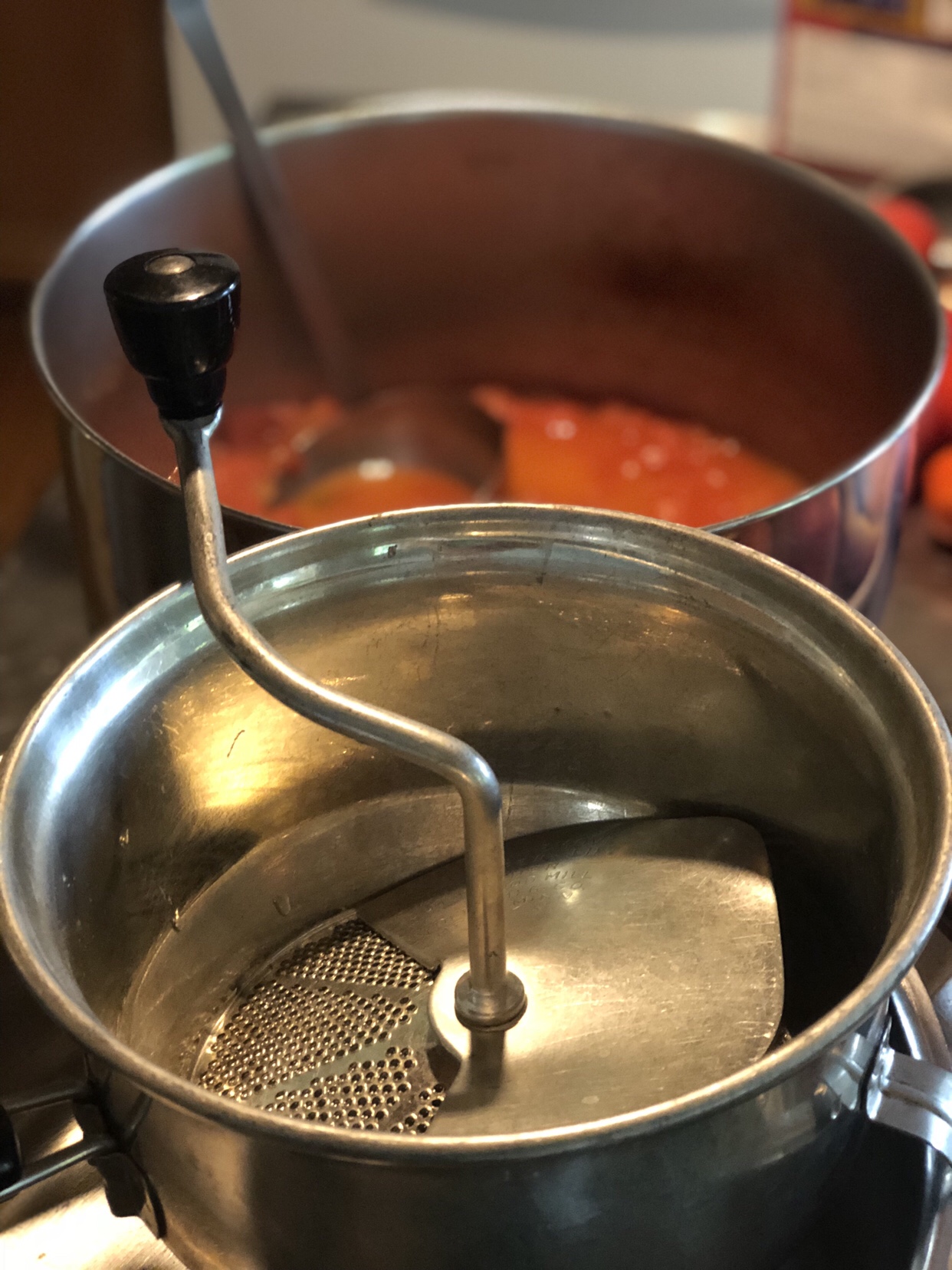 But if you don't have one here is a link to a Food Mill from Williams and Sonoma Food Mill. You don't have to go this route, you can blend in a food processor or blender. If you are looking for a smoother consistency, strain it through a sieve (not to fine you will be there all day) into a bowl and throw away the waste, set aside the tomato broth for later use.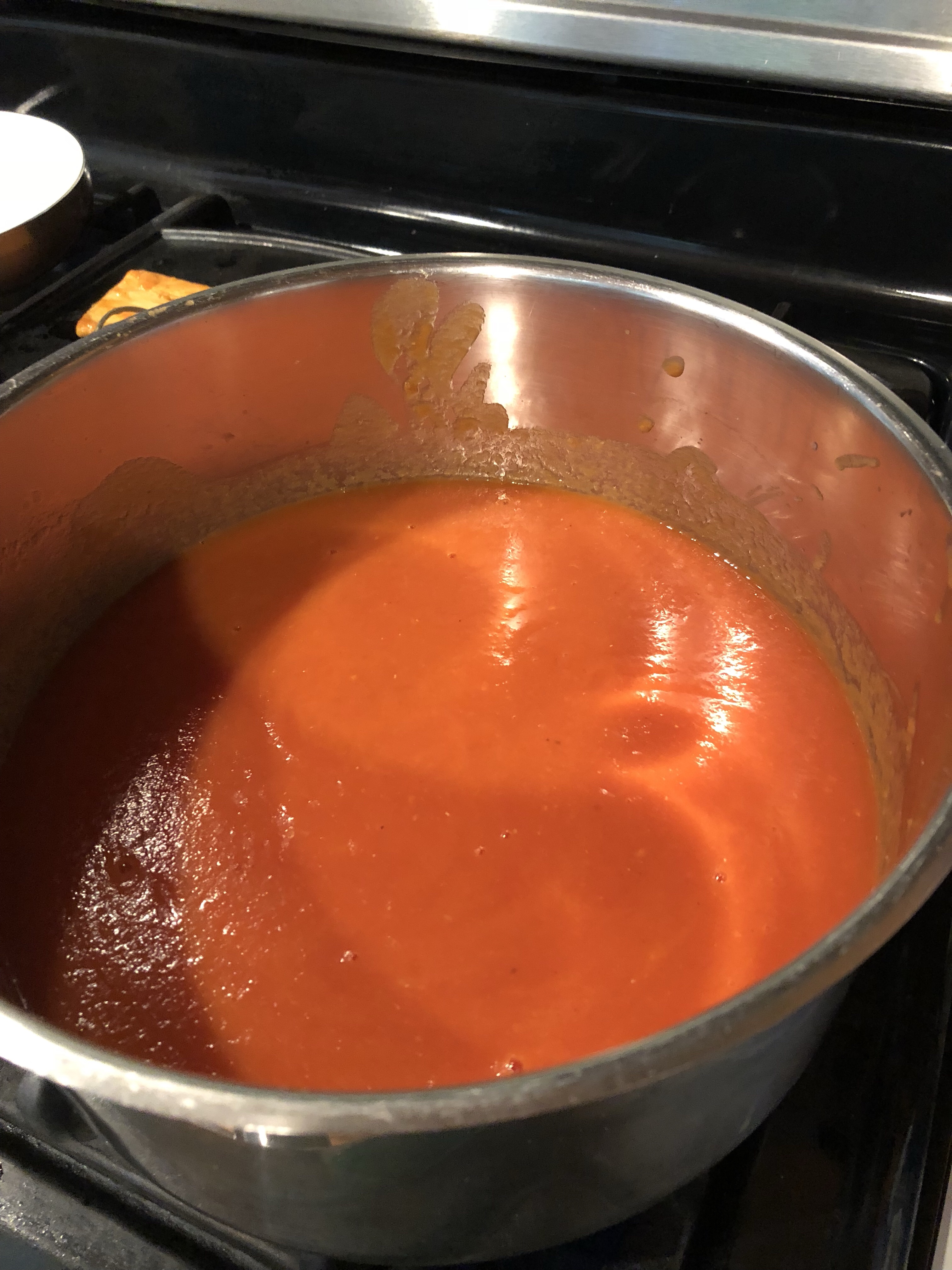 Now it's time to make your soup! Feel free to use the same pot. Take your butter and melt on medium heat. Add your flour to create a roux cooking for a minute or two, then take your blended tomatoes and add it to your roux mixture a little at a time to keep from getting lumps. Once your mixture is smooth enough add the rest of the tomato mixture, bring to a slow rolling Boil and then remove from heat. At this point your soup is ready. You can season to your liking. Some recipes call for sugar. I don't add the sugar, tomatoes aren't as acidic as they used to be, I find it makes the soup to sweet for my liking. But it is your choice.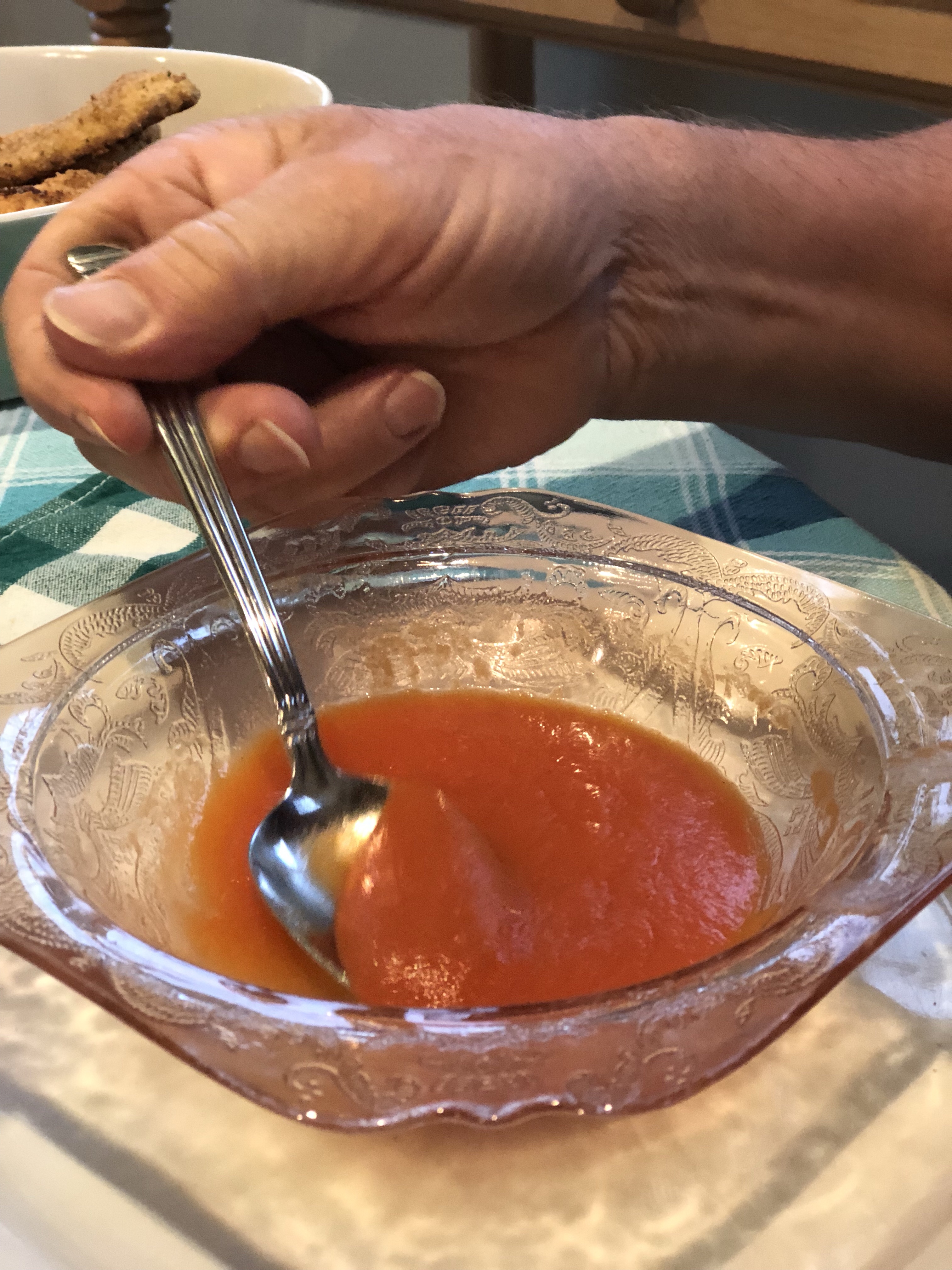 My final note…
Tomato soup is a great base for many different uses. I love a little sour cream with mine. Croutons are always a great addition as is grated cheese of your liking. Let your imagination run free!!! It also is a good base for gazpacho cold or warm. This particular recipe is very simple so you can use it with other recipes but flavorful enough to eat on its own. So as I always say. Please Enjoy the Journey…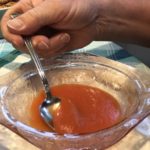 Tomato Soup
Fresh and Savory!!! Great as a stand alone or use it as a base for all your favorite recipes
Prep Time
1
hour
15
minutes
Total Time
1
hour
35
minutes
Ingredients
10

pounds

Tomatoes

4

whole

cloves

2

cups

chicken broth

1/2

medium

Onion

salt

2

tblsp

butter

2

Tablsp

Flour
Instructions
Step One
You will need to blanch the Tomatoes and remove skin. ( boiling water add tomatoes for 60 seconds remove from water and place in cold water, then remove skin)

Placed the skinned Tomatoes in a large sauce pot, add the cloves, chicken broth and onion bring to a boil and let cook for 45 minutes on medium high heat.

Take cooked tomatoes and blend either in a food mill (throw away any of the left over tomatoes, or use a blender.
Second step preparing Soup
Place butter in a a soup pot melt and add flour, create a roux, cook for 1 minute. Whisk cooked and blended tomatoes slowly into the butter, flour roux to eliminate lumps, add all Tomatoes to the mixture.

Season with Salt and serve.
Recipe Notes
Some recipes tell you to add Sugar to the soup. This was to eliminate the acid taste that tomatoes sometimes have. I haven't had this problem, but if you feel the soup is to acidly then add a little sugar to give you the desired taste.