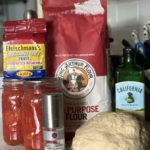 Pizza Galletta's Galley Way!!
A family recipe dating back to my Uncle Henry Mastrangelo's Bakery M&M. Given to me by my Brother Anthony Galletta who worked with our uncle for many years, and finally adapted for use in a kitchen setting by my sister-in-law Adrianne Galletta.
Prep Time
1
hour
30
minutes
Total Time
1
hour
50
minutes
Ingredients
Pizza Dough
5

cups

Flour

2

cups

Water

1

oz

sugar

1

oz

salt

1

oz

Olive Oil

2

1/4 oz

packages of refrigerated yeast
Marinara Sauce
9

pounds

Fresh Tomatoes

Fresh Basil

Salt

Pepper

3

TBSP

Olive Oil
Toppings
Mozzarella Cheese

Pepperoni

Cooked Mushrooms

Cooked Peppers and Onions

Sausage
Instructions
Dough
First and fore most... You must keep the dough cool, if it gets to warm the gluten with activate and the dough will become very rubbery and hard to stretch. Combine Cold or even ice Water, Yeast, Sugar, Salt, and Olive Oil in a Large Mixing bowl (or your Kitchen Aid Bowl). Add Flour in 3rd's mix on low speed (use the hook beater on Kitchen Aid) If you don't have a Kitchen Aid or a standing Mixer, it is easier to use a spoon and then your hands to mix together. Once the flour is combined turn the mixer on medium high and mix until the texture is smooth and springs back when you touch it.

Next, cut the dough into 4 or 5 Pieces, on a 14 inch pizza stone, 4 will give you a slightly thicker crust, and 5 will give you a thinner crust. Roll each piece into a ball and place in a greased bowl

Cover the dough with saran if you are refrigerating, or a towel if you are leaving on counter to use in the near future.
Marinara Sauce
First step will be to clean and then blanch tomatoes. Boil water in a large pot and lower the tomatoes into the water for about 60 top 90 seconds, remove from water and place in a cold water bath. Once all the tomatoes are blanched and cool, core and remove the skin. Cut the tomatoes into quarters.

In a large sauce pan place your Olive Oil and Garlic, saute for a few minutes on medium heat. Once garlic is slightly browned add tomatoes, basil, salt and pepper. Cook tomatoes on medium heat for 1 hour, stirring every so often.

After the tomatoes have cooked 45 minutes to an hour, you can now blend them if you like your sauce smooth, or if you like chunky tomato sauce then just let it cook down and lower the heat. Once the sauce is cooked turn off heat and let it cool.
Creating Your Pizza
Next you will have to create the crust. You will simply take the dough and place it on a FLOURED BOARD OR TABLE SPACE. Working in a circle. Spread the dough out if you have floured the work space then the dough should move with you in a circle. You want to do this so your dough stays round. You can also use a rolling pin once you have the circle started. Now I spin the dough, but it isn't necessary. Once you have stretched keeping it in a circle form you can use a rolling pin to make it the size you want.

Once you have the dough to the size you like (try and go a little bigger than you need. It does shrink once you place it on the board or stone) I can't stress enough to use corn meal on your board. This will allow your pizza crust to slide off the board when you are putting it in the oven. Now this does take some practice. If this is the first time you are trying this I suggest you try par baking the dough (this way you don't have sauce and cheese all over the oven. Once you have the board dusted with corn meal place the dough on it and shimmy the peel around so the dough moves on it, then you will do the same motion in the oven to remove the dough from the peel to the stone, pulling the board away from the stone and oven (it will be a fairly quick motion, to slow and it will not come off). When you try this with the sauce and toppings, keep the sauce a good 1/2 inch away from the edge. When the sauce gets on the board it prevents the pizza dough from sliding off onto the pizza stone.

Once your crust is ready, take 1 large ladle of sauce and spread it on the crust from the middle to the edge. Little is better here, you can always add more sauce. Next is your cheese and then your Toppings

Now I have listed the obvious toppings for your pizza but the list is endless, I love Artichokes, Spinach, Feta, combination!! Let your imagination fly!!!
Recipe Notes
This is probably one of my most favorite meals to make. It allows you to make everyone happy!!! I hope you take a chance and make your next pizza from scratch. Like I always say..... ENJOY THE JOURNEY