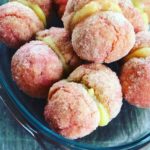 Peach Cookies filled with Italian Creme
These cookies take a little time but are so worth the effort
Ingredients
ITALIAN PASTRY CREAM
1

CUP

MILK

DIVIDED

1/3

CUP

SUGAR

3

TBSP

FLOUR

4

EGG YOLK

1/2

TSP

VANILLA
COOKIE DOUGH
1 3/4

CUP

FLOUR PLUS 1 1/2 TBLSP

1

TSP

BAKING POWDER

1/4

CUP

SUGAR PLUS 1 TBLSP

1

LEMON

ZEST

1

LARGE

EGG

1

TSP

VANILLA

3

TBLSP

MILK
FINISHING TOUCH
1/2

CUP

PEACH SCHNAPPS

1-2

drops

red food coloring

1/4

CUP

SUGAR
Instructions
ITALIAN PASTRY CREAM
In a medium pot add 3/4 cup of the milk and vanilla, heat on medium heat until milk just begins to boil. remove and let cool.

In medium mixing bowl add egg yolk and sugar and beat at medium high for 5 minutes, (you want it to be thick and creamy). slowly add 1/3 cup of the cooled boiled milk and continue beating, then add the flour a little at a time and beat til smooth

Add egg mixture to the medium pot with remaining boiled milk and cook over medium-low heat, continuously whisking briskly until mixture starts to boil. Reduce heat to low and continue whisking while you slowly add the remaining 1/4 cup milk, once all the milk is added and the cream is the thickness you need. Transfer to a glass bowl and cover with plastic (make sure it touches the cream, this keeps it from getting a skin on the top) and refrigerate till you are ready to use
COOKIE DOUGH
Pre - heat oven to 350 F. Line 1 cookie sheet with Parchment paper.

In a large bowl add the flour, baking powder, sugar, butter , zest, vanilla and egg. Start to beat on medium speed, add a tablespoon of milk one at a time until it forms a soft dough, dough will be slightly sticky.

With floured hands roll the dough into 16 balls, (try and make as even as possible). Place on parchment paper cookie sheet, about 1 inch apart. Bake for approximately 15 to 20 minutes. (cookies should stay a light color)

Let the cookies cool enough to be held, then with a sharp small knife remove the middle of the cookie (make a small well/hole), the cookies should be still warm when cutting them, they will split and crack if they are to hot or to cold.

At this point your Cream should be completely cool.
CONSTRUCTING THE PEACH COOKIE
You will need a bowl for the sugar and a deep coffee cup for the schnapps. In the schnapps add 1 to 2 drops of red food coloring, not to much you want the cookie to have a pink to peach color.

Now this is where I veered off the original recipe. They instruct that you dip your whole cookie with cream into the Liqueur. I tried and it was a challenge, I decided to dip the 2 cookies and then filled them with the cream. It was just easier than trying to hold the cookie together and keep the cream in tact.

So dip each halve of the cookie and let drain for a minute. Don't soak cookie in the liqueur, it will fall apart a quick dip to color the cookie. then drain for 30 seconds, if there is to much liquid pooling on the cookie the sugar will clump, then fill with cream, put the cookie together and roll in the sugar.
Recipe Notes
A few suggestions:
1. Make Italian Pastry Cream ahead of time. It needs to be firm and cool to construct the cookie. It takes at least 2 hours to cool.
2. I used peach Schnapps, you will need to ad 1 or 2 drops of red food coloring to get the pink color of the peach.
3. When dipping the cookie, do not soak, the cookie will fall apart in your hand when you are working with it. Just a quick dip to color the cookie and have a slight flavor of Peach.
3. Original recipe tells you to put the cookie together and then dip. I choose to dip the empty cookie first place on rack to drain any extra peach schnapps and then add cream and roll in sugar.