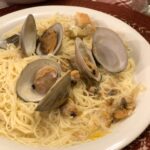 Linguine and Clam Sauce
Quick and Easy meal with lots of flavor and style
Ingredients
Clam Sauce
2

Doz

Little neck Clams

soak in cold water for 20 minutes

1

dozen

Cherrystone Clams

soak in cold water for 20 minutes

8

cloves

Garlic

Chop

2

Tbsp

Olive oil

1

medium

Onion

chopped and divided into 2 parts

1

jar

Clam Juice

optional

1/2

cup

Dry White Wine

hot pepper flakes

optional
Instructions
Pasta
Fill Large pot with water and place on stove on low heat. when you are mid way through the making the clam sauce bring water to a boil and cook pasta.
Steam Clams
Fill 2 bowls with water and place your little neck clams in one and your cherrystone clams in the other. Please remember to check that all clams are closed before placing them in the bowl . Let the clams soak, this will allow the clams to filter the clean water and remove most of the sand . After 20 minutes remove from water and rinse. Set aside.

Place 2-3 inches of water in a large pot. I use a pot that has a matching strainer this allows the clams to steam and not sit in the water. This is optional you can cook them directly in the water just don't over cook or they can become rubbery.

Add 1/2 of chopped onion and 4 of the garlic cloves to the water and bring to a slow boil.

Carefully place the clean cherrystone clams in the water, (dumping can break the shell of the clam. Let the clams steam 5 to 10 minutes. when the clams open they are done. Remove from pot, BUT SAVE THE LIQUID, you will use this to cook your little neck clams and you will use it for your sauce.

Remove the cooked cherrystone clams from their shells, chop and set aside.
Clam Sauce
In a large saute pan, add Olive oil and bring it to a medium high temp. Add the chopped onion and saute until they are translucent add the garlic (do not over cook the onion and garlic) , finally if you like a little heat add your pepper flakes and then Lower the heat.

Combine the chopped cherrystone clams with the onion mixture, and reduce heat to low. Pour the white wine into the mixture and let simmer.

Place the Little neck clams in the pot with the liquid that was used to cook cherrystone clams. Steam and set aside AND SAVE LIQUID. Take the liquid from the pot and strain through a fine sieve with cheese cloth or paper towel to remove any remaining sand , onions and garlic.

Add the clam liquid to your Onion/Clam Mixture. At this point if you feel there isn't enough liquid or you want more clam flavor you can add the jar of clam Juice. Heat through and serve over pasta
Zucchini Noodles
For those looking for a low carb meal, this is a perfect sauce. Just substitute Zucchini Noodles for the pasta.

Once you have placed your clam sauce in the serving dish, add a little olive oil and garlic to the pan and place the zoodles in the pan and saute to your liking, (anywhere from 4 minutes (very al dente) to 6-8 minutes) just remember the longer you cook the zoodles they become a vegetable and not a pasta replacement.