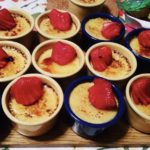 Creme Brulee
Sweet Creamy dessert that looks and tastes amazing and is simpler than you would think!!
Ingredients
6

Egg yolks

6

tbsp

white sugar

divided

1/2

tsp

Vanilla

or vanilla bean

1 1/2

cup

Heavy cream

2

tbsp

Brown sugar
Instructions
Preheat oven to 300 degrees F.

Beat egg Yolks, 4 tablespoons sugar and vanilla in a mixing bowl, until Thick and creamy.

Pour cream into a saucepan and stir over low heat until it almost comes to a boil. Remove from heat. Stir cream into the egg yolk mixture, mix until completely combined.

Pour cream/egg mixture into the top of a double boiler pan. bring double boiler water to a simmer and place top pan with cream/egg mixture on top of simmering water. Stir until mixture lightly coats the back of the spoon, about 3 to 5 minutes. Remove mixture from heat and immediately pour into your ramekin dishes, creme brulee dishes or 1 large dish.

Bake in the preheated oven for 30 minutes. Remove from oven and cool. Refrigerate at least 1 hour.

In a small bowl combine remaining 2 tablespoons of white sugar and brown sugar. Sprinkle sugar mixture over the creme brulee custard.
Caramelizing the Top of custard
There are 2 ways to do this:

1st way is to use your broiler. Place the custard bowls under the broiler until the sugar melts and browns, you will need to be diligent with this process, once the process starts it happens quickly and will burn.

2nd way is to use a hand held torch, lightly hold the torch over the custard until golden brown.