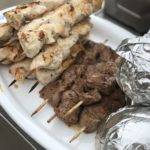 Beef Kabob
There are a variety of marinades that can be used. I have chosen a very simple Italian dressing to marinade the Beef . You will have to purchase skewers. I use the wooden type and the medium length, this way it is a serving size for your party goers and they won't feel like they have to take a 1/2 skewer.
Total Time
1
hour
10
minutes
Ingredients
Meat
2

Beef Cut up into 1 to 2 inch cubes

your choice of meat I used Rib Eye

1

package wooden skewers soak in water for 1/2 hour
Marianade
1/4

cup

Olive Oil

1/8

cup

Red Wine Vinegar

1/4

bag Good Seasons Dressing
Instructions
Start with 2 pounds of Rib Eye, Cut the beef up into 1 to 2 inch sized cubes. place in a plastic zip lock bag. You will need to have skewers on hand to finish the kabob's. If you are using wooden skewers you should soak them in water for at least 1/2 hour so that when you are grilling the sticks don't catch on fire.
Marianade
Mix the oil, vinegar, and good seasons mix together and let it sit for about 10 minutes. Pour over Beef in the plastic zip-lock bag and close and remove any air. this allows the meat to be covered by the marinade and you wont have to handle it again til it is time to place on skewers. Let the Beef marinate at least 1 hour, you can do this the night before and skewer the beef the day of the party.
Final Step
Once the beef is fully marinaded take your skewers and place 4 to 5 pieces of the beef on each skewer. this is about 1/2 a serving so each person will get approximately 2 skewers, if you cut the meat into large chunks you will get less skewers. Once they are on the sticks you are ready to go. The grill should be on medium heat, and it will take about 5 to 15 minutes depending on if you want rare to well done, Make sure you keep a close eye on them they cook pretty quick and you don't want them to dry out.
Recipe Notes
When deciding on a cut of beef to use, it depends on how tender you want the meat to be.  Most times people use London Broil, but it isn't the most tender.  i used Rib Eye, but you can use your favorite cut of beef.